It was, undoubtedly, a bit of an odd Michelin ceremony this year.
Originally scheduled for October 2020, postponement thanks to you-know-what meant that the results of the 2021 Michelin Guide were announced last week, on Jan 25th. And, of course, instead of piling chefs, sommeliers, and restauranteurs into a room in a fancy London hotel for the ceremony, host Davina McCall stood in front of a huge screen, and spoke to them over Zoom. Many of the chefs were sat in their sadly empty and currently closed restaurants, a reminder of the stark difficulties faced by the hospitality industry.
To their credit, Michelin did not shy away from these difficulties. Instead, the ceremony highlighted the innovation, inspiration and sheer resilience that so many chefs and restaurant owners have shown this year – again and again through multiple lockdowns and restrictions. With so many top restaurants, chefs and sommeliers offering cooking guides, wine pairing ideas, and even "At Home" meal boxes, there's a lot of food and drink to enjoy, even now.
And, of course, there were stars and bib gourmands to award – and a lot of them at that! We offer our congratulations to all the restaurants who retained their stars (not an easy task!), those who made it on to the list for the first time, and to those who earned an additional star to move up a category.
Behind
Behind, a striking 18-seater London Fields restaurant that allows guests to see "behind" the scenes and watch the chef team prepare all the dishes, was open just 20 days total in 2020. It's a testament then to chef-owner Andy Beynon's talent and hard work that saw them scoop up a Star in Monday's ceremony.
Andy has a few L&S wines on his list, including the 2019 ANJOU Blanc Château de Plaisance – a fairly new arrival that joined the L&S portfolio last year (around the same time that Behind opened its doors!). "This was one of the wines of the year for me," said Andy. "A wonderful Chenin Blanc: Rich stone fruit, lemon zest and freshness that carries through the whole palate. This is my go-to when anyone at Behind wants a bottle to span the whole meal. As it's so adaptable, the richness can stand up to our Native Lobster English Muffin. The acidity pairs so well with our shellfish courses, and just makes them sing."
Andy is also a fan of the 2018 CHÂTEAU BEAUMONT Blanc 'Les Pierrières' Blaye. "One of our favourite things to do at behind is to draw attention to a more unknown or un popular region, and show what amazing wines are being made there. White Bordeaux seems fairly unknown to our clientele and this bottle is a beautiful introduction to what it can do."
"With tropical fruits, a hint of weight and texture from the Semillon its wonderfully balanced and a joy to drink. We are currently pairing it with our 'Finish At Home' box main course: Cod loin with warm tartare sauce."
What Michelin said: "The surprise seasonal menu leans slightly towards fish but meat dishes, such as guinea fowl with pumpkin, are prepared with equal aplomb as roasted hake. The 10 or so courses are all delicate, balanced and skilful little creations that provide great depth of flavour and make for a memorable dining experience."
Behind are currently offering a Finish At Home meal kit, see their Instagram or email them for info.
Muse
On the other side of town, tucked down a charming mews street in Belgravia, Muse by Tom Aikens also earned their first star. Chef Tom Aikens is no stranger to the scene, but his newest opening is probably his most personal. With inventive dishes named after key moments from his life and career, this 25-seat restaurant is intimate and cosy.
Head Sommelier Angelo Altobelli hails from Italy, and one of his favourite wines on Muse's Coravin by the glass selection is our 2012 BARBARESCO Cottá Sottimano. From 70 year old vines on limestone and clay soils, this is a knockout wine: "I will never get enough of this!" Angelo told us. "I personally love this wine paired with our Pheasant dish here at Muse which is served with white truffle, pickled cranberries, chestnut and vin Jaune sauce. The red fruits that match the succulent meat of the pheasant, married by the white truffles and chestnuts; flavours that Barbaresco carries within its soul!"
For a glass of white, the 2018 CHABLIS Domaine Moreau-Naudet, "A beautiful Chardonnay: Citrus fruit and lemon blossom on the nose, a mineral character of wet rock and seashell, the palate is crisp and fresh with beautiful acidity. A textbook wine that never disappoints." What to eat at Muse with it? "Fillet of Dover Sole, stuffed with scallops & seaweed, served with broccoli, pickled kohlrabi and a beautiful champagne foam – a perfect pairing!".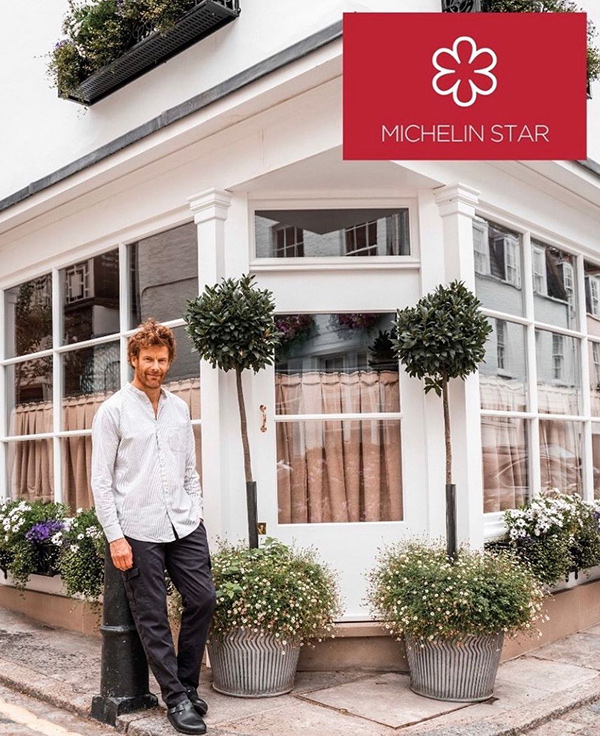 What Michelin said: "The Tasting Menus read like a culinary journey of reminiscences, where each well-judged and sophisticated dish relates to something memorable from the past, whether that was climbing a tree or enjoying the last barbecue of summer."
Muse by Tom Aikens have vouchers available on their website for use when restaurants reopen. Buy a voucher for a £value or treat someone (or yourself!) to their tasting menu.
Grantley Hall
There were stars to be had outside of London too. Shaun Rankin at Grantley Hall in Yorkshire was awarded a star, a beautiful restaurant in a stunning setting. Jordan Sutton, the restaurant's Head Sommelier, balances his wine list with classics and lesser-known regions and styles. LARMANDIER-BERNIER 'Longitude' Blanc de Blancs Extra Brut 1er Cru NV, one of our perennial favourite Champagne houses, features on the list, as does the 2018 PIESPORTER GÜNTERSLAY Pinot Noir Trocken Qba Weingut Lehnert-Veit – a Pinot with plenty of richly satisfying dark fruit and baking spice notes.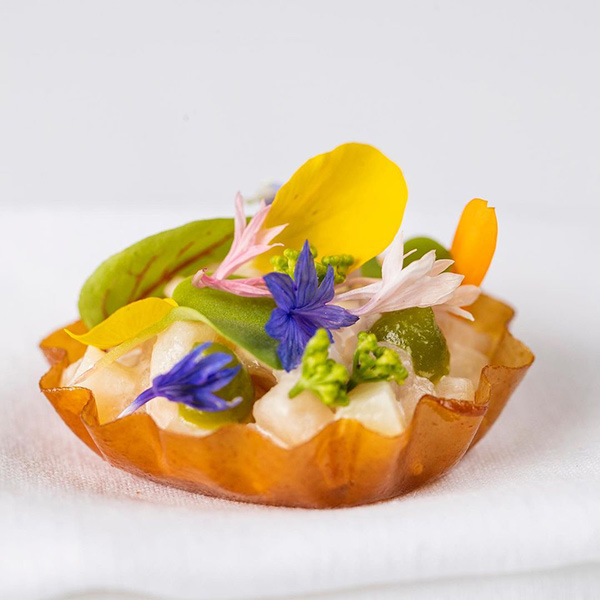 What Michelin said: "Well-crafted dishes rely on natural tastes and textures and, while they may appear simple at first, have a subtle complexity and depth of flavour. Some are finished at the table and all are described with care and detail."
See Grantley Hall's website for information about their re-opening, and to book rooms for the Spring/Summer.