A 'flight' not to be missed. Vintages 2017 to 1990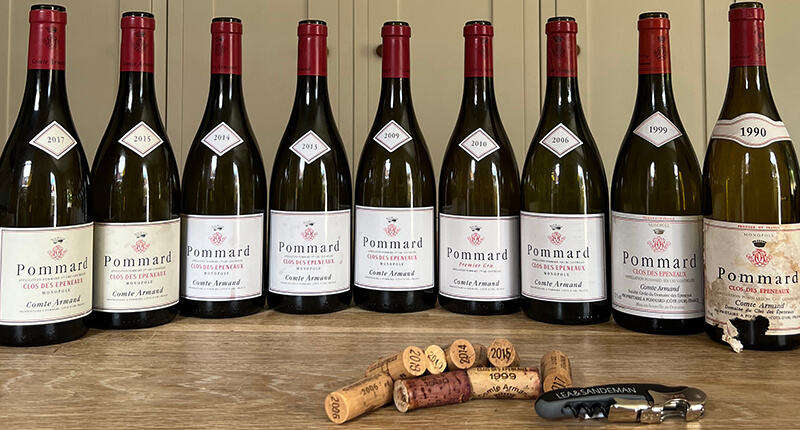 Recently, we were fortunate to be approached by a long-standing (and very generous) customer to taste through a flight of vintages (with the 1990 thrown in from Charles Lea's own cellar) from an estate that has featured in almost every Burgundy offer we have published since the early 90's – Domaine Comte Armand. This is a 9 hectare Domaine, of which the most important part is a magnificent five hectare monopole of the Pommard Premier Cru, Clos des Epeneaux. Three régisseurs have looked after this domaine for the last thirty years, namely Pascal Marchand, Benjamin Leroux and now Paul Zinetti. Each has added their own signature, and Ben and Paul in particular are aiming to make the wine less tannic and more in elegance and length – and perhaps more approachable in its youth.
The great appeal of a tasting like this, (which was over supper at Charles Lea's house) for merchants and customers alike, is to measure how a wine has evolved over time (in this case three decades) and where it might be going in the years to come. It always comes with some trepidation too for us merchants – did we call it right on release, and with the very people you sold it to sitting around the table?
2017
It was noted before we tasted this that Jasper Morris MW had described the 2017 as a 'ready to go' wine. It was very hard to disagree, even if there's still a long life and futher stages of develepoment to come. Here the primary fruit has harmonised with the wood and it has a joyously expressive personality. It disappeared fairly quickly after the 2013 on the table.
2015
Wonderfully sophisticated, less muscular, sweet. Quite immediate on the nose and showing some truffly development. The palate softly rich. So poised and likely to be truly epic in years to come. (97/109 Tim Atkin.)
2014
A hail vintage, but this is nothing new to Burgundians, and less wine of course. Tim Atkin 95/100 – the best Pommard of the vintage and our current view, everything is there and in place but a little more time needed. The colour possibly showing more age than some of the others, so while it needs time to soften the tannins, it may be a good idea to drink within the next five or six years.
2013
'A very handsome fellow, straight-backed and cutting a dash. Pretty brilliant'. was Charles's tasting note back in 2014. You wouldn't really change much. As the food arrived it was evident that most around the table chose the 2013 as the most accessible wine within the last ten years. Fresh, vibrant, delicate and a really lovely sweet, tensile finish. No rush to drink.
2010
You may spot in the picture that this was a ringer, as the bottle turned out to be the Pommard 1er Cru cuvée that Ben made that year, not the Clos des Epeneaux. Like a lot of 2010s, this seemed to be evolving glacially – it's beautifully balanced but giving little away aromatically – as one taster put said 'it's saying piss off and see you in ten years'.
2009
Muscular and tannic. A heady brute with plush ripe fruit and very full body behind all that structure. Charles noted 2009 as the first evident climate change 'heat' vintage. Great promise but needs 10 years. Nothing to change on our original tasting note in 2010.
2006
Quite strict tannins and a bit grumpy on the night. It just seemed a little disjointed, but did come together better with time open. Never give up. It could be equally excellent with another 10 years.
1999
Unfortunately slightly corked but evidently far too young still. A recent Sarah Marsh score (tasted 2017) of 19.5/20 would suggest at least another 5-10 years for a wine that tasted very fine and elegant as well as very concentrated out of barrel.
1990
On release: Robert Parker said 'It was one of the most concentrated, massive Pinot Noirs I have ever tasted'. We loved it. Now remarkably fresh, sweet red-berried and vibrant, arguably would benefit from another five years. 'Spot on. Grand Vin'. There's huge concentration in this wine, and the tannic density is epic, even at 32, but it is proving the doubters wrong (some have said the tannins are too much for the fruit elements), because every element is equally concentrated and this is still in balance – and magnificent.