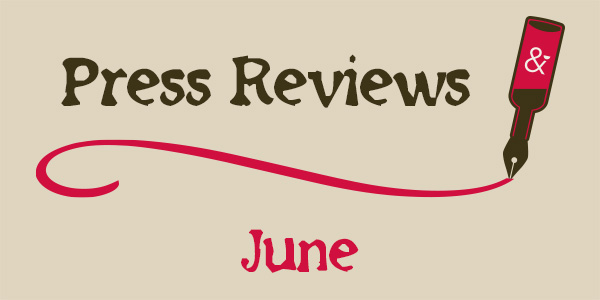 Our latest press reviews: The Telegraph, The Buyer, Delicious Magazine and JamesSuckling.com
Benefit from our case price discount in red by buying any 12 bottles from this selection – in a mixed case of your design or simply by the dozen.
The best rosé wines for summer 2022, The Telegraph, Susy Atkins, 28/06/2022:

2021 GRENACHE-CINSAULT Rosé Domaine Saint Félix
£9.50 | £8.95
Review: 'A pale copper-pink, this grenache-cinsault blend has a more citrus than red berry appeal, with oranges and dried orange peel at its heart and a peachy note. On the finish it's dry and slightly salty – good with pork pâtés or rillettes.'
The overlooked red wine that deserves more recognition, The Telegraph, Victoria Moore, 24/06/2022:

2018 CABERNET FRANC Glass Collection Glenelly Estate
£14.50 | £13.50
Review: 'Also in Stellenbosch, Glenelly Estate makes a cabernet franc in its Glass Collection whose structure is reminiscent of a supercharged claret.'
Celebrating English Wines, Joanna Simon, 24/06/2022:

2014 WISTON ESTATE Blanc de Noirs Brut
£38.95 | £36.95
Review: 'Black grapes only – Pinot Noir (85%) and Meunier – in the warm 2018 vintage at Rathfinny estate in Sussex. Biscuit, brioche, strawberry, and raspberry flavours with a delicate, fresh, mineral note.'
SOLD OUT
Beautiful Bubbles Adorn our Thursday Update, midweekwines.co.uk, Brian Elliott, 23/06/2022:

2014 WISTON ESTATE Blanc de Noirs Brut
£38.95 | £36.95
Review: 'Smooth but with energetic bubbles, 2018 Rathfinny Blanc de Noirs Brut ( is led by sophisticated, textured apple and strawberry flavours.'
SOLD OUT
By George! It's time to celebrate English Wine Week…, The Times of Turnbridge Wells, James Viner, 23/06/2022:

2014 WISTON ESTATE Blanc de Noirs Brut
£54.95 | £50.95
Review: 'Irish winemaker whizz Dermot Sugrue was at the Goring family's Wiston Estate in the heart of the rolling South Downs for 16 years but recently left to focus on his own venture, Sugrue South Downs, as well as continuing to consult for numerous other estates. This rousing release from his back catalogue is a whistle-clean, hedonistic vintage brut, with a cocktail of Seville orange, rhubarb, Braeburn apple and macadamia nut with prodigious length and aftertaste. It will make a superb match for (cold) seafood – think caviar and sashimi.
It was left on its lees for around 54 months and will likely develop new tricks for the patient. A striking, dreamy and lip-smacking sparkler from a ripe vintage. One to celebrate a new job/home or a special anniversary/birthday, perhaps. Super-smart wine, ogling perfection in the eye.'
Tasting special: the impressive current state of Loire Valley wines, The Buyer, Geoffrey Dean, 22/06/2022:

2020 RONCERAY Anjou Château de Plaisance
£24.95 | £22.50
Review: 'Another cracking Chenin Blanc, from Anjou producer Chateau de Plaisance's Ronceray label, is imported by Lea & Sandeman. Vanessa Cherrueau, a larger-than-life character with a permanent smile on her face, farms biodynamically in Rochefort sur Loire, and has crafted a wine with lovely intensity and length. She ferments in older oak with wild yeasts.

James Suckling.com, 16/06/2022:
We thought many customers might be interested to see the latest notes from a vertical
tasting of Fuligni's Brunello di Montalcino Riserva on James Suckling.com. Whether you want to try a bottle from our current stocks – 2012 (98 points in this latest tasting) and 2013 which James originally rated 96 but which was not in this tasting – or just check out the notes on the wines you have in your cellars and see if it's time to get drinking.

2015 BRUNELLO DI MONTALCINO Riserva Fuligni
Score: 100 Points
Review: 'This has a crazy nose of white truffles, wild berries, cherry blossoms, porcini mushrooms, earth, white pepper, sage, blueberries, cocoa and seashells. Full-bodied with such elegance and subtle power. Layered. Very fine, seamless tannins. Keeps going. Try after a year or two.'
2012 BRUNELLO DI MONTALCINO Riserva Fuligni
Score: 98 Points
£110.95 | £98.95
Review: 'Ripe, savory and richly flavorful with plenty of sun-dried tomatoes, tapenade, ripe cherries and walnuts. Full-bodied with round, ripe tannins. Salty freshness at the end. Long and delicious. Excellent energy for the vintage. Drink or hold.'
2007 BRUNELLO DI MONTALCINO Riserva Fuligni
Score: 97 Points
Review: 'Deep, savory and intense with notes of dried blueberries, five spice, mushroom, gravy, grilled herbs and dried oysters. Deliciously spicy on the palate, too, with a full body and firm, sleek and well-integrated tannins. Framed and concentrated, yet there's beautiful freshness at the end. Drink or hold.'
2006 BRUNELLO DI MONTALCINO Riserva Fuligni
Score: 98 Points
Review: 'Classy and elegant nose of cherry stones, white pepper, dried thyme and salted plums, as well as some ash and black olive. Full body and firm, linear tannins. Mineral and tight and still showing fantastic freshness. This will go a long way. Drink or hold.'
2004 BRUNELLO DI MONTALCINO Riserva Fuligni
Score: 95 Points
Review: 'This is now offering lots of porcini, spiced-cherry, red-pesto and black-sesame character. Some chocolate orange, too. Full body, chewy tannins and a savory, umami core. Lots to like. Drinking nicely now. Drink or hold.'
winealchemy.co.uk, Paul Howard, 17/06/2022:

2018 HERBERT HALL Rosé Brut
£43.95 | £39.50
Review: 'This complex organic rosé from Kent puts many a Champagne rosé to the sword. Again the classic blend of Chardonnay, Pinot Noir and Pinot Meunier.'
Raise a Glass to Father's Day and English Wine Week this weekend, The Times of Turnbridge Wells, James Viner, 16/06/2022:

COATES & SEELY Reserve Brut Britagne
£32.95 | £30.95
Review: 'Pick of the pops for poppa to toast English Wine Week – scrumptious chic bubbly from the chalk slopes of the N. Hampshire Downs. It's the start of English Wine Week this Saturday so why not pop open a bottle of fabulous homegrown fizz? Miss this delicious, award-winning (it just got 'Best in Show' at Decanter World Wine Awards 2022) Hants bubbly and dad will miss out. Made from the classic Champagne grape mix of pinot noir (50%), topped up with chardonnay (40%) and pinot meunier (10%), you get a stylish, toasty, nutty sparkler with a creamy texture, fine mousse, plenty of lively orchard fruit character and a lingering finish. This comes from the team headed by the genius of self-taught, terroir-focused, celebrated consultant winemaker Stéphane Derenoncourt. Refreshing and compelling, it's a masterful, benchmark, personality-laden release that sings from start to finish. Papa can enjoy it as a sparky aperitif or with smoked salmon, eggs Benedict/Florentine or posh fish and chips.'
The 50 best red, white and rosé wines under £10, The Telegraph Victoria Moore, 11/06/2022:

2021 SAUVIGNON-VERMENTINO Domaine Saint Félix
£9.50 | £8.95
Review: 'A fresh white from southern France that melds the lemon peel and elderflower of sauvignon blanc with the grassy-pear flavours of vermentino. A drink-with-anything summer stalwart.'

2021 GRENACHE-CINSAULT Rosé Domaine Saint Félix
£9.50 | £8.95
Review: 'A good, honest country-style rosé that has a gentle red berry scent and a bit of body but is also pale enough to appeal to those who like the fashionable barely-there style.'