It's interesting, the little avenues that life takes you down.
I've been at Lea & Sandeman for nearly three years now, and I've enjoyed each one more than the last, but, despite working exceptionally hard at the 'research' part of the job, I still haven't tasted every wine we have.
One particular wine that I'd left unopened for far too long, in spite of all the positivity the L&S team had surrounding it, was Alttus. Bert Salomon's little known Australian top cuvée, made incredibly infrequently (2010, 2013 and 2018 are the only ones from the last decade) and from a high altitude, maritime spot along the Finniss River.
So, with my first post-covid holiday booked, a spot of Salmon fishing this July, I decided it was a great opportunity to rectify this, so took a bottle (amongst many others).
Every night, we would have our 'house wines', a decent brace of Burgundies, then I would open a couple of special bottles, completely blind for the dinner table. It's fair to say that we drank well throughout the whole trip, but the effusion and praise when Alttus was poured outpaced every other wine by a factor of ten.
Orders were placed immediately, and the bottle, despite pontification, could not have lasted more than 10 minutes.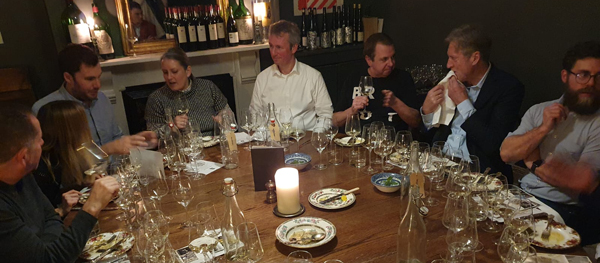 Upon my return, I called Charles Lea and remarked upon what a fantastic discovery I had made. He sagely agreed, having known all along just how delicious Bert's wines are, and gave me a phone number. 'Call him, he might be able to give us some more stock' – we were down to the thin end of a few bottles by then, and I was fairly determined to drink them all myself, so action was required.
One lovely chat later and not only had Bert kindly opened up his personal reserve cellar to us, so we could offer some 2013 Alttus to more clients, but we had also booked in a date for him to fly to London and put on a dinner, along with the new 2018 release.
That was on the 16th of November. In the private dining room at Quality Chop House, 14 of us gathered to taste our way through his wine. One thing which can be exceptionally challenging when tasting a new wine, especially if you don't have a huge depth of knowledge of that particular country or region, is finding a qualitative comparison.
The white wines
Point scores are useful, but so often when you taste with a producer, they will usually only give you their wine and just talk about their own wine. Bert, with a sense of total humility, contradicted this. After drinking our way through his otherworldly Grüner Veltliners (a grape I frequently fine either too insipid, or way overdone, but the 2021 Von Stein Reserve – £30.95 per the bottle or £27.95 in a case of 12 – completely changed my view) we got into his top Riesling cuvée.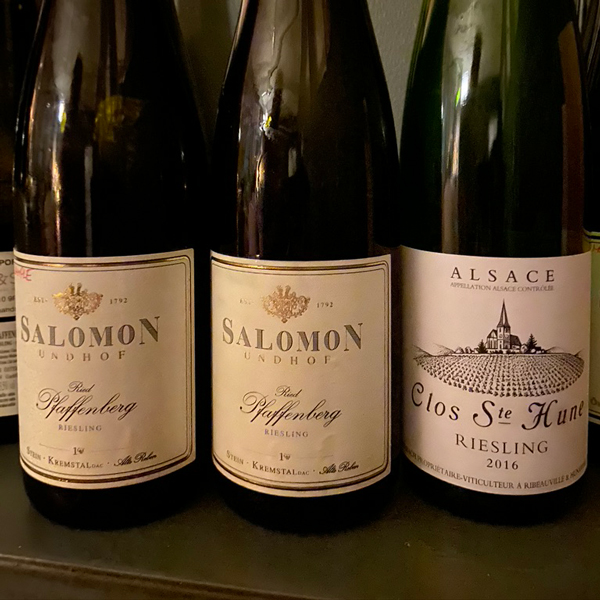 You may or may not have heard of Trimbach, in particular their Clos St Hune. It is widely recognised as the best, or at least one of the very best wines of Alsace, with a price tag to match. So, we put a bottle into the mix – a £205 2016 Trimbach Clos St Hune was tasted blind alongside Salomon's 2011 and 2019 Pfaffenberg Riesling.
The result was almost unanimous. One of our party picked the Clos St Hune, some (including myself) favouring the 2019 Pfaffenberg, but most loved the 2011 – the rewards of patience. We have just a few bottles left of the 2019 RIESLING Ried Pfaffenberg (£49.95 per the bottle or £44.95 in a case of 12), which recently was awarded 97pts and a 'best in show' by Decanter. I'd advise picking some up, before I get the lot.
The red wines
Onto the reds and a similar story. From his own cellar, Bert has kindly donated a 2018 Torbreck RunRig, a near £200 bottle of top flight Australian shiraz with 99pts from RobertParker.com – a tough benchmark. Next to it, and again all completely blind, we tasted his 2010 and 2018 Alttus.
Bert reminded us, as we tucked in, that this exercise wasn't an objective 'my wine is better than their wine' comparison. It is in part something he wanted to do to highlight the stylistic difference between Finniss River and the Barossa Valley (the latter has mounds of sweet, ripe fruit, whereas his wine is half way to France, with more energy and restraint), but also just to show that Alttus does belong in the company of these perceived 'icon' wines.
The crowd agreed. When votes were cast, five favoured the Barossa, five his 2010 Alttus (which goes to show how long lived it is, the wine was showing well but still young) and four (including myself) found limitless charm in the yet to be released 2018. Bert was with Jancis Robinson the day before, so we shall wait to see what she officially thinks of it.
So there we go – a butterfly flaps its wings. Having only discovered his wine 6 months or so ago, it rapidly rocketed up my personal favourites list. If you would like to know more, please do enquire… I'm led to believe that the shops are still harbouring some of the 2013 Alttus, which is so worth truffling around for.
I cannot wait to release, buy and stash away some of the 2018.
Browse all of the wines from Salomon Estate and Salomon Undhof.