Chablis
After a dearth of Chablis in recent vintages as the hail and frost-affected vintages reduced yields to pitiable levels, 2018 is the vintage the growers were really hoping for, so generous that even Grand Cru sites went over the maximum-permitted levels. Given the levels of ripeness, it is just as well the quantity is high, or the alcohol would have been hard to control. As it was our growers reported 13-13.5% as the norm and the wines have much more freshness than would one dare to dream of, given the reported heat of the summer and the long sunny days.
All our growers spoke of the need to get the harvest in swiftly as the sugar levels rose being the main challenge of the vintage. The Tributs said that the acidity was relatively low compared to the alcohol levels and that they did not want to keep the wines on the lees for too long. But generally we were impressed by these wines - you can complain that some are not in the most 'classical' mould, but if a Chablis still tastes fresh, even though it may be beginning to resemble a Puligny Montrachet in terms of body and richness, are you really going to moan that much?
---
Domaine des Hâtes
Pierrick Laroche's father farms cereals, and was not very concerned with his family's vineyard, the production of which was sold to the co-operative. Pierrick took them out of the co-operative, and 2010 was his first vintage making wine under his own label.
Pierrick is clearly a very talented winemaker. He currently manages 25 hectares of vines in Petit Chablis, Chablis and Premier Cru, with additional fruit being bought to make his Beauroy and Grand Cru Bougros.
In preparation for bottling under his own name from 2010 onwards Pierrick stopped using pesticides and herbicides in 2009 and has since then manually worked the soil - this great change in practices has seen superb results in the quality of fruit he is now picking.
It is all about freshness and precision here. Classical, deeply mineral wines. Picking perhaps earlier than some of his neighbours Pierrick captures beautiful acidity and brightness of fruit - he then loves giving the wine a long élevage in tank to build texture and weight and complexity. He is not averse to using oak - but it is done at a very minimal level with just the 1er Cru wine having less than 25% oak ageing. The results are bright, elegant wines but with a real shape and feel - classical, but interesting Chablis.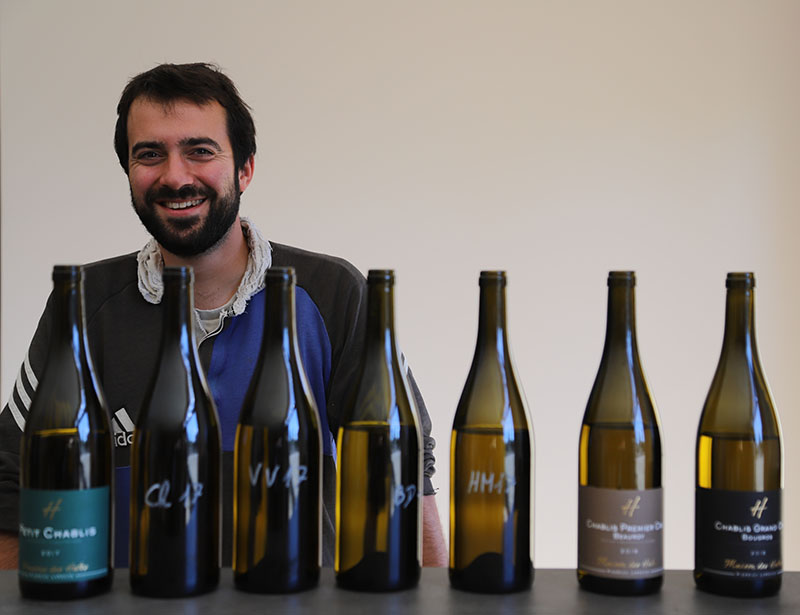 2018 CHABLIS 1er Cru Beauroy Maison des Hâtes
25% of this goes into wood here in a mixture of sizes so Pierrick can really control the impact. He uses demi-muids and regular barrels. Of the wood 20% is usually new. There is a richness up front25% of this goes into wood here in a mixture of sizes so Pierrick can really control the impact. He uses demi-muids and regular barrels. Of the wood 20% is usually new. There is a richness up front a nicely gourmand feel not thick - but just indulgent enough. It is guided and held the right side of the fence by a nice tension that builds to the finish. Full of sunshine but good lines too. Some brighter bolts of acidity and some good intensity of fruit make for a satisfying Chablis.L&S(Nov 2019)

75cl bottles, case of 12
In Bond

75cl bottles, case of 6
In Bond
Domaine Denis Pommier
Founded when the Pommiers inherited 2 hectares of vines in 1990. Isabelle and Denis bottled their first wine in 1994 and now have 18 hectares of vineyards, which are run according to biodynamic principles (which have sadly cost them dearly in terms of lost crop in 2016 and 2017).
The Petit Chablis is a model of brisk freshness - made entirely in stainless steel - while the Premier Crus benefit from a small amount of barrel-fermentation and élevage. The Troësmes (a small parcel within the larger premier cru 'Beauroy' which the Pommiers think deserves to be identified by its correct name) is relatively rounder, while the Côte de Léchet is the one for fans of the slatier, crystalline side of minerality. Keep either of the premiers crus four to six years.
2019, Isabelle told us, was, like 2018, very hot. The heat spike was shorter but more intense. They harvested early in the day - only between 6 am and 2 pm. We came away from the tasting with a signed copy of Denis' new book about his experience of switching to organic viticulture, 'Les Larmes de ma Vigne'.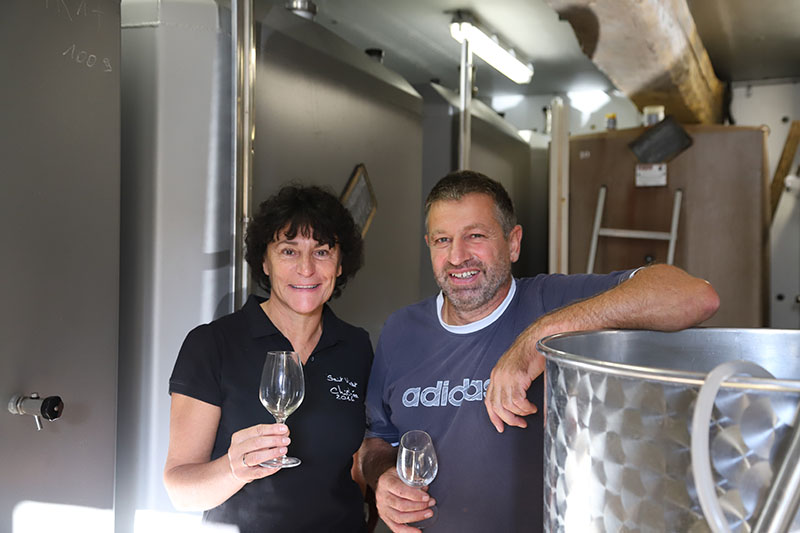 Domaine Drouhin Vaudon
The Beaune-based merchant Joseph Drouhin has restyled its Chablis Domaine 'Domaine Drouhin-Vaudon' to emphasise its ties with and holdings in (38 hectares) the Chablis vineyard. The Moulin de Vaudon, an 18th Century watermill straddling the Serein River, close to the Grand Cru vineyards of Chablis, is the headquarters and the source of the name. It is the largest estate in Chablis entirely farmed biodynamically.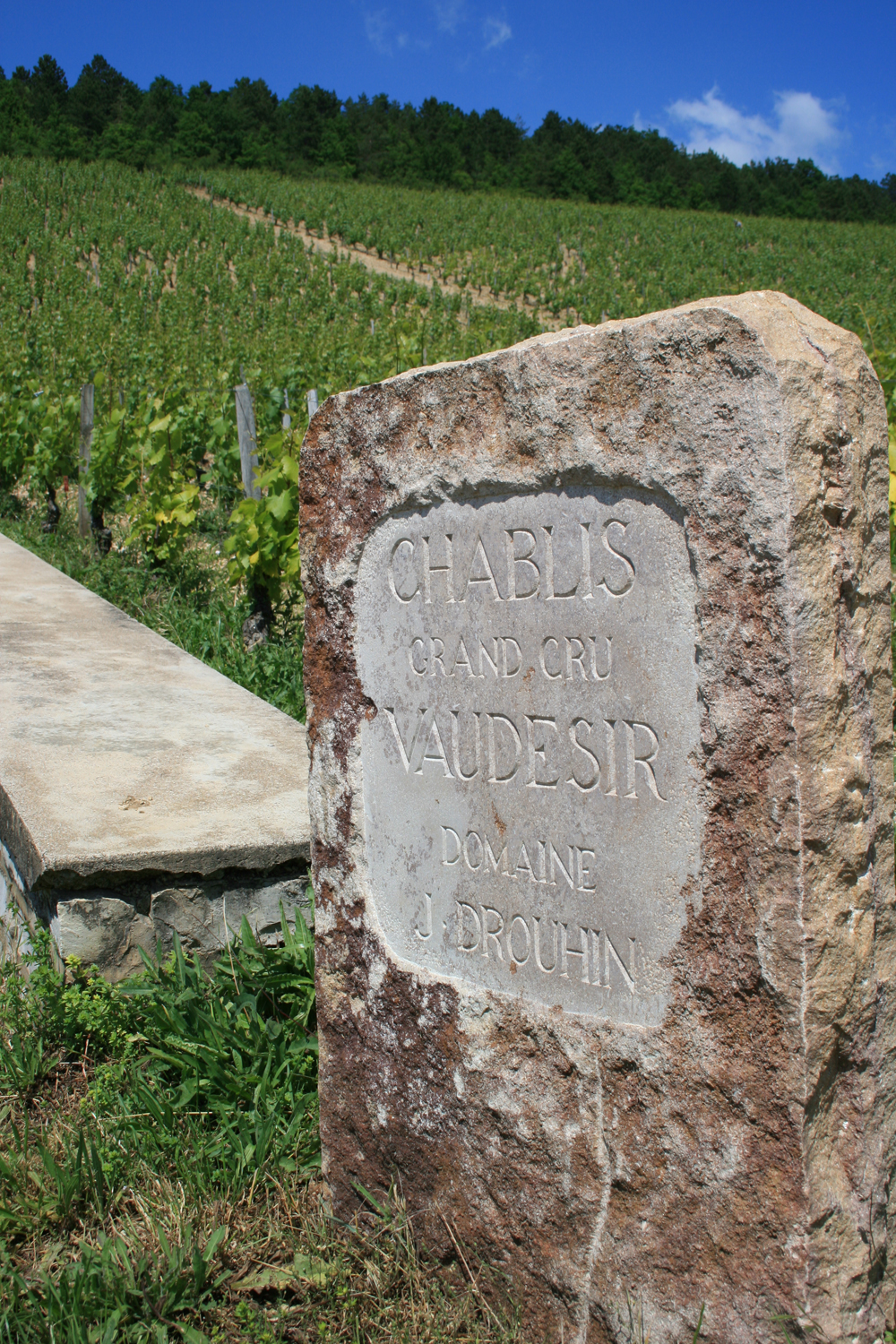 Domaine Moreau-Naudet
A domaine of 25 hectares, of which 3 are in Petit Chablis, 11 or 12 in Chablis, 3 in Vaillons, 2 in Forets, 1.6 in Montmains, 0.86 in Montée de Tonnerre, and 0.58 in Valmur. (Yes, this does not make 25 - there are further parcels of young vines in the Courgis sector - Beauregards, Côte de Jouan and Goulotte, which are currently sold in bulk).
Virginie (Mimi) Moreau is proving more than equal to the task of taking over from her husband Stéphane. Stéphane, who was influenced by Vincent Dauvissat (who recommended him to us many years ago, and who remains an influence here) was vigneron whose star burned very brightly, and the domaine continues along the lines he set, working organically, hand-picking, aiming for optimum maturity while avoiding any botrytis influence.
The cellar-work is also masterful, using 30% barrel-élevage for all the Premier and the Grand Cru, but not in such a way that oakiness can readily be detected in the wines (all the barrels are steamed rather than charred and there is no new oak except for in the straight Chablis, and then only one barrel per 100hl in order to age it prior to using for the Premiers Crus).
Virginie is now really totally confident in her role here, and the wines here, full of racy character, textural depth and complexity, seem to be better with every vintage.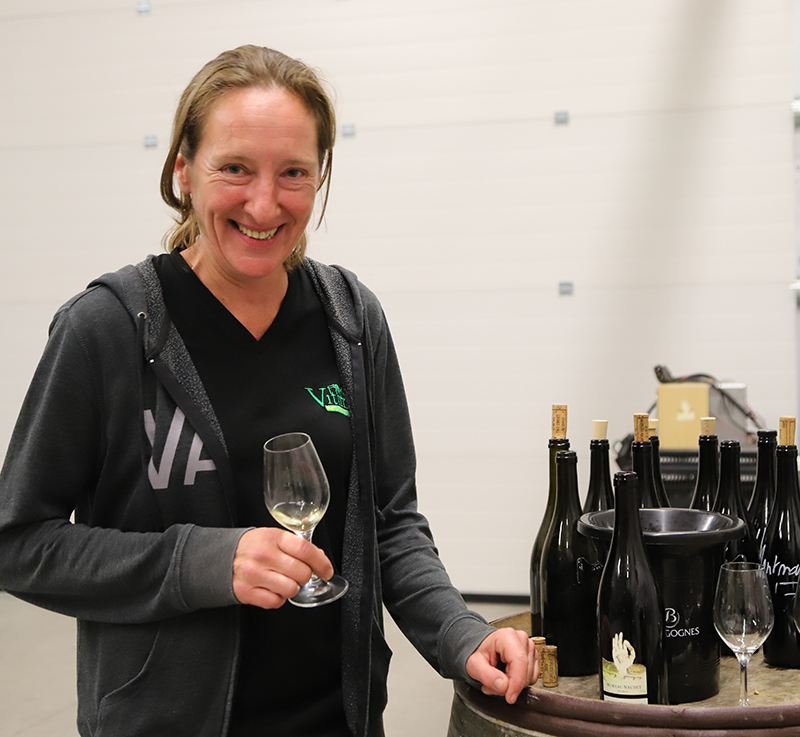 Domaine Solange Tribut
Solange Tribut is the daughter of Laurent Tribut, whose excellent Chablis we have sold successfully for years, and the niece of the highly regarded Vincent Dauvissat. The family tradition for expressive yet pure Chablis is safe in her hands. Her wines are very classically shaped. Light on their toes - pithy with lovely citrus highs and great clean lines. Super value wines with great heritage.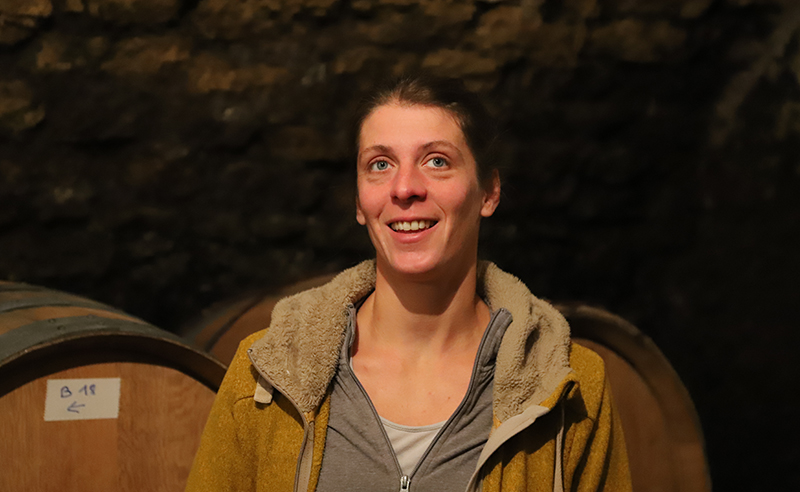 Domaine Laurent Tribut
Laurent Tribut is married to Vincent Dauvissat's sister, Marie Clotilde. When he started he made his wines in the Dauvissat cellar in Chablis, but now this small family-run domaine is based in Poinchy. Laurent has now officially retired and has now handed over to three of their four children (Solange, Adeline and Gabriel), with Solange taking the lead in the winery. With Laurent's guidance the future here looks very bright.
With just 6 hectares the quantities are small - but the quality of all the cuvées is extraordinary. Pure, powerfully driven, classically shaped there is more than a passing similarity to the wines of his brother-in-law, the head-line grabbing Vincent Dauvissat. Buyers will enjoy these long-lived wines with some time in bottle too - they have a great ability to age and patience will pay off, we recently tasted the 1er Cru Côte de Léchet 2004 with Laurent in his cellar and it was bright, young and full of vigour - nearly 15 years on, and in 2020 the 2000 Beauroy was still in it's prime. This is brilliant, classic Chablis.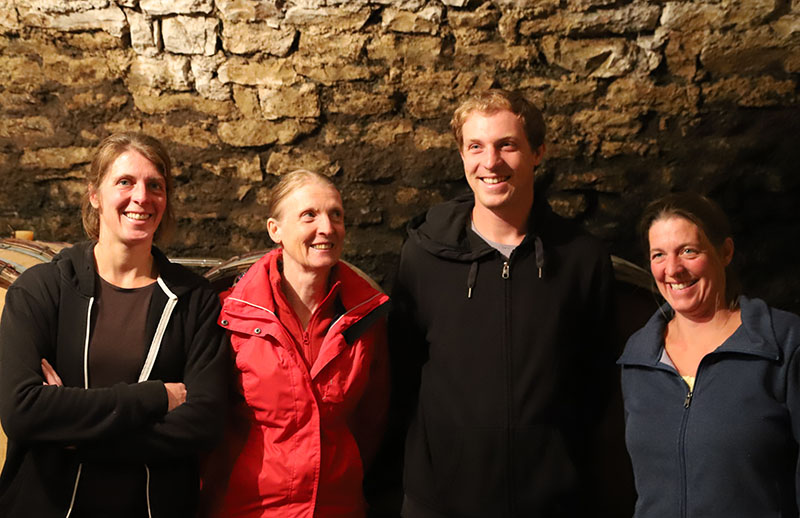 Domaine Vincent Dauvissat
A domaine of 12.7 hectares, comprising a hectare each of the Grands Crus Clos and Preuses, 3.7ha of Premier Cru Forest, 1.3ha of Vaillons, 0.4ha of Séchet, .3ha of Montée de Tonnerre, 3.3ha of Chablis, 1.1ha of Petit Chablis, and .6ha of Irancy (red).
Vincent Dauvissat remains one of the (if not the) leading lights of Chablis, and his wines are always in high demand and limited volume.
Vincent's grandfather Robert was the first to start bottling under the family name in 1931 and he uses the same cellar today - but the family have been growing grapes here since the 18th century. Today his single-minded determination in the vineyard, where he follows biodynamic principles (without certification) followed by very subtle use of old oak barrels as part of a long élevage, produce some of Chablis' most age-worthy and fascinating wines.
The tasting in Vincent's cellar of his 2018s was, as usual, one of the highlights of our trips to Burgundy.