Côte de Beaune
Another extraordinary vintage in the Côte de Beaune in quality terms, but the yields are tiny in many places, the heat and drought affecting the reds more than the whites, apparently. Pommard, with its deeper clay soils which could in the past be slow to ripen, has done exceptionally well.
As elsewhere the tannins are abundant in analytical terms, but they do not obtrude. However the fresher acidity does make them a little more present than they were in 2018, and although these wines, being more in the brighter red fruit register, don't have the very gourmand glossy patination of the 2018s, we found that the word 'sleek' kept being the one of choice to describe the cool longiligne feel in the mouth. As Nico Rossignol put it 'I definitely prefer 2019 to 2018, you have the power and richness of 2018 and the energy of 2017 together in the 2019s'.
The new Côte de Beaune wines from Dugat-Py, as well as the really jaw-dropping two reds from Rémi Jobard, are really worth your attention. You wait all this time for us to stock a Monthélie again (we last offered Remi's in 2011) and then along come two at once.
---
Domaine Joël Rémy
A family domaine that extends back five generations to 1853, but which Joël has modernised considerably over the past twenty years, installing new fermentation and ageing equipment. Over the years his vinifications have changed, and the wines have a lot more immediacy and precision. The quality of fruit is not in doubt, as lovers of his Bourgogne Rouge from year to year will attest, and a lot of work in the vineyard contributes to this, including leaf-thinning towards the end of the growing season. In the winery he has installed a vibrating sorting table, and the only filtering is by a lens filter at very low pressure to avoid de-naturing the wines. Joël is always in search of freshness in his wines, and now has been working on his bottles too - from 2018 onward he has reduced the internal diameter of the necks of his bottles to get a tighter cork fit, and is only using Diam corks. This development is purely to ensure the maximum freshness is retained. It is not primarily to overcome any problems with cork taint, although that is obviously a bonus.
In 2016 Joël was joined full-time by both his children, Maxime and Manon, which injected a new air of excitement and ambition here, and the 2019s continue to show the confidence that Joël has brought to the winemaking.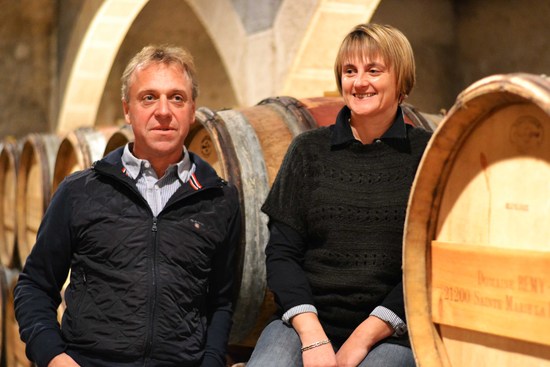 2019 BOURGOGNE ROUGE Pinot Noir Domaine Joël Rémy
Joël describes this as being a bit lighter and less structured than the 2018 and it is a satisfyingly rich pinot with juicy fruit and supple texture - lots of the 2019 freshness.Joël describes this as being a bit lighter and less structured than the 2018 and it is a satisfyingly rich pinot with juicy fruit and supple texture - lots of the 2019 freshness. Drinking range: 2021 - 2024L&S (Oct 2020)

75cl bottles, case of 12
In Bond

2019 CHOREY LES BEAUNE Les Beaumonts Domaine Joël Rémy
More sophisticated fruit than the Bourgogne, with a fresher expression, this Chorey is as brilliant value as ever.More sophisticated fruit than the Bourgogne, with a fresher expression, this Chorey is as brilliant value as ever. Drinking range: 2022 - 2027L&S (Oct 2020)

75cl bottles, case of 12
In Bond

2019 SAVIGNY LES BEAUNE Fourneaux Domaine Joël Rémy
Good punch of fruit, there's some structure and touch of tannin on the finish here, but it's a wine with finesse too, the fruit stays well in the fine tannins.Good punch of fruit, there's some structure and touch of tannin on the finish here, but it's a wine with finesse too, the fruit stays well in the fine tannins. Drinking range: 2022 - 2027L&S (Oct 2020)

75cl bottles, case of 12
In Bond

2019 BEAUNE 1er Cru Cent Vignes Domaine Joël Rémy
Joël's usual supple texture with no shortage of body and richness, distinctiveness coming more pronounced on the finish with some cherry brightness.Joël's usual supple texture with no shortage of body and richness, distinctiveness coming more pronounced on the finish with some cherry brightness. Drinking range: 2023 - 2030L&S (Oct 2020)

75cl bottles, case of 12
In Bond

2019 BEAUNE 1er Cru Les Avaux Domaine Joël Rémy
Pale, rather dull ruby. Aromatic with notes of cranberry. Very sweet palate entry indeed which may put some people off. Sweet and spicy with even a cinnamon aspect. Lots of fine tannin on the end.Pale, rather dull ruby. Aromatic with notes of cranberry. Very sweet palate entry indeed which may put some people off. Sweet and spicy with even a cinnamon aspect. Lots of fine tannin on the end. Should be rather delicious eventually – provided you don't mind the sweetness. Drinking range: 2026 - 2036 Rating: 16+ Jancis Robinson OBE MW - www.JancisRobinson.com (Jan 2021)

75cl bottles, case of 12
In Bond

75cl bottles, case of 12
In Bond

2019 POMMARD Vignots Domaine Joël Rémy
Really quite sophisticated, with a crunchy texture and quite a bit of salinity and fresh purity. Ripe fruit from a well-exposed but rocky and elevated position.Really quite sophisticated, with a crunchy texture and quite a bit of salinity and fresh purity. Ripe fruit from a well-exposed but rocky and elevated position. Drinking range: 2024 - 2032L&S (Nov 2020)

75cl bottles, case of 12
In Bond
Domaine de la Choupette
The Gutrin brothers' domaine was created when the twins joined forces in 1992 - it's based in the middle of Santenay, with Jean-Christophe in charge of the vines and Philippe in the winery. Perrine Gutrin runs the 'front of house'. They have vineyards in Puligny (three hectares), Chassagne (half a hectare) Maranges (one hectare) and Santenay (seven and a half hectares).
The vineyards are worked traditionally with ploughing rather than chemicals for weed control and to encourage the roots to go deeper. Yields are initially controlled at the pruning and with de-budding, and finally a greeen harvest as necessary. Whites are classically made with élevage in barrel for a year with up to half new wood. The reds are de-stemmed and macerated cold for a week before the three week fermentation at around 28C, then the temperature is allowed to rise to around 33C to stabilise colour and tannins. This gentle vinification is aimed at making fruit-forward wines, which are then aged in barrel for twelve to eighteen months using a mix of new and up to three-year-old barrels.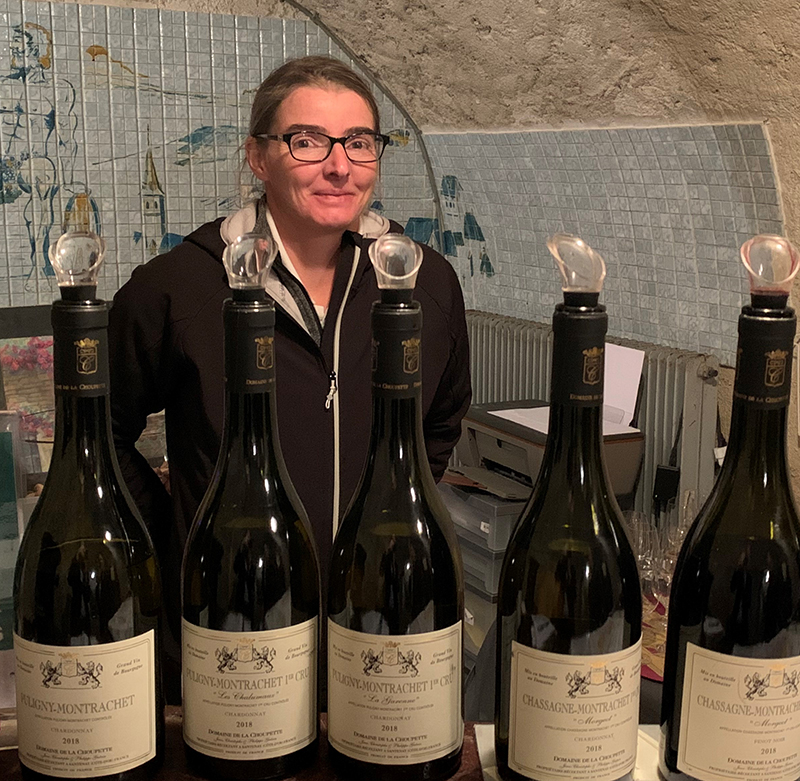 Domaine Thomas-Collardot
Jacqueline Collardot and her son Matthieu own and run this exciting 'micro-domaine' in the heart of Puligny-Montrachet. Matthieu completed his studies last year and joined Jacqueline permanently, just in time for the harvest. Once they are doing it together we look forward to a slightly bigger production - as for now she is limited to what she can achieve all on her own.
At only 2.5ha, this is an artisan project, allowing Jacqueline to give unrivalled time and care to every parcel she has. Jacqueline inherited these vineyards from her father's Domaine Thomas Pierre in 2010 after he retired and is slowly raising the profile with her incredible care and attention. Although there may not be much quantity - the quality is impeccable. These are classically shaped, bright wines that express their various Puligny terroirs perfectly. She likes a long, slow élevage on the lees, with very little new wood used. Typically the wines spend two winters in the cellar before she then bottles in line with the moon in March.
The domaine is now on its way to organic certification (they have been at it for three years now) and the 1er Crus are worked by horse.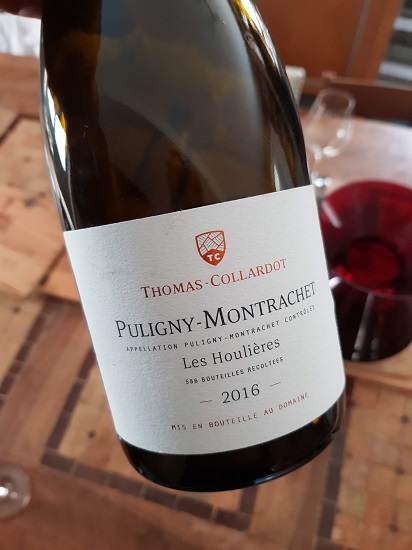 Domaine Joseph Colin
Joseph Colin is one of the four children of Marc Colin (the others being Pierre-Yves, Damien and Caroline), who had a large domaine with vines in Saint Aubin, Santenay, Chassagne and Puligny. Pierre-Yves left the family domaine in 2005 and since then Joseph was an important member of the team there. After making a token 1800 or so bottles on his own account in 2016, he started in earnest with 2017, with seven hectares of vines, from which he makes an astonishing nineteen different cuvées.
Most of the vines he has in Saint Aubin are young, but by limiting bunches to six or seven per vine, he manages to control the yields. With plenty of time to learn his craft at Domaine Marc Colin, he has developed into a confident winemaker. He experimented with sulphur levels in the wines at the family domaine, so coming to his current view that the wines should be left the longest time possible without added S02, perhaps adding some at racking, but if he feels there's still enough C02 after racking, he will not even add any at that stage, so as to develop 'wine at its purest', but he is keen to say also that he has no standard recipe - he will adapt to each wine. In 2018 he again used no S02 until just before bottling, but he's clear that if there's some botrytis, for example, he will add it earlier. Genarally nothing is either fined or filtered.
Joseph is a very bright new prospect for lovers of precise, pure white Burgundies with fresh acidity for crystalline definition.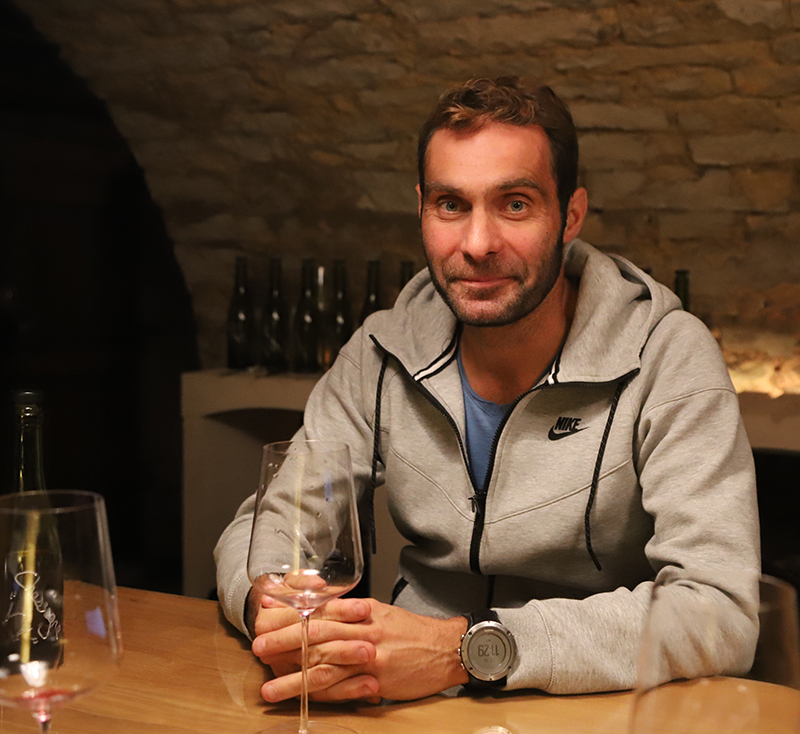 Domaine Hubert Lamy
A domaine with 18.5 hectares of vines - 80% are Chardonnay and 20% Pinot Noir. The vines are spread over Saint-Aubin, Puligny-Montrachet, Chassagne-Montrachet and Santenay. Olivier Lamy's wine-making style and preference is to emphasise the fresh and the mineral side of his wines, with limited new wood and that is with the wines in 600 litre demi-muids rather that the classic Burgundy (225 litre) fût. Certainly Olivier's whites do have an arrow-like purity and intensity, and seem to age completely straight and true.
2019 is a very small harvest, and these will be hard to come by this year. We cannot tell you much about them either, as Olivier had Covid (asymptomatically) and had his test result the day before we were mean to taste there.
Domaine Fernand & Laurent Pillot
The origins of the Pillot family in Chassagne can be traced back to the eighteenth century, when they seem to have been coopers more than vignerons. In the nineteenth century they abandoned barrel-making in favour of enlarging the property in Chassagne. Fernand and Laurent, who is the fourth generation, added to it again in 1992, and then in 2001 Laurent's wife Marie-Anne inherited half of her family's property, the Pommard domaine of Pothier-Rieusset, and Laurent and his father bought the other half. The domaine now stands at 14.5 hectares of vines across almost the whole length of the Côte de Beaune from Santenay to Beaune.
The Domaine is worked according to organic principles and are ploughed – no chemical weedkillers are used. They have also been members of the Dephy-ECO-phyto group, which works to reduce the number of treatments using copper sulphate, since 2012.
Laurent has always managed to pack in a lot alongside his running of the vineyard. He has his own plane which he flies to all corners of France, used keep and hunts hawks, and conducts the Chassagne brass band as well as dabbling in Mayoral duties - on top of being a father of three, Anaïs, Adrien and Eugène. They are all mad about the alps and disappear up the mountains at regular intervals.
Laurent's eldest son Adrien has been travelling the world making wine all over the place for the last few years having completed his training in Beaune. Bringing back lessons learnt in Australia, South Africa and California (and from a stint at Lea & Sandeman), During harvest Adrien is now the one in the winery while Laurent takes charge of the picking team. The wines have long been L&S favourites in both red and white - they represent excellent value, and they age very well too, despite being attractive young. The whites are precise and pure, and not lacking for body and generosity, while the reds are velvety and juicy, beautifully balanced even if drunk young on their expressive Pinot fruit. The domaine was rightfully heralded in Decanter Magazine as 'an address that deserves to be better-known'. Great value and real pleasure across their range.
The Pillots 2019 harvest was not that bad in white, they said, down 15%, but the reds are down 30%. In general they are happy with the balance in the wines because it was very hot, but the acidities are still good. We discussed Adrien's wish to do a longer élevage for the whites, but the problem that if you take the wines out of barrel that means keeping them in vats with floating tops, and they are not mad about the practicality of that. For now most are bottled after a year, but the Vide Bourse and Grandes Ruchottes will stay in barrel until the spring. They use little SO2 to begin with, gradually stabilising the levels once the wines are back in tank, and still finishing with low levels. They like ripe grapes: 'there's a kind of fashion to be the first to pick in Burgundy - they want to keep the freshness but all they get is acidity and tannin'. For the reds, they don't do massive extraction - 3 pigeages only in the middle of the fermentation, but they do a lot of pump-overs.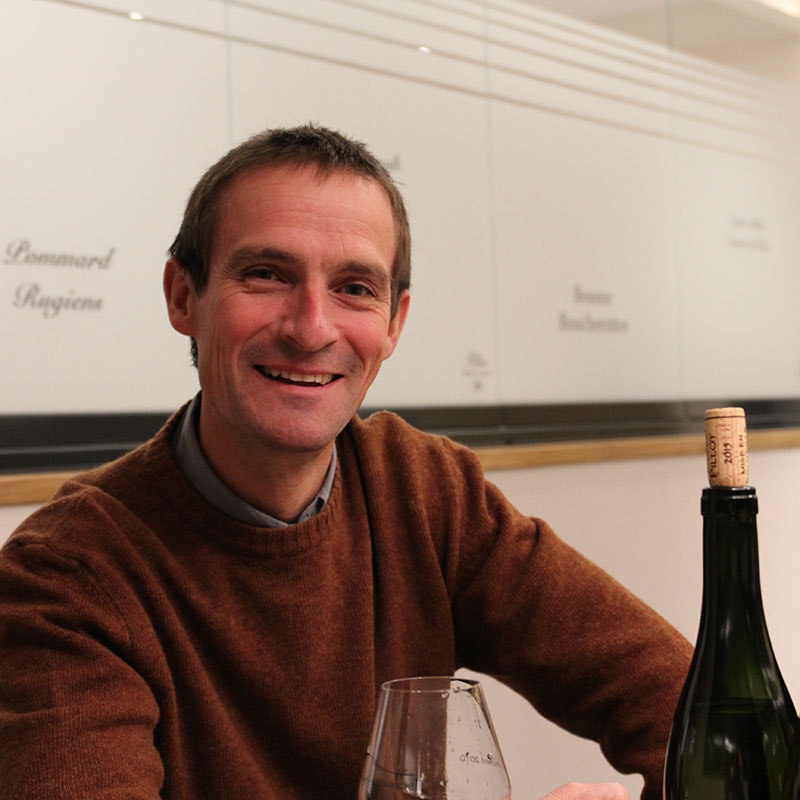 Domaine Henri Germain
Jean-François Germain was joined in 2018 by his daughter Lucie - who is now helping to run this small (7ha) domaine.
The Chassagne vineyards came through his mother, a Pillot, and Jean-François is married to François Jobard's daughter, so they are quite intertwined with some of our other producers. The Poruzots comes from the rows next to Remi Jobard's. In terms of winemaking the Germains are always happy to let nature take its course, and in the vineyards they follow as natural a system of viticulture as possible (organic, not certified).
These are concentrated, tightly wound wines from one of Burgundy's coldest cellars. Alcoholic fermentations can take months and the malolactics are often late, so they have always gone for long élevage in old barrels, always for two winters, and the Premiers Crus usually for 22 months. Slow to develop, they show wonderful crystalline purity. New wood is used very sparingly, just to replace barrels sold when they get to ten years old.
Jean-François told us that the yields in 2019 were well down - 2/3 of the size of the generous 2018 harvest in white at 40-45hl/ha on average, but the reds were badly affected by the drought after other complications wiand produced only 25hl/ha - 'une demi-recolte'. The reds are 13 to 13.5% natural, the whites all at close to 14%. Another lovely set of wines here, in both colours.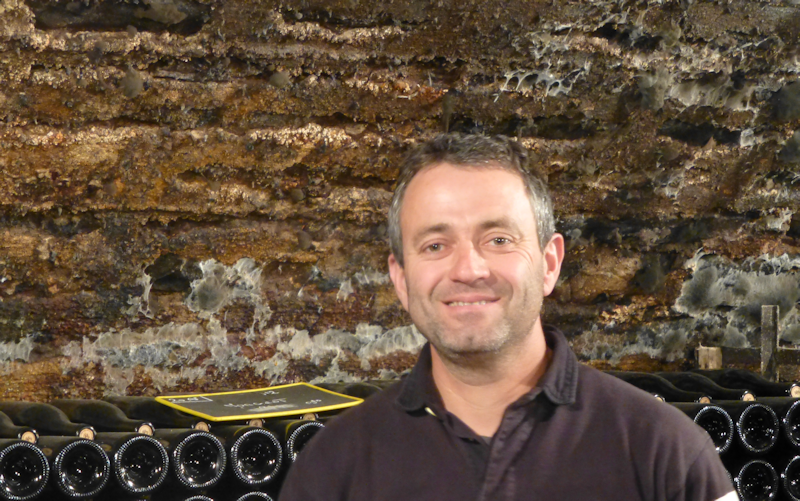 Domaine Rémi Jobard
Rémi has been been making small qualitative changes ever since he took over here. The entire vineyard is cordon-pruned, so yields are naturally limited. There has been no use of fertiliser since 1994, and the vineyard is grassed-over to encourage the vine roots to go deep. The domaine has been certified organic from 2008. He says that the two most important things are the absence of weedkiller (and thus the necessity to plough, which cuts any surface roots and makes the vine go deeper) and not adding any fertiliser which again makes the roots go deeper to find nutrients.
Rémi has two vast presses, to enable him to press very slowly over six hours, and this has resulted in a big jump in finesse. The élevage now lasts nearly fifteen months, so as to allow the wines to develop slowly and to avoid fining. As a result these are wines which take a moment to show, but which reward the patient with complexity and great depth of flavour.
Rémi made a move from traditional barrels to foudres made of a mix of French, Austrian and Slavonian oak, constructed by Austrian cooper Stockinger, and having added a new one (or two) each year, there's barely a normal barrel left. He likes the way the wines develop in these large volumes, in which the 'oaking' effect is minimised.
In 2019, says Rémi, the grapes were concentrated as much by evaporation as by the direct effect of the sun. If is was not for this concentration, they might have picked at 12.5% by maturity alone, but the hot wind from the south had a drying effect. This means that unlike some hot years, there are no exotic or tropical fruit flavours, but the wines remain citrussy and bright - and very concentrated in every aspect. There's always some little plan to make improvements here, and this year it's a big one, as Rémi has taken on a new cellar which he says has space for 240 barrels, as the building of the Stockinger foudres had left little room to work on the old one. There is no room to build more, and he'd like to be able to keep the wines in bulk for even longer, believing that it can further improve the finesse and elegance.
We are very excited about Rémi's two red wines this year, both of which are excellent, the Volnay Santenots being one of the vintage's coup de cœurs.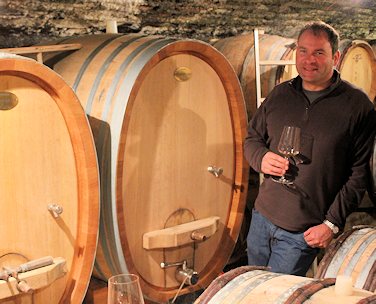 Domaine Nicolas Rossignol
With good-sized harvests from 2017 and 2018, it's good to see Nico's cellar full, but the the 2019 vintage is rather smaller. Still, for now it's all smiles. Now in its third year, he could not be happier with his new winery. A fantastic bespoke build, admittedly in a ZI (Zone industrielle) on the outskirts of Beaune, which he recognises is not ideal for the folklore aspect, but it is a perfect tool for the job, and does have a good view of all 'his' bits of the Côte - from the roof.

Nico immediately said that he much prefers 2019 to 2018 - 'the power and richness of 2018 with the energy of the 2017s'. For the 2018s he bottled between February and June 2020, depending on each cuvee, but he thinks the 2019s will need longer élevage, and so has racked them mid-way through and some will go back into barrel for extended ageing. Nico is very much a winemaker who likes full phenolic maturity, and determines harvest dates by eating grapes from each plot. This gives him the body and density which he likes - these are not weedy wines - at the same time remarking that 'I think the new cellar (this is the third vintage in it) has brought greater elegance'.
Domaine Comte Armand
A domaine totalling nine hectares, of which the most important part is a magnificent five hectare monopole of the Pommard Premier Cru Clos des Epeneaux, which was put together by Nicolas Marey in the eighteenth and nineteenth centuries (along with the DRC Romanée Saint Vivant 'Marey-Monge'). These vineyards were all sold, except for the Clos (now been enclosed by a wall), which came to Jean-François Armand as a dowry when he married Nicolas' daughter in 1826. The Volnay vineyards were added in 1994, followed by parcels in Auxey Duresses.
The current Comte Armand is a lawyer living in Paris, but very supportive of the régisseurs who have looked after this domaine for the thirty years or so that L&S have been buying here. The 1980 vintage, made by one of the many Rossignols of Volnay who was in charge at the time, was for us a great introduction to the possibilities of the great Clos des Epeneaux vineyard. Then came the era of Pascal Marchand, a young Quebecois who came to do a harvest with Domaine Bruno Clair and just never left. He began a period of radical restructuring and the introduction of organic and then biodynamic farming, while making very dark, dense and long-lived wines. Benjamin Leroux, hugely respected amongst growers who approach things from an organic or biodynamic point of view, then took over, and refined this approach and changed the way the parcels of vines are divided up for harvesting, paying less attention to just the age of the vines, and more to the underlying soil types. Claude Bourguignon was employed to provide a full geological survey of the Clos as the basis for this. Under Benjamin the wines of the Clos gained in finesse and precision, while still having the depth and richness expected of a great Pommard.
Both Pascal and Benjamin were keen to expand beyond the confines of the Clos, and the Domaine also has vines in Volnay, and, a particular enthusiasm of both Pascal and Benjamin, in Auxey Duresses, where they are convinced of the great potential of some of this village's undervalued and neglected terroirs. Paul Zinetti, who had worked with Ben for four years, took over in 2014.
The vineyard is cultivated organically (ECOCERT certified) and biodynamically. The grapes are entirely de-stemmed, but left intact, for a five to eight-day cold maceration before the fermentation, which lasts five to ten days, and then the wine remains in the fermenters for between three and fifteen days, depending on the vintage. In most years, the total time with skin contact will be around four weeks, which is longer than most. The wines will then be aged in barrel for between eighteen and twenty-four months, with new wood limited to 30% for the wine from the old vines of the Clos, down to none at all for the village wines.
Paul said from the outset that he wanted to make to make a less tannic wine in the Clos, and one which is more about aromatic length. In this he is continuing the route that Ben was following, but perhaps taking it even further.
All the wines here are a triumph in 2019, with a transparent elegance allied to the ripe density of the vintage.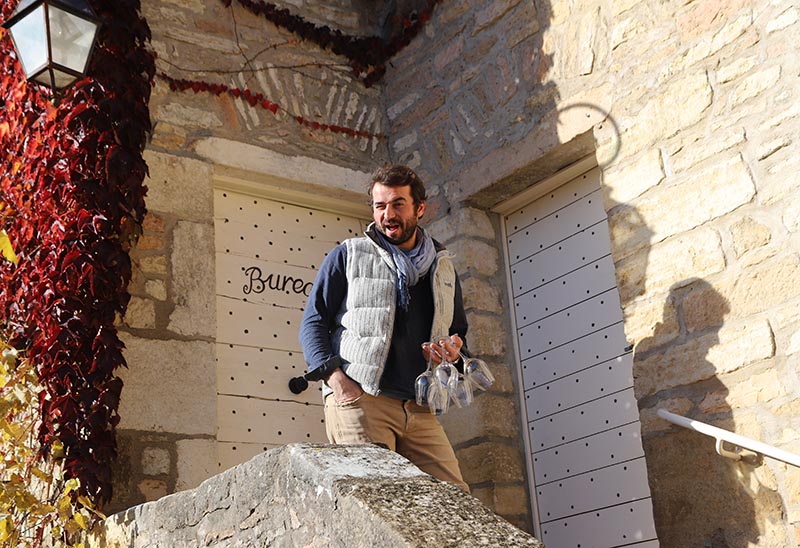 Domaine de Courcel
One of the great domaines of Pommard, with a 400 year history in the same family. The domaine produces a small amount of Bourgogne Chardonnay, a completely over-performing Bourgogne Rouge, a village Pommard (Vaumuriens, 1.44 ha), but the biggest part of the domaine consists of four great Premier Cru expressions of the terroir of Pommard, Fremiers (0.79 ha), Croix Noires (0.58 ha), Grand Clos des Epenots (4.89 ha) and Rugiens (1.07 ha). These represent a very different style to the Clos des Épeneaux of Comte Armand, for example. Yves Confuron, the régisseur, describes the difference between the two top wines by saying that the Grand Clos is 'terreux' while the Rugiens is 'aérien'.
The aim is to limit yields to around 25hl/ha, to attain optimum ripeness. The vines are ploughed, and pruned carefully to suit each one, then de-budded in spring and green-harvested in August to keep the fruit load balanced. Following Yves' usual practice the harvest is late and the vatting is long - usually around a month, with a cold maceration leading into a cool fermentation, and a long post-fermentation soak under the protection of the carbon dioxide given off by the fermentation. The wines are developed in barrel over 21 to 23 months, with a third of the barrels being replaced each year. After racking they are bottled without fining or filtration.
The domaine produces wines with astonishing depth and density that still retain the freshness, just like Yves' own wines at Domaine Confuron-Cotetidot. They are classic vins de garde and patience is advised - and will be amply rewarded.
This year, after tasting at Domaine Confuron-Cotetidot with Yves in the morning we has lunch with him there (always a highlight of our autumn visits). We tasted 1996 Gevrey 'village', which was in a very good place, supple and complex with a warm glow of maturity, and 2008 Suchots, which was gorgeous if still tannic, but which worked very well with food. Yves banged his drum for his style of winemaking, the late picking for him being the key - the whole bunches have to go in, and to do that the stalks must be dried - fully turned to wood and not green, and pips must be nutty and ripe and not green, and then, he says, you can extract all that the terroir can give you via the vines. For him, picking early is to miss this, and 'infusion' winemaking with little extraction is missing the point. He illustrates this when he brings the cheese, a wonderful aged Comté and some Brillat-Savarin, with, scattered around, some little silver-wrapped triangles of
'La Vache qui Rit'
, and asks which we want. Later, in the cellar at de Courcel, he makes the point again when we are tasting the Croix Noires. This is only half-way through it's élevage because it needs two years in barrel to civilise its altogether uncommon density. "It's a choice, you can have this, or you can have
La Vache qui Rit
", and both may have their place at different moments, but if you want all that something can give you, sometimes you have to go about it in a slower, longer-term way. For him, 2019 is a great vintage in Pommard - its a terroir which suits hot years, like 1999 and 2005.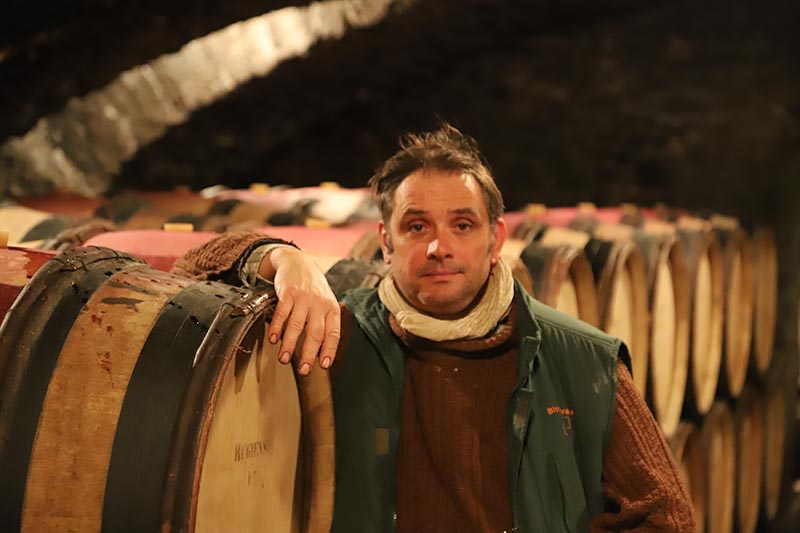 Domaine Henri Boillot
A domaine which dates back to 1885, but which began properly in the early years of the 20th century under the current Henri's grandfather (also Henri). His son, Jean, was the one who really developed it. Henri arrived in 1975 and worked his way up, becoming the winemaker. In 2000 he began the building of the new winery at the bottom of Meursault, and he then bought out his brother and sister to keep the domaine as one, renaming it from 'Domaine Jean Boillot' to 'Domaine Henri Boillot' to avoid confusion with his brother Jean-Marc's domaine.
After six years working alongside his father, Guillaume is the 'chef de culture', i.e. heads up the vineyard team, and has been entirely responsible for the vinification of the reds since 2012. Henri continues to make the whites which he likes to be 'straight, taut, precise, pure and elegant'. Guillaume's input has resulted in red wines that have gained in definition and energy, without losing the luxurious velvety richness and fruit depth that they have always had. From 2018 he expanded his use of vinification intégrale in which the reds are vinified in the barrels they will be aged in - the cellar being equipped with 140 barrels with stainless steel doors in the ends, all made of wood they bought for the purpose, which has been dried for three years. Labour-intensive and time-consuming though it is, Guillaume clearly believes it is the way to more precision in the wines, and the difference is noticeable.
The Domaine has roughly equal surfaces of red and white, and of which just under 4ha is the Monopole vineyard of Clos de la Mouchère, a walled enclave within the premier Cru Puligny Perrières. After the 2018 acquisition of small parcels in Latricières and Échezeaux, the Boillots bought the vineyards of Domaine Henri Darnat early in 2019, and so there are several wines that are new to the list this year, including a new monopole Clos in Meursault, the Clos Richemont, part of 1er Cru les Cras.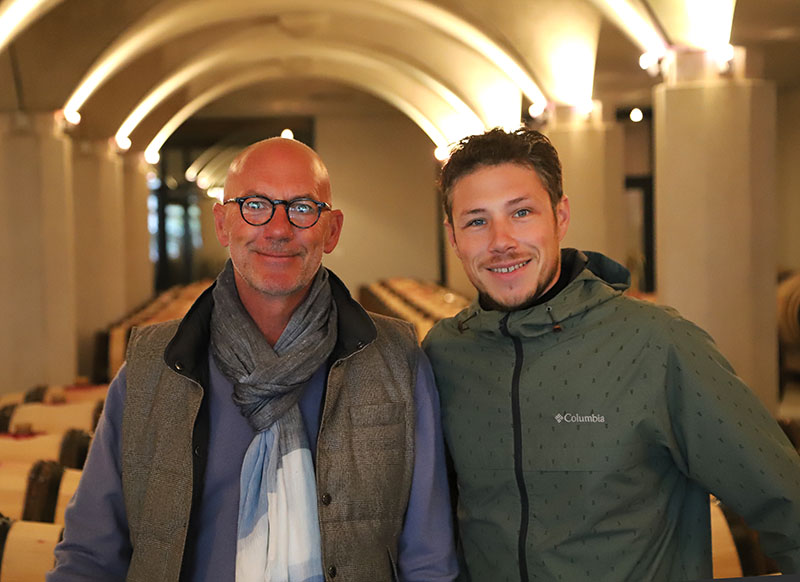 Henri Boillot
Henri Boillot complements his domaine wines with a small range of négociant wines of superb quality in very limited quantities. A few of the wines are offered here - an opportunity to buy some of Burgundy's rarest appellations from a top source.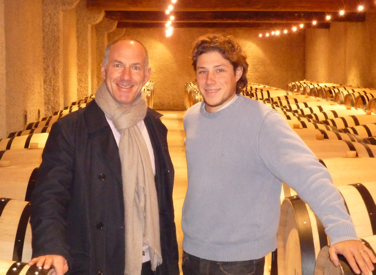 Domaine J. Confuron Cotetidot
Vignerons since the seventeenth century, the Confuron family has always selected and propagated vines to ensure that their plant material produces the highest quality, and they even have a clone of Pinot named after them - 'Pinot Confuron'.
The domaine has several Grands Cru vineyards as well as two hectares of the great Vosne Romanée Premier Cru 'Les Suchots'. There are around 12 hectares in all. The vines have never seen chemical weedkillers, and are ploughed and managed organically.
The Confurons have always used whole-bunch fermentation, picking very late, which really is a necessity if the stems are to be properly ripe and not give green flavours to the wine. A bit like the Thévenets with their whites in the Maconnais, they pick so much later that they can seem to have different vintages to everyone else. Yves thinks that 2007 was their great vintage of the first decade of this millennium, and he'd probably be the only grower in the Cote de Nuits who would say that. Yves also makes the wines at Domaine de Courcel in Pommard, in the same way.
Yves told us he very much likes the 2019s - 'like 2007 and 2017', it's good all over'. The big difference as he saw it between these two hot years, 2018 and 2019, is that 2018 followed a very wet winter, so that when the heat came in the summer, the vines were able to find water and just went on making sugar. In 2019, this was not the case and the vines shut down because of the lack of water, so that the alcohols stayed lower despite the heat. The cooler wind in September helped preserve freshness, so that the expression of the two vintages is completely different, and the alcohols significantly lower. He described it as a vintage with beautiful tannins, and we'd certainly second that here, and thinks that the wines are still quite reserved and hopes to pick up more spicy notes in the second year of élevage.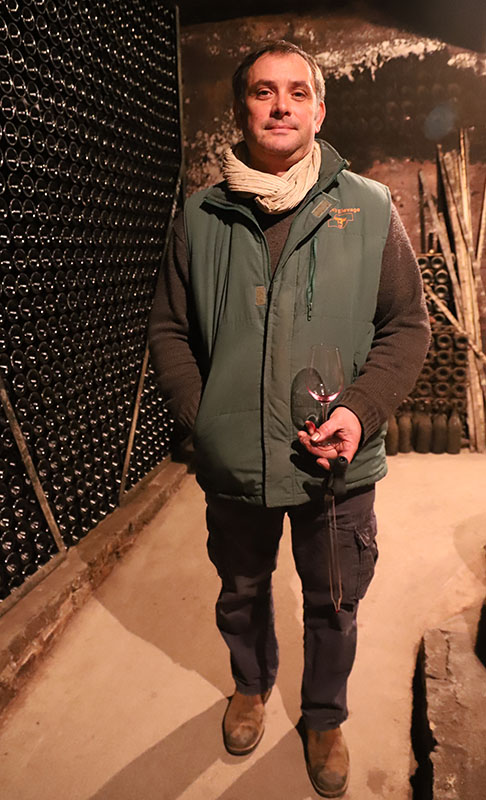 Domaine Faiveley
The Faiveley family are the largest vineyard owners in Burgundy, owning around 120ha, spread across the Côtes de Nuits, Beaune and Chalonnaise and encompassing everything from generic Bourgogne up to the grandest of Grand Crus. Their holdings supply the grapes for 5 out of every 6 bottles made by Faiveley, the balance being bought in from carefully selected contract growers.
Faiveley has been more and more impressive in recent years, and the combination of winemaker Jerome Flous and an entirely new winery can only build on that.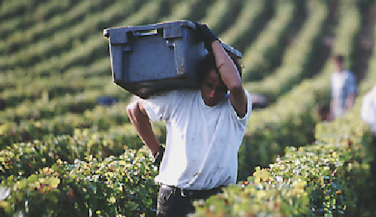 Domaine Joseph Drouhin
Joseph Drouhin, founded in 1880 and still family owned, are one of the most well-respected names in Burgundy, especially through their flagship wine, the iconic Clos des Mouches.
A huge part of the Drouhin production comes from their own domaine fruit (78 hectares), and much of the rest comes from contracts such as that with the Marquis de Laguiche, who shook hands with the grandfather of the current generation, agreeing to let him manage his vineyards which included an important part of Le Montrachet; this collaboration endures. Today, the fourth generation is at the helm
Small refinements continue to be made here. The presses have been changed - a reversion to basket pressing for the reds, and for whites the presses are open - along with a number of other growers they are following the trend to think that slight oxidation of the juice before fermentation is not a problem and may add complexity as well as avoiding later problems of premature oxidation in bottle.
For the reds there has been the introduction of selective whole-bunch fermentation in the Côte de Nuits wines. The house style remains one that 'emphasises the natural elegance of great Burgundies' as they describe it. The domaine is all cultivated with an organic and biodynamic approach.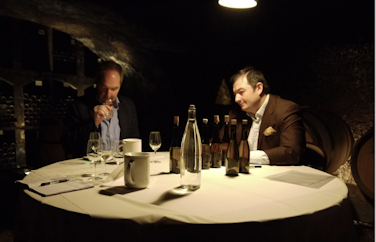 Thibault Liger-Belair Successeurs
The lack of the word 'domaine' in the name signals that this is a négociant wine from Thibault Liger-Belair. Thibault buys the grapes he picks having tended the vines with his own team, so that the wines are domaine wines in all but name.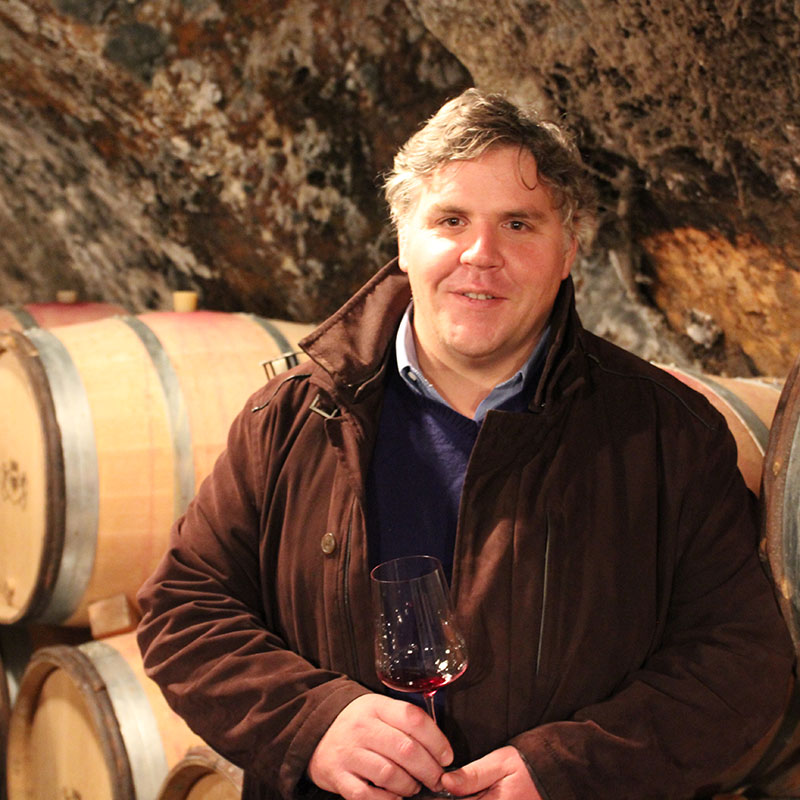 Domaine Dugat-Py
Domaine Dugat-Py's wines are far from shy and retiring, but they do require patience to show their best. Old vines, tiny yields, viticulture with minute and constant attention, all lead to a magnificent concentration and purity in the raw material. Without extracting harsh tannins, Loïc (who despite his youthful good-looks, has overseen the wine-making since 2012) gets an astonishing density into the wines, and they take on the high percentage of new oak quite casually. Nevertheless, Loïc has reduced the amount of new wood (The village wines get 50% max., while the Premiers Crus and Grands Crus get up to 75%.) and the more recent vintages have shown great elegance and sophistication as well as the concentrated depth of their old vines.
Exciting news here, in that the domaine has taken over part of what used to be Domaine Newman. Sadly someone else got the Grands Crus, but Loïc is delighted with what they have - all old vines, giving them a barrel of village Beaune, 6 barrels of Clos des Avaux, 2.5 of Beaune Grèves, 9 of Monthélie and 6 in Pommard Vaumuriens (above Rugiens). They increased the size of their picking team to sixty in 2019, in order to get the harvest in more quickly. In these recent hot vintages sugars go up and acids down so quick they need to be picking 2-3 hectares a day. They started amongst the first on the 9th September, picking Charmes and Mazoyères ('lovely maturity at 13% and ph 3.1 - 3.2' Loïc tells us), and finishing with the Corton Charlemagne on the 17th.