Chalonnais
Very few wines in this offer this year, as the frosts that affected 2019 and the catastrophically tiny harvest of 2021 continue to mean that there is very little wine to sell. We can only hope that 2022 produces a large crop, as these hard-pressed vignerons deserve and need it. What they have made in 2020 is really impressive - in both red and white, but because of the drought there is not enough for a full release - especially as they look to 2021's miniscule harvest. This issue was particularly clear when we visited Marie Jacqueson in Rully. Globally down a miserable 40% in 2020 this would be easier to manage if it was not sandwiched between the appallingly small 2019 and the devastating 2021 where losses are nearer 70% across red & white.
---

Domaine François Raquillet
François took over the running of this estate from his father, Jean, in 1990, with his wife Emmanuelle. Records show that the same family have made wine in Mercurey since the 1600s, and Francois is the eleventh generation. His daughter Jeanne is also now heavily involved, her passion is really viticulture - so she works mostly in the vineyards for now but will be the 12th generation at the helm of this stellar property.
With eleven hectares under vine, François has substantially reduced yields, introduced higher quality oak barrels (up to 50% new wood for the Premiers Crus) and significantly increased the quality of wines made at this domaine. François explains he tries to avoid over-extraction at all costs - his one aim is to deliver the beautifully pure fruit profile he gets out of the old vines - this he does with great success. It is a wonderfully transparent style - combined with good mid-palate weight.
It is a sad story once again in this corner of the Chalonnais with a terrible run of vintages in terms of yield continuing. From the highs of 2018 where they made an average of 42hl/ha across the domaine, to 2019 when the yield was down to only 32hl/ha, followed by this year's slim 35hl/ha which will be followed by the pitiful 23hl/ha in 2021. This is not really enough for the family, given the very reasonable pricing of this part of the world. Great value across the range. Which goes some way to explain his recent acquisition of a parcel in Pommard perhaps.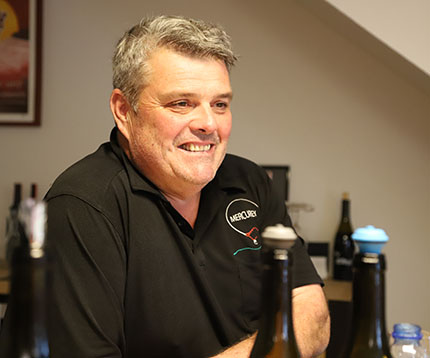 2020 MERCUREY Blanc 1er Cru Les Veleys Domaine François Raquillet
For this Francois just uses the smaller 400 litre barrels for 12 months. His white parcel comes from the top of the Veleys vineyard, where as his Pinot is from lower down the slope. This has greatFor this Francois just uses the smaller 400 litre barrels for 12 months. His white parcel comes from the top of the Veleys vineyard, where as his Pinot is from lower down the slope. This has great intensity. Nice crisp yellow fruit, some ginger. Good, crisp acidity adds real drive but gently softens on the finish to sleek polished fruit. Good feel and weight is well balanced in 2020. L&S (Dec 2021)

75cl bottles, case of 6
In Bond

Domaine François Lumpp
François Lumpp started as a grower in the family domaine in 1977, but then separated from his brother and set up on his own with four hectares of vines in 1991. He and his wife Isabelle have gradually grown the vineyard to reach nine and a half hectares. They are delighted that they have now been joined by two of their children, Pierre and Anne-Cécile.
François is a passionate viticulturalist and places great emphasis on making the wine in the vineyards, which are farmed with minimum intervention to allow the terroir to express itself fully. In practice this means very careful choice of plant material to give the highest quality results (often at the expense of yield).
2019 was a very small harvest here, with especially little white. 2020 thankfully was an excellent year for whites, but the red harvest was small - and the sombre tale continues with the atrocious 2021 vintage now in the cellar. It is no surprise that Tim Atkin described François Lumpp as the 'the best producer in Givry.' All the Lumpp wines offer great value for money - year after year.
As she took us through the wines this year, Anne-Cécile explained 2020 was hot and dry - but really good for Chardonnay. Funnily enough Chardonnay vines channelled all their energy to the grapes and not the leaves - for Pinot it was somewhat the opposite - here the leaves were great but grapes less pristine and in much smaller volumes! They started picking on the 20th August.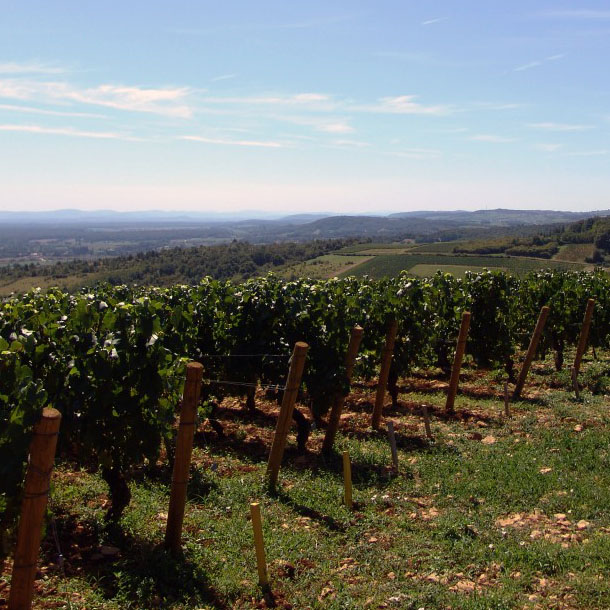 2020 GIVRY Blanc 'Teppe des Chenèves' Domaine François Lumpp
Cask sample. Generous, succulent, ripe dark fruit. Soft palate, restrained oak. Plenty to enjoy here. Easy, for early drinking.Cask sample. Generous, succulent, ripe dark fruit. Soft palate, restrained oak. Plenty to enjoy here. Easy, for early drinking. Drinking range: - 2025 Rating: 16 Alex Hunt MW, www.jancisrobinson.com (Jan 2022)

75cl bottles, case of 6
In Bond

2020 GIVRY Blanc Clos des Vignes Rondes Domaine François Lumpp
25% new oak. This was still in tank when we tasted. Excellent level of ripeness to the fruit Notes of ripe red apple & yellow melon. Lovely texture and mouthfeel. Very well balanced. Excellent25% new oak. This was still in tank when we tasted. Excellent level of ripeness to the fruit Notes of ripe red apple & yellow melon. Lovely texture and mouthfeel. Very well balanced. Excellent acidity. Very fresh and belies the heat of the year. Drinking range: 2022 - 2026L&S (Dec 2021)

75cl bottles, case of 6
In Bond

2020 GIVRY Blanc 1er Cru Crausot Domaine François Lumpp
25% new oak. Still in tank when we tasted it. Predominantly limestone soils. More prominent notes of melon on the nose. Not overly ripe at all given how hot the vintage was. Quite restrained. Nice25% new oak. Still in tank when we tasted it. Predominantly limestone soils. More prominent notes of melon on the nose. Not overly ripe at all given how hot the vintage was. Quite restrained. Nice grip on the palate with a lovely vein of acidity. More weight here, more brawn tight citrus core pushes through - but this is tightly wound for now and will need a moment. A touch more red apple on the palate. A really nicely made wine. Drinking range: 2023 - 2028L&S (Dec 2021)

75cl bottles, case of 6
In Bond