Domaine Adhémar et Francis Boudin
Domaine Adhémar & Francis Boudin, also known as Domaine de Chantemerle, has supplied L&S since our very first list. Adhémar, who sadly departed on his 96th birthday, was a well-known personality, never short of a story. He was in the leading group of the pioneering growers who cleared scrub and planted some of the original Chablis vineyards. It was hard, and he only stopped keeping cows alongside ('if you didn't have a cow or two you died of hunger') in the mid-1950s. It is astonishing to think that the Premiers Crus were only defined in 1975.
Adhémar was the first to bottle the macabrely-named 'Homme Mort' Premier Cru separately, (it is usually sold as part of la Fourchaume) after a geologist confirmed his belief that it closely resembled the soil structure and exposition of the Grands Crus. The name is as a result of the discovery, when the vines were originally planted, of the body thought to be that of an English soldier from the Hundred Years' War.
Francis Boudin, now aided by the next generation, his daughters Angélique and Virginie, as well as Angélique's husband, continues to make wines that are, for Chablis, rich and yellow gold, fatly concentrated, unoaked and pure, with a mildly buttery edge rounding out that minerally, stony ethereal Chablis character. These are wines which can be consumed with enormous pleasure in their first year after the harvest, or kept (even the simple Chablis) for several years.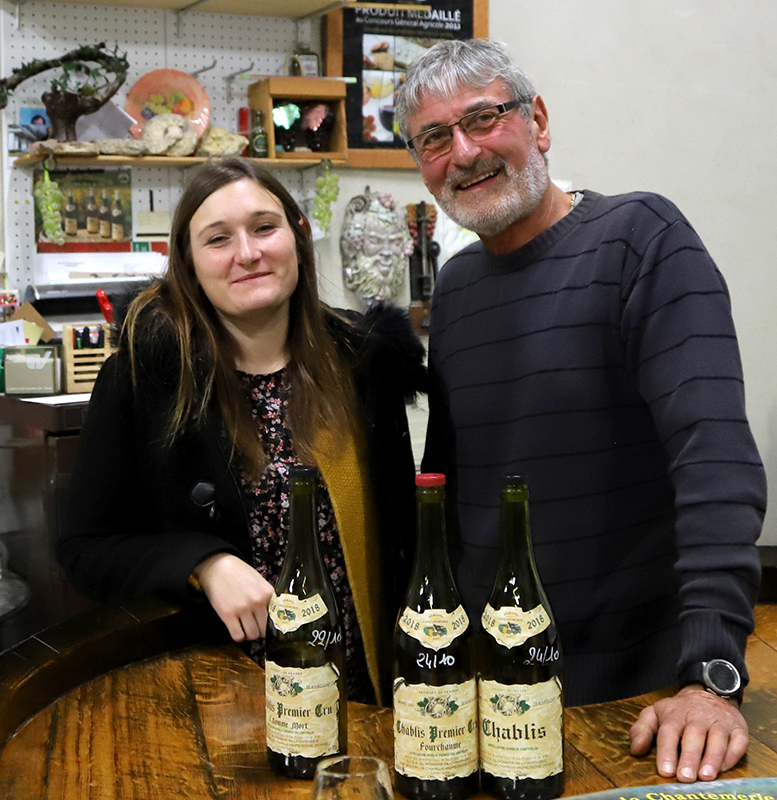 2020 CHABLIS 1er Cru Fourchaume Domaine Adhémar et Francis Boudin
Again the ripeness which they so regularly achieve here yields a wine which has a yellow-fruit profile and a sleek and gentle harmony, all sweeping along with grace to the finish. It's allAgain the ripeness which they so regularly achieve here yields a wine which has a yellow-fruit profile and a sleek and gentle harmony, all sweeping along with grace to the finish. It's all beautifully clearly defined in the 2020. Drinking range: 2022 - 2030L&S (Oct 2021)

Half-bottles, case of 12
In Bond

Domaine Denis Pommier
Founded when the Pommiers inherited 2 hectares of vines in 1990. Isabelle and Denis bottled their first wine in 1994 and now have 18 hectares of vineyards, which are run according to biodynamic principles (which have sadly cost them dearly in terms of lost crop in 2016 and 2017).
The Petit Chablis is a model of brisk freshness - made entirely in stainless steel. The two named 'lieu-dits' of Chablis 'village', Les Reinettes and Croix aux Moines, are about a hectare in total. It's a north-facing slope which catches the sun late in the day. Reinettes is on pure Kimmeridgian clay, under Croix au Moines, which is on a thinner soil at the top of the hill, both in the same sector as Côte de Léchet. The Premiers Crus benefit from a small amount of barrel-fermentation and élevage. The Troësmes (a small parcel within the larger premier cru 'Beauroy' which the Pommiers think deserves to be identified by its correct name) is relatively rounder, while the Côte de Léchet is the one for fans of the slatier, crystalline side of minerality. Keep either of the premiers crus four to six years.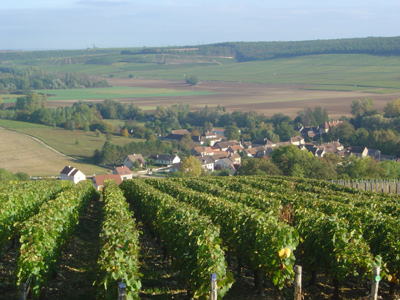 Domaine Moreau-Naudet
A domaine of 25 hectares, of which 3 are in Petit Chablis, 11 or 12 in Chablis, 3 in Vaillons, 2 in Forets, 1.6 in Montmains, 0.86 in Montée de Tonnerre, and 0.58 in Valmur. (Yes, this does not make 25 - there are further parcels of young vines in the Courgis sector - Beauregards, Côte de Jouan and Goulotte, which are currently sold in bulk).
Virginie (Mimi) Moreau is proving more than equal to the task of taking over from her husband Stéphane. Stéphane, who was influenced by Vincent Dauvissat (who recommended him to us many years ago, and who remains an influence here) was vigneron whose star burned very brightly, and the domaine continues along the lines he set, working organically, hand-picking, aiming for optimum maturity while avoiding any botrytis influence.
The cellar-work is also masterful, using 30% barrel-élevage for all the Premier and the Grand Cru, but not in such a way that oakiness can readily be detected in the wines (all the barrels are steamed rather than charred and there is no new oak except for in the straight Chablis, and then only one barrel per 100hl in order to age it prior to using for the Premiers Crus).
Virginie is now really totally confident in her role here, and the wines here, full of racy character, textural depth and complexity, seem to be better with every vintage.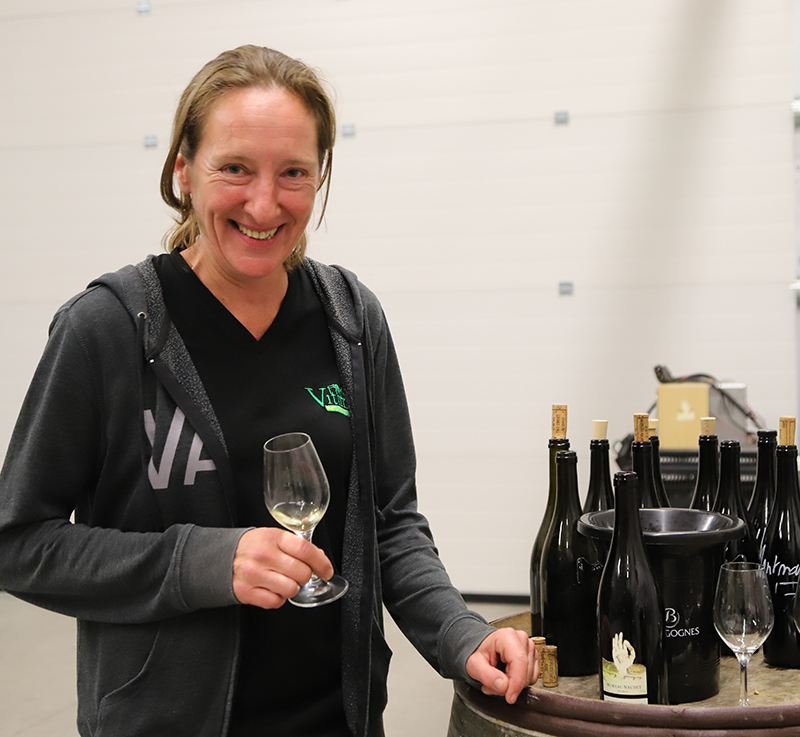 Domaine Fernand & Laurent Pillot
The origins of the Pillot family in Chassagne can be traced back to the eighteenth century, when they seem to have been coopers more than vignerons. In the nineteenth century they abandoned barrel-making in favour of enlarging the property in Chassagne. Fernand and Laurent, who is the fourth generation, added to it again in 1992, and then in 2001 Laurent's wife Marie-Anne inherited half of her family's property, the Pommard domaine of Pothier-Rieusset, and Laurent and his father bought the other half. The domaine now stands at 14.5 hectares of vines across almost the whole length of the Côte de Beaune from Santenay to Beaune.
The Domaine is worked according to organic principles and is ploughed – no chemical weedkillers are used. They have also been members of the Dephy-ECO-phyto group, which works to reduce the number of treatments using copper sulphate, since 2012.
Laurent has always managed to pack in a lot alongside his running of the vineyard. He has his own plane which he flies to all corners of France, used keep and hunts hawks, and conducts the Chassagne brass band as well as dabbling in Mayoral duties - on top of being a father of three, Anaïs, Adrien and Eugène. They are all mad about the alps and disappear up the mountains at regular intervals.
Laurent's eldest son Adrien has been travelling the world making wine all over the place for the last few years having completed his training in Beaune. Bringing back lessons learnt in Australia, South Africa and California (and from a stint at Lea & Sandeman). During harvest Adrien is now the one in the winery while Laurent takes charge of the picking team. The wines have long been L&S favourites in both red and white - they represent excellent value, and they age very well too, despite being attractive young. The whites are precise and pure, and not lacking for body and generosity, while the reds are velvety and juicy, beautifully balanced even if drunk young on their expressive Pinot fruit. The domaine was rightfully heralded in Decanter Magazine as 'an address that deserves to be better-known'. Great value and real pleasure across their range.
The Pillots 2019 harvest was not that bad in white, they said, down 15%, but the reds are down 30%. In general they are happy with the balance in the wines because it was very hot, but the acidities are still good. We discussed Adrien's wish to do a longer élevage for the whites, but the problem that if you take the wines out of barrel that means keeping them in vats with floating tops, and they are not mad about the practicality of that. For now most are bottled after a year, but the Vide Bourse and Grandes Ruchottes will stay in barrel until the spring. They use little SO2 to begin with, gradually stabilising the levels once the wines are back in tank, and still finishing with low levels. They like ripe grapes: 'there's a kind of fashion to be the first to pick in Burgundy - they want to keep the freshness but all they get is acidity and tannin'. For the reds, they don't do massive extraction - 3 pigeages only in the middle of the fermentation, but they do a lot of pump-overs.
With Adrien in the winery and Laurent orchestrating the picking - 2020 was a swift and early harvest here - all done by the end of August - for the first time in their history. Quantities are down across the board, but Adrien is not too worried - as their losses are minor, particularly in White. Above all they are pleased that the quality is high this year. These are charming, crowd pleasing wines - that will immediately please, for their joyous open-knit fruit - but there is so much matter here that these wines should live well for a good long stretch too.