Bollinger R.D. 2004
The waiting is finally over! Today we are absolutely delighted to be a part of Bollinger's global launch of the eagerly awaited 2004 R.D.
The 'R.D.' is a truly unique Champagne. Fruit is sourced exclusively from 16 of the very best premier and grand cru parcels in the Montagne de Reims and Côte de Blanc, where yields have been kept incredibly low. In the winery, only the first press is used and each batch is subject to forensic tasting and selection. Vinification is all done in used oak barrels sourced exclusively from Domaine Chanson. Dosage is deliberately limited to 3g/l. The base wine is then put into hibernation in Bollinger's cool Aÿ cellars and is only disgorged when ready to drink - in this case 13 years later! The result is a Champagne of profound intensity and freshness that is accessible now but will certainly keep on developing for two decades and more.
'...the intensity of the mature layers of dark chocolate, tobacco, black truffles from Vaucluse and a melancholy hiking in the moist autumn forest is, at least, impressive. The mousse may struggle to reach the surface of the glycerol rich essence of wine. Nevertheless, it tingles of lust on the tongue when stringency, chalk and jingling pure acids dance over the finish line.'
96 points, Richard Juhlin
This is surely one of Champagne's greatest wines but it is also one of its most exclusive. R.D. has only been made in 25 vintages since its inception in 1952 and production is far less than most of the other grand marque prestige cuveés. Don't miss this chance to secure yourself a case at the special launch price. You will simply not find it cheaper anywhere in the UK market.   
Please note that we do have some magnums available but quantities will be limited. Please inquire using the wishlist order form if these are of interest. All wines are offered In-Bond ex-VAT by the case size stated, subject to availability.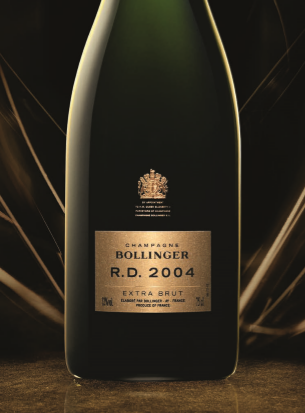 2004 BOLLINGER RD Brut Champagne Bollinger
75cl bottles, wood case of 6
We were very privileged to be the first people to taste the new R.D. release outside Bollinger. It made for a very happy Tuesday morning! The nose was strikingly crisp with plenty of orange peel andWe were very privileged to be the first people to taste the new R.D. release outside Bollinger. It made for a very happy Tuesday morning! The nose was strikingly crisp with plenty of orange peel and pink grapefruit floating above the deep autolytic base that is always a hallmark of 'R.D'. As this opens out there is a pleasant note of candied peel, sweet spice and baked apple. On the palate you really feel the 13 years this has spent on its lees. It gives a lovely weight and softness that beautifully balances the lively acidity and low dosage. Overall, this is a more muscular wine than the 2002 and certainly more open at this early stage. You really can drink it now, though we wouldn't. We recommend squirrelling it away for at least five years when it will have really knitted together and developed yet more layers of beguiling complexity. L&S (Mar 2018)