Beaujolais 'Nouveau'!
'Mon Dieu!' you might well say, as at Lea & Sandeman we announce that we are offering a BEAUJOLAIS NOUVEAU for release this coming 'Beaujolais Thursday', 17th November, and we would not be at all surprised to hear you say so, since we really cannot remember the last time we did release one!
But this is not just any old (new) Beaujolais. This is a fabulous wine from Domaine de la Rochette in Régnié, whose wines we discovered in the 2008 vintage, and have followed with the glorious 2009 and 2010 vintages, from which we have sold more Beaujolais across the board than from all previous five vintages together.
The 2011 vintage in Beaujolais wonderfully combines the deep ripe fruits of '09 with the bright silky focus of '10, making it an absolutely classic year for Gamay at its most enjoyable.
Domaine de la Rochette's Beaujolais Nouveau 2011 is described as being fresh and 'gouleyant', which roughly translates as 'gulpable' and at only 12% is exactly what you want from this easy drinking style of wine.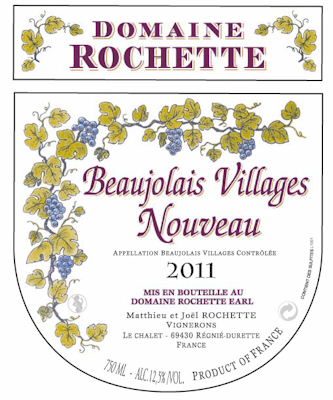 BEAUJOLAIS VILLAGES NOUVEAU 2011 Domaine de la Rochette
£9.95 single bottle, £8.95 by the case (£107.40 per dozen)
ORDER NOW for delivery only from Thursday 17th November, or for collection from any one of our shops.