As some of you may have picked up – our wine of the week email is about great affordable wines that are ready to drink now. Fortunately for us, one literally walked in through the door recently in the hands of the charming David Marco, the owner of Bodegas Marco Abella in Priorat, which got a definitive thumbs up from us all at our Chelsea shop.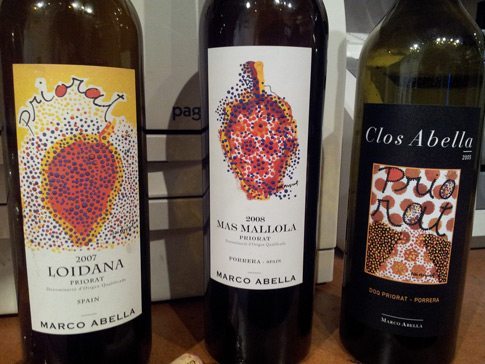 Marco Abella – Loidana 2007  (on the left)
Based on Garnacha (Grenache) and Carinena (Carignan) the traditional combination for the Priorat region, Loidana 2007 is a highly approachable wine which also offers structure, complex and expressive fruit and a finely balanced minerality due to the relatively high altitude of the vineyards and the volcanic schist geology of the area.
Although Carignan is usually associated with more full bodied and heavier wines, the volcanic schist terrain where the vines grow lends a distinct and delightful minerality to an otherwise robust grape variety. The Grenache element, naturally a sweeter and riper grape variety, adds the fruit complexity to the wine.
The micro-climate at these higher altitude vineyards around  the village of Porrera keeps the grapes cooler than in the sun baked Languedoc for example, which results in a much more expressive fruit character.
This still a young estate, but with a fantastic inheritance from David's grandfather of about twenty-three hectares of old vines on some of the best terroirs and the highest plots in Priorat.
Food pairing: Loidana is highly enjoyable on its own, but also versatile with food; David recommends pairing with poultry or pasta dishes.
Price: At just £16.75 per bottle (or £14.95 case price*) – Loidana '07 really is great value as well as an excellent introduction to Priorat wines and promises very enjoyable drinking. Available to buy on our website here.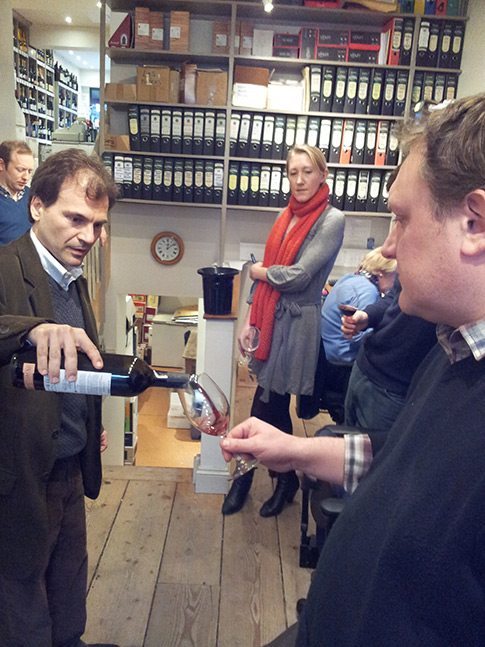 David presenting Loidana '07 to L&S staff
David also produces two other superb and distinct wines: Mas Mallola 2008 and Clos Abella 2005 which would be ideal for tucking away and enjoying over the next five years.
As an interesting side note, the eye-catching labels were a gift from renown Spanish artist Josep Guinovart (a old friend of David's grandfather) to David and his wife Olivia when they decided to build the new Bodegas in 2004.
(*You can mix any 12 bottles of wine on our website (or more) to get the 'case price' for each bottle.)
Wishing you a good week ahead,
The L&S Team