Pioneering a new vanguard of Chinon wines exemplifying purity and extraction, this is a splendid example of pure Cabernet Franc made by a seasoned expert. Rich, sumptuous, dark ruby in colour, yet with clean and precisely extracted fruit, Bernard Baudry's 2010 Domaine Chinon is a treat to drink now or will happily cellar over the next five years.
2010 CHINON Domaine Bernard Baudry
Price: £14.50 per bottle or just £12.95 case price
Tasting Note:
Sweet red fruits balanced by very fine tannins and a bright acidity, the finish displays the crunchy freshness we associate with all of Bernard's wines.
Food pairing:
This is an ideal wine for pairing with traditional dishes and most certainly pongy french cheeses.
The Winemaker:
Bernard Baudry is now retired and his son Matthieu, who has been making wine with his father since 2000 (having ventured abroad to hone his winemaking skills in New-Zealand and California 'avant son rétour') has taken over as head vigneron.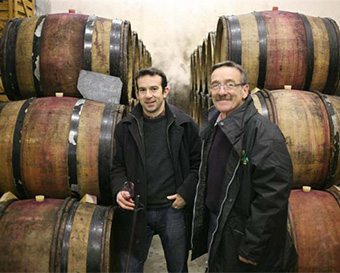 Harvesting & Fermentation:
Today the estate is made up of 30 hectares, from six different sites, all of which are worked without the use of artificial herbicides or pesticides. His wines reflect the great versatility of Cabernet Franc when grown on different sites and are very much 'terroir' driven.
Harvesting is performed by hand and fermentation is in traditional cement vats. The wine is then matured for 10 months in large oak casks and in barrels. The 'Domaine' wine is fermented in traditional cement vats (which gives softer tannins) and matured for some 10 months in large cask and oak barrels.
Terroir & Character:
2010 Le Domaine derives its character from Chinon's diversity of soils and older vines (30- 35 years old), planted on the alluvial sandy gravels solids near the river (80%). These provide the weight while the fruit from the hillside, chalky limestone soils (20%) brings the clean freshness.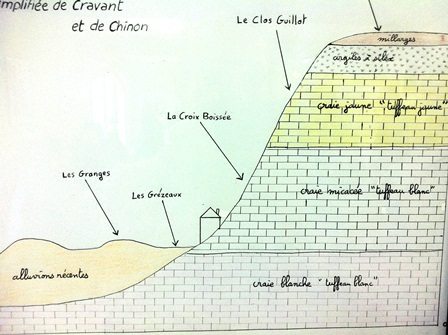 A geological map showing the different strata where Baudry's vines are planted
Chinon:
Chinon sits on the banks of the scenic Vienne river, just south west of Tours, at the heart of the Loire Valley. Domaine Bernard Baudry can found in and around Cravant-Les-Côteaux. In fact, when the Vienne river floods in some springs, Bernard may be found pruning the vines from a boat.
It was the birthplace of Cardinal Richelieu, the writer Francois Rabelais, and Richard the Lionheart is said to have died here in 1199 from a crossbow wound.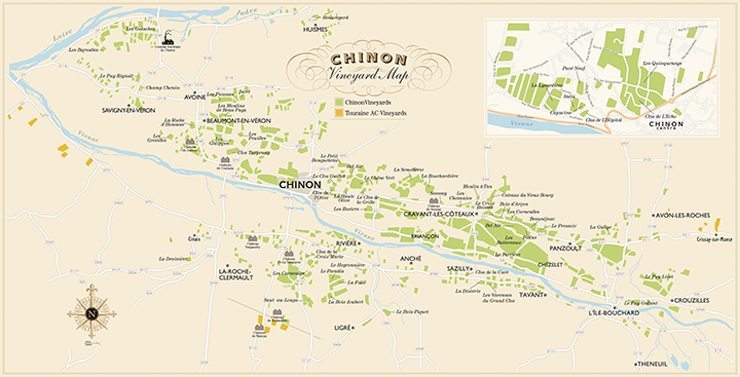 Afterthought & a 

Toast
In 'A Wine & Food Guide to the Loire Valley' Jacqueline Friedrich writes:
"My interest in Loire wines hadn't gone much further than the tasty "petits Chinons" I habitually drank in the wine bistros of Paris. In four days I changed my mind completely. Not only did my thirst grow for the mouth watering little Chinons, but I found the "serious' versions made by vignerons like Charles Joguet and Bernard Baudry exhilarating."
"Fill the glass up to the brim
With this wine for it is fine
And let us drink to La Touraine
And let us drink to old Chinon"
Old French Toast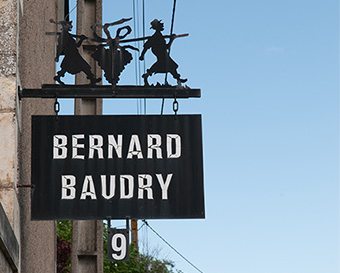 All of Bernard Baudry's wines can be found on our website or listed below, but if you are new to Chinon wines the 2010 Domaine will serve as a highly enjoyable introduction to the region.
To order, simply email sales@leaandsandeman or place your order online.
As always all feedback on our offers or website experience is welcome here feedback@leaandsandeman.co.uk