Wine of the Week
After a reasonable start last weekend, half-term has been a drearily damp affair, but it looks like there is
HOPE ON THE HORIZON!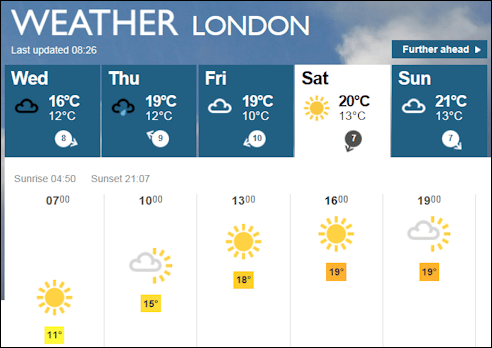 (source: BBC)
Time to get in some PETIT ROY, a wine which will do as well fending off the dampness as it it will with your barbecued steak or grilled butterflied lamb at the weekend. This is the third vintage we have imported of this wine, and it is as good as ever, with a broad, expressive palate-coating fruit and spice made with a blend Syrah, Grenache, Mourvèdre.
Jean-Marie Royer, rugbyman (despite diminutive stature) and close friend of star oenologist Philippe (man mountain) Cambié, inherited a bit of a hodge-podge of vineyards, some in the appellation contrôlée for Châteauneuf-du-Pape, some that are Côtes du Rhône, and some that are neither, but still on similar soils around Châteaneuf.
This cuvée is a blend of everything that does not make it into the Châteauneuf cuvées, and as such J-M chooses to declassify it all the way to 'Vin de France', but make no mistake, this is a proper wine.

LE PETIT ROY 12ème Année Domaine Jean Royer £13.75 single bottle, £12.50 at case price*
'Deceptively easy to drink, packed with ripe peppery fruit and a lovely, almost old-fashioned 'liquid' freshness. Tannins soft enough to be drunk cool, so don't hesitate to stick it in the fridge if the weather ever warms up.'    L&S
*'case price' refers to the discounted price which applies to all orders of 12 bottles or more from this site, however mixed. Why not mix this up with some previous 'Wines of the week'?