As featured in The Times today by Jane MacQuitty in her article 'My favourite wines for sensible drinkers' – this Marsannay from one of our favourite 'under the radar' Burgundy producers offers a great opportunity to add something a little more serious to your collection (or your table) at a very reasonable price:
'Huguenot's great-value organic burgundies are one of the region's best kept secrets and increasingly punch well above their weight with polished, elegant wines that have that bit more, leafy, savoury, complexity than their neighbours.

Marsannay, the first village in the Côte de Nuits, south of Dijon, is often overlooked but pinot noir here in the right hands and from mature wines can make some dazzling reds just like this one.

What you get from Huguenot's protected, chalky, south-facing Montagne vineyard in this much-fancied vintage is layer after layer of well-balanced, rich, savoury, floral, mocha, beef and game pizazz. Roast partridge, or young grouse, will love this now, or put it away until 2018 and beyond.'

Jane MacQuitty, The Times 20/09/14
2010 MARSANNAY Montagne Domaine Huguenot

Grapes: Pinot Noir    Origin: France, Burgundy
Village: Marsannay  Sub-district: Côte de Nuits Vineyard: Montagne
ABV: 13%
75cl bottles £23.95      Case price* £21.75

or buy a case
Lea & Sandeman review
'Firmly defined black-cherry fruit, sappy weight on palate, tastes ripe with no overripeness – perfectly pitched, precise, long.' L&S
Other reviews and comments
'Floral, wood spice, dry tannins and loads of depth – a wine for the longer haul. Lovely concentration. Brimming with potential.' 2015-2030 17.5+ Richard Hemming – www.JancisRobinson.com
Domaine Huguenot
The Huguenots can trace their history in Marsannay and working in the vines back to 1789. Currently the domaine is run by Philippe.
His father Jean-Louis expanded the domaine from five to twenty-two hectares (twelve in Marsannay, six in Fixin, and a not insignificant four in Gevrey) before handing over the reins.
Philippe has taken the bold step of taking all twenty-two hectares into organic production (the conversion was completed in 2010).
Clearly Philippe's arrival has also been accompanied by a qualitative jump of some size, and the wines are remarkable for value as well.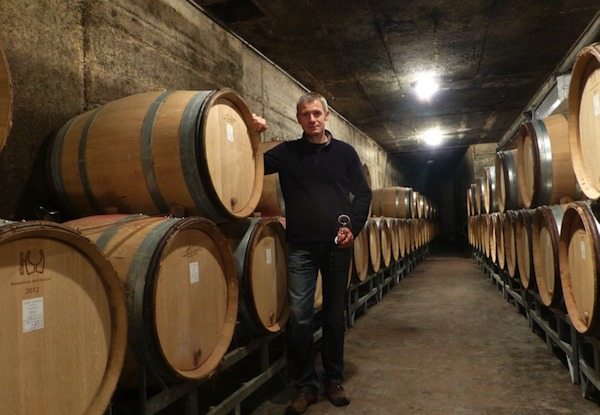 Click here for Domaine Huguenot's full profile and wine list
* Mix any 12 bottles from our website or shops to qualify for our case price discount. Free nationwide delivery on all orders over £100. Next day delivery to central London.