2011 MUNIA TORO 'Roble 6 Meses' – Bodegas Viñaguarena
'A new find for us is always exciting and this cracking red delivers at every level! Supple and smoothly satisfying this is aged for just six months in oak to give a polish and complexity. Made entirely from 'Tinta de Toro' (Rioja's celebrated Tempranillo grape), it has the freshness and 'digestability' of Tempranillo, while also having surprisingly good depth of flavour and a wonderful feel. Just what you want on a chilly evening – and guilt-free at this price! ' L&S
Grapes: Tempranillo
Origin: Spain, Toro   ABV: 14.5%
PRICE:
75cl bottles £9.95   Case price £8.95*

  – Our shops in Chelsea, Barnes, Notting Hill and Chiswick are open until 8pm this evening – Chiswick is open on Sunday's 11 am until 5pm –
Bodegas Viñaguareña
Bodegas Viñaguareña are located by the río Guareña, a tributary of the río Duero (or Douro if you're in Portugal). The modern winery was built in 1999, and consists of the most up-to-date winemaking equipment and technology.
The vineyards cover 30 hectares of an 82 hectare farm, and consist entirely of the native tempranillo grape. The vines are mostly aged between 10 – 30 years old, and the winery lose up to 50% of their harvest due to thinning vines in order to maintain the quality and concentration of flavour that they desire.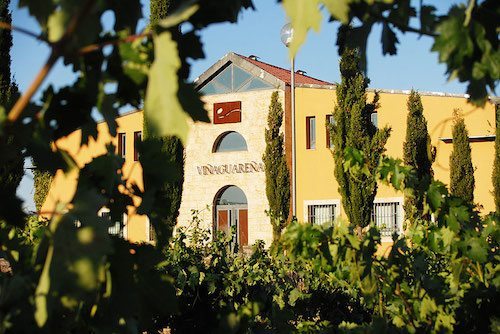 * Mix any 12 bottles from our website or shops to qualify for our case price discount. Free nationwide delivery on all orders over £100. Next day delivery to central London.