Selected by Victoria Moore for her 2012 Christmas wine list, we've only 7 cases left of this very drinkable yet pleasingly priced claret worth snapping up.
2008 CHÂTEAU LAURIOL – Côtes de Francs

Grapes: Merlot, Malbec, Cabernet Franc  Appellation: Côtes de Francs
Region: France, Bordeaux  Sub-district: Saint Emilion & Satellites ABV: 13.5%
75cl bottles £12.50 Case price £10.95*

Reviews and comments
'A bottle full of smiles. This comes from a property that belongs to the family who own one of the most prestigious chateaux in Pomerol. I put this claret in the actual Christmas wines list I did for the Telegraph and like it even more as an option for please-can-it-be-spring-now. It has a pretty scent, all joyful red fruit – it's the cabernet franc in the blend that gives you that – and a clean cut that reminds me of a crisp white shirt. Plus lamb is just lovely with red bordeaux, a classic (especially if you cook the lamb with a crispy herb crust). And I rather like wines from the 2008 Bordeaux vintage.' Victoria Moore, Planet Victoria's World of Wine
Château Puygueraud & Château Lauriol
The Côtes de Francs, an appellation dating only from 1967, is to the east of Saint Emilion, and is the smallest of the Bordeaux appellations at a mere 450 hectares.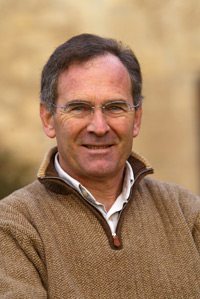 Georges Thienpont. who arrived here from Oudenaarde in Flanders in 1946, was responsible for the revival of the Côtes de Francs appellation which is dominated by Château Puygueraud. Georges began the replanting of the vineyards in the 1970s and the first wine was produced in 1983. Georges' son Nicolas, who is also responsible for La Prade, Pavie Macquin, Larcis Ducasse and the white wine Les Charmes Godard, has made the wine here ever since. His cousins run Vieux Château Certan, Le Pin, and l'If, so this property is nothing if not well-connected.
Château Puygueraud is mainly Merlot with, however, a proportion of Cabernet that is quite high for the region as well as a touch of Malbec with its peppery character. In 2005, all the Cabernet Sauvignon was pulled up and Cabernet Franc was planted instead. This variety ripens earlier and is better suited to the terroir of the Cotes de Francs, and gives a distinctive aromatic brightness and definition to the wines.
Château Lauriol is principally the second wine of Château Puygueraud, made from the younger vines. It is also more gently oaked and is ready to drink younger, and very 'digestible' wine.