Weekend Winners £100 Mixed Case No. 3
inc. VAT and Free Delivery
To help you cope with the sugar-rushed excitement of Hallowe'en enhanced children and neighbours with seemingly endless access to loud fireworks, we've put together another £100 mixed case. No trick, all treat.
4 x 2013 SAUVIGNON BLANC Domaine de Valensac
4 x 2011 TEMPRANILLO Bodega Dehesa de Luna
4 x 2013 TERRA D'ALTER TINTO Terras d'Alter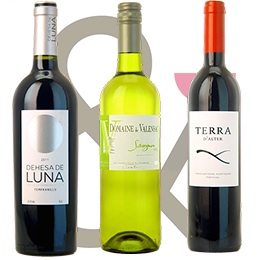 Available on-line or via our shops, the price includes VAT and delivery.
 Normal price  £109.80  Case price £100.00

4 x 2013 SAUVIGNON BLANC – Domaine de Valensac
Languedoc-Roussillon France (£7.20 bottle)
It may not be much to look at, but if you care about the contents of your glass, Valensac Sauvignon is a real winner. Fresh green peppery Sauvignon flavours with a slightly zingy hint of the new world about it, this is as good as many of the Marlborough wines that are twice the price, and still keeps a slightly more restrained French elegance.
4 x 2011 TEMPRANILLO – Bodega Dehesa de Luna
Tierra de Castilla Spain (£9.90 bottle)
A pretty cherry red with a purplish rim. The elegant nose is characterized by its red fruit (raspberry and bilberry) intermingled with sweet milk and pastry aromas. A smooth entry, swelling up to mid palate, where we find a full-bodied wine. A full and balanced palate. Moderate tannin levels give it depth. It ends with a few notes of toffee born of its good aging in oak barrels.
4 x 2013 TERRA D'ALTER TINTO – Terras d'Alter
Alentejo Portugal (£7.90 bottle)
Made from Aragones (80%) and a mix of other local grapes depending on the vintage. Peter Bright creates his perfect blend according to the conditions of the harvest. This is a juicy supper in the kitchen red with a satisfyingly dry finish and depth of flavour. Loads of black berry fruit but with lovely clarity.
You can also browse our last two weekend mixed cases here
*Mix any 12 bottles on our website or in our shops for our 'case price discount'. Free Nationwide delivery over £100. Next day Delivery to Central London.