Almost three weeks ago now I was summoned into the cellar of the Fulham Road office for a quick chat with David. My initial thought was that I had done something wrong (the beard, my gourmet home made lunches?) and that I was in line for a bit of a shoeing but thankfully this was not the case. In fact I was asked to drive Dr. Rossi's car from his flat in London to his estate, Terriccio, in Tuscany. And of course I said yes!
A two day drive took us (my girlfriend and I) through France with a quick stopover in Troyes and a slightly longer stopover in Genoa gawking at the number of super yachts docked in the Marina.
On Arrival
We arrived at Castello del Terriccio and started to drive up, what looked like, a fairly long driveway. We were told to keep driving until we saw a human being. After about 5km (no joke) we were greeted by Bettina Bertheau who runs events and exports for Terriccio.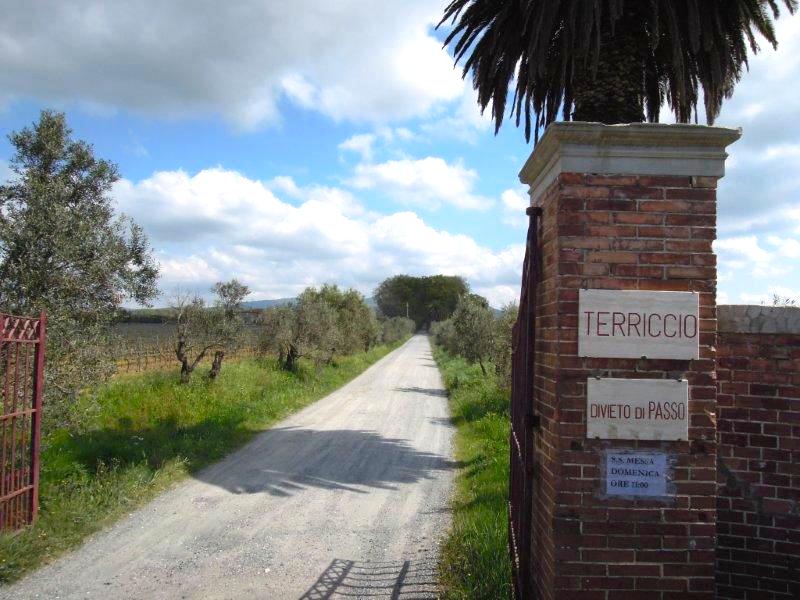 The 'fairly' long driveway of Castello del Terriccio

To say that she was wonderful is an understatement. Lunch was on the table with a chilled bottle of Con Vento 2013 urging us to fill our glasses. A blend of predominantly Sauvignon Blanc with a bit of Viognier, it was citrusy, herbal but had wonderful creaminess on the finish and just a hint of that peachy character that Viognier is so well know for.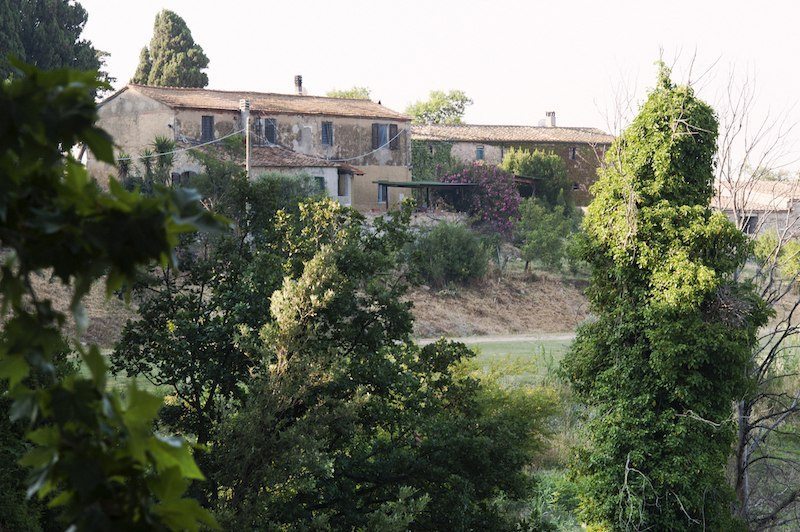 Castello del Terriccio
After a good few hours taking in the enormity of the estate (over 4000 acres of which 60 hectares is used for the production of wine) from the guesthouse we were taken on a tour of the Lupicaia Vineyards with another couple who are related to the wife of the winemaker, Nicola Vaglini. After a rather bumpy (but very enjoyable) drive to the vines we had a chance to roam (pictures below). The Lupicaia vines are the oldest on the estate and located in a very different area to the other wines that the estate produces.
Picking Cabernet Sauvignon from the Lupicaia Vineyards
Tasting
Next it was time to taste. A little flight of Tassinaia from 2008 – 2010, followed by a flight of 2004, 2008 & 2009 Lupicaia. I won't bore you with excessive notes on every wine but what I will say is that these wines are astonishingly good. Since 2004 (with 2005 being a slight blip) Castello del Terriccio has enjoyed good vintages every year up to 2013. All have different nuances and subtleties but they are beautifully crafted wines that will be enjoyable for over a decade.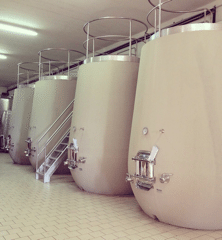 New concrete vats that arrived just days before us
Tour of the Winery
Whilst giving us a quick tour of the winery Nicola told us that the Tassinaia is best after seven years and the Lupicaia best after ten years. Having tasted the 2004 Lupicaia prior to this visit and again at the estate I completely agree. The 2009 was recently given 96 points by Antonio Galloni which is a fantastic score and although it can be enjoyed now I think patience will be a virtue.
N.b. The Lupicaia 2009 will be with us soon – watch this space but in the meantime if you would like to get your hands on some of the 2004 or 2008 do give us a call.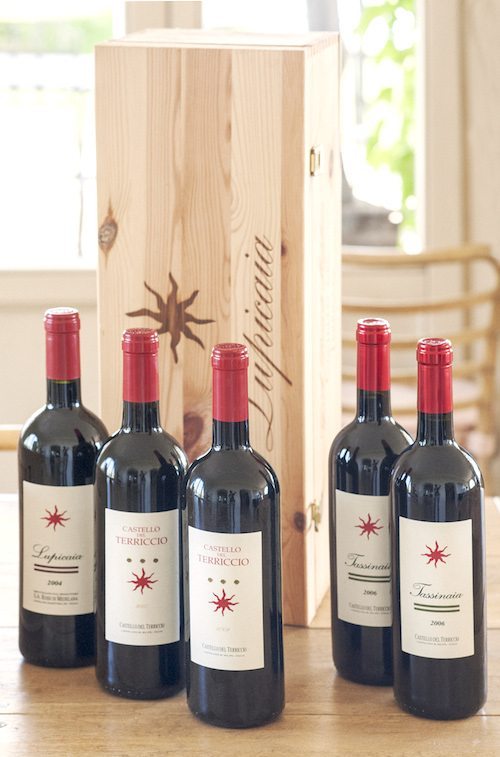 Castello di Terriccio – Tassinaia – Lupicaia
Bolgheri then Tassinaia 2001
The next day we went for a lovely drive through Bolgheri where we passed some of the most famous estates in the region. It is simply an incredible part of Italy with rolling hills, the ocean and bags full of character everywhere you look.
On the journey back Bettina asked me what we should drink for lunch, maybe something magnum she said, 2001 Tassinaia? – This was the highlight of my trip…it was incredible. We were drinking it alongside Lupicaia but in all honesty I was topping up my glass with more of this. It had a wonderfully scented nose of cedar, spice and blackcurrant. Lots of sweet fruit on the palate but very well balanced with fresh acidity and subtle tannins. It was a joy to drink!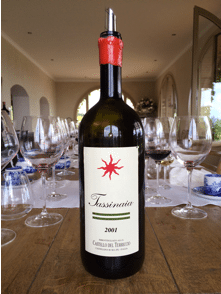 Tassinaia 2001 in magnum – stunning!
If you are lucky to own some of this wine from this great vintage it is drinking fantastically well now but will keep for another few years as well. Unfortunately there is none of this left at the estate but as I mentioned before it really highlights the ageing potential of this wine and given it's price it is quite simply a steal.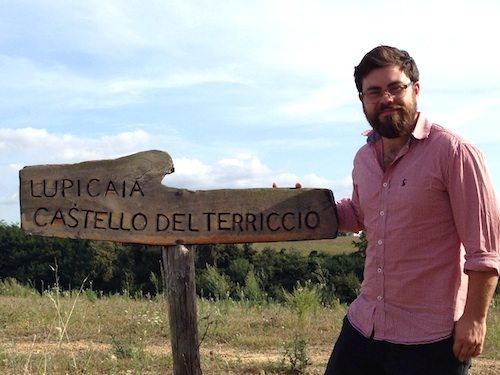 The author looking very smug.

2007 and beyond
The 2007 is another great vintage of Tassinaia as is the 2008 which has just arrived on our shores.
This  truly was an unforgettable trip and for someone who has always championed Terriccio it just reinforced how great a wine estate this is. If you ever get a chance to visit Tuscany I emplore you to visit to Castello del Terriccio – you won't be disappointed!
To see our full wine list from Terriccio – click here.
Angus Barcroft