A recent article by Victoria Moore in the Telegraph spoke of the ancient vines belonging to Stéphane Dief of Clos Manou – and pointed to his 2009 CLOS MANOU Médoc as a top value 'under the radar' wine.

"Driving to Clos Manou at Saint Christoly Médoc always reminds me of that bit in C S Lewis's Voyage of the Dawn Treader where they sail to the edge of the earth. Leaving the city of Bordeaux behind, you pass the commune of Margaux, then St Estèphe, the estuary of the Gironde widening on your right. The elegant buildings grow more sparse, the sky seems to get bigger and you feel closer to it: the place feels forgotten, in a "here be dragons" kind of way….
"At Clos Manou, they might only have made their first wine in 1998, but they have the oldest cabernet sauvignon vineyard in Bordeaux – great, gnarled vines thought to have been planted in the 1850s.
"There is a particular flavour to the wines up here. They are broader and less edgy than reds from farther south. I often find what my mind logs as black coal-dust and black (as opposed to red) berries, but with a more open, new-worldy feel. If I were looking for a bordeaux to unite both left (Médoc) and right (St Émilion et al) bank fans, this is where I'd come."
You may remember this photo of Stéphane from our 2012 primeur campaign, with one of the 1850s vines:-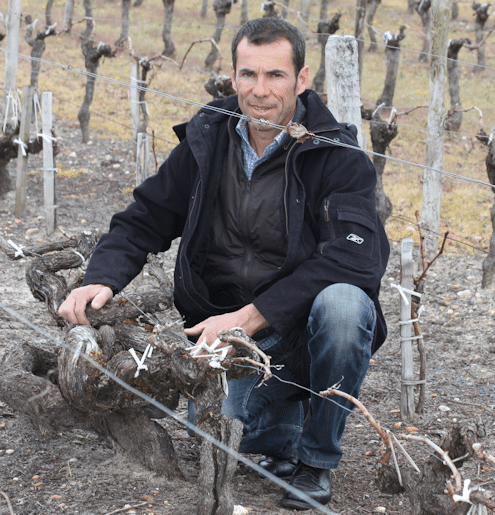 Stéphane Dief of Clos Manou
Pricing:
75cl bottles £27.95   Case price £22.95

– – – –
Also getting a mention was 2008 CHÂTEAU CAPBERN GASQUETON Saint Estèphe a classic Saint Estèphe from a property owned and run by the CALON-SÉGUR team. This was was very popular last winter and is available again – even better for another year in bottle – in bottles and will shortly be available in MAGNUMS as well.

Pricing (inc VAT and delivery)
75cl bottles £23.95     Case price £21.95

buy a case of 6 bottles  – £263.40
buy a case of 6 magnums – £273.00