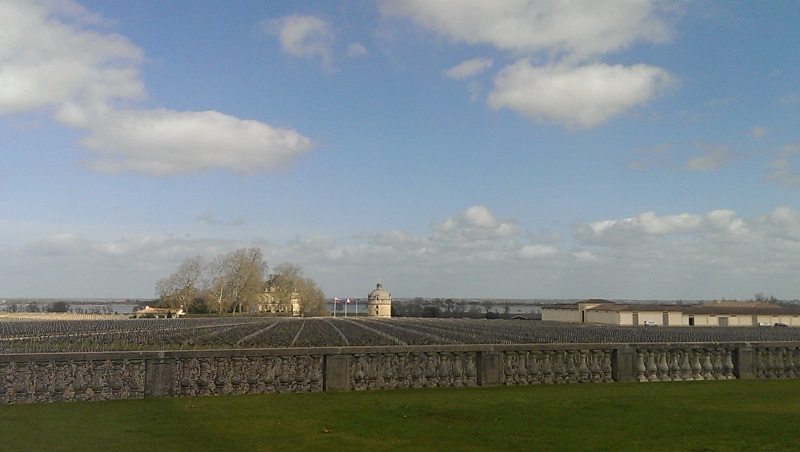 The view from Pichon towards Latour '..one within touching distance of the First Growths..' Neal Martin on the 2014
Two of the big names who made great wines in 2014 are out this morning. First came Château Pichon-Lalande (£625/12), its second wine, Réserve de la Comtesse (£215/12) is also available. Both wines show Pichon back on track and making great wines. We were really impressed when we tasted at the château. The pedigree of this fine terroir, neighbouring Latour, is clear. This is sophisticated and elegant and yet retains an incredibly sensuous feel in the mouth. Balancing superbly the grandeur and poise of Pauillac with huge depth of fruit. At this price it is below comparable vintages in the market and also looks quite well-placed alongside the 2014s from neighbours Pichon Baron and Pontet-Canet which were both more expensive.
And just a moment ago Château Léoville-Las-Cases (£895/12) entered the fray. This was a real stand-out for us in 2014 – and for many one of the very top wines; Neal Martin again was full of praise – 'this is an outstanding wine from Jean-Hubert Delon and his team and dare I say, equal to some of the First Growths.' This just makes it into the 'cheapest available vintage on the market' category – so deserves a look.
Late last night we had the release of another of the 'Super Second' Saint Julien Chateau Château Léoville-Poyferré at £430/12 – this comes out at the same price as Léoville Barton.
Jancis describes Poyferré as 'Rather glorious really' and Antonio Galloni notes 'This is without question one of the stars of the vintage.'
In recent vintages the Poyferré has certainly out-performed Barton as an investment, due in part to the 100 points Mr Parker gave the 2009 – but in our eyes, this year, Barton just looks like the better wine.
Please see the complete list of releases, so far, here.