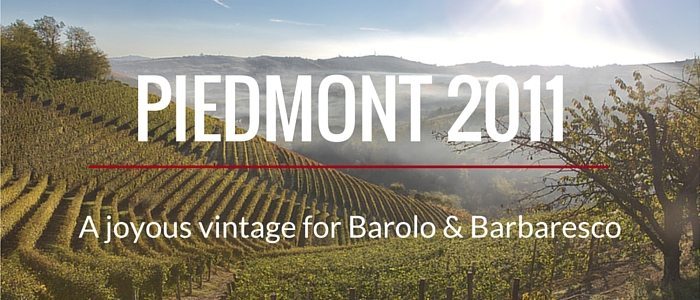 Vintage Overview
2011 was generally a warm vintage in the rolling hills of Piedmont. Spring began with a good early heatwave that got the flowering of the vines off to a perfect start. The warmth continued and it was looking like it might be a very quick season, until June, when the temperature dropped a little and stayed cool to the end of July. This 'reset' the vines, which was important, as it helped to build the phenolic ripeness and therefore the complexity and intensity of flavour that you need to make great wine. It's all very well having ripeness in the grapes – but if the phenolics don't have a certain amount of time to ripen then the tannins are tough and green and the juice is just a little simple.
"My impression is that the 2011s will drink well pretty much out of the gate, which should be welcomed by readers." Antonio Galloni – www.vinousmedia.com
So, despite the rapid start to the growing season it was arguably saved by this cool middle stretch and clever growers were rewarded by a lovely warm September to complete the ripening of the fruit.
The result is a joyously fleshy, enticing vintage for lovers of Piedmont. With the best examples we have found a perfect patina of polished fruit, generously full on compared to some vintages, but retaining a measured freshness that will not disappoint the classicist.
"Open, radiant Barolos that will drink well with minimal cellaring, the 2011 Barbarescos are racy and seductive."  Antonio Galloni – www.vinousmedia.com
We are lucky to work with some of the very best growers in this fascinating region – in 2011 they have all made wines you just want to drink. A shade more open than in some vintages, these are hugely impressive. We would very strongly recommend the wines from Fabio Oberto and Luigi Einaudi in Barolo as well as the more restrained style of Andrea Sottimano in Barbaresco, not forgetting the wonderful Claudia Cigliuti who is making such impressive wines at her family estate.
"Relative to other ripe years, the 2011s are racy, but not as opulent as the 2007s and more consistent than the 2009s."  Antonio Galloni – www.vinousmedia.com
This is a vintage that will offer those new to the region a brilliant introduction, but certainly won't disappoint seasoned lovers of fine Nebbiolo.
–
Purchasing Options:
On-line: All of these wines are available on-line at retail prices on our website (for delivery within 7 working days).
In-bond or Duty paid: alternatively we are also offering all the wines In Bond and Duty Paid by the case here on our website.