'This is simply a magical bottle. That's all there is to it'
"Le Piane's 2011 Boca is simply dazzling. Rich, translucent and remarkably vivid, the 2011 encapsulates all the reasons the wines from Alto Piemonte are so compelling. Sweet red cherry, rose petal, chalk, blood orange and mint are front and centre, but it is the wine's superb textural polish that elevates it among some pretty lofty company among the great wines of Italy. The flavours are bold and pungent, but there is also striking depth to the fruit that ensures the savoury notes aren't overpowering. This is simply a magical bottle. That's all there is to it." 96 points, Antonio Galloni www.vinousmedia.com
Stock is extremely limited, and we suggest you act quickly to secure this extraordinary wine.
2011 BOCA Le Piane

Grapes: Vespolina, Nebbiolo  Colour: Red
Origin: Italy, Piedmont   ABV: 12.5%
£150 per 6 bottles in bond
£162.50 per six bottles duty-paid.
Magnums also available

'Tasting this with Christoph last week was a delight. As with more mainstream Piedmont to the south the 2011 vintage here in the Alta Piemonte was very good with some ideal growing conditions throughout the season. After a short maceration on the skins this spends 4 years in Christoph's large old barrels before bottling and then is released after further 6 months in bottle. What is incredible here is the poise and intensity and how gracefully the sensational fruit is delivered. It all seems so delicate and fine – but there is gorgeous depth to the bold dark fruit skins – the brighter cherry notes and a floral, herbaceous border undertone. The aroma of very fine dark chocolate shavings and lightly grippy, dusty tannins frame this elegant, persistent core of intensity. Mineral, racy yet chewy and high-toned – this is compelling stuff and very exciting to drink. We'd suggest you try to give it five years in bottle, but it will easily last twenty.' L&S
Christoph Kunzli, originally a Swiss wine importer, was introduced to the tiny and little known region of Boca by Paolo di Marchi, owner of the famous Chianti estate, Isole e Olena. Located in the highest and most north-eastern part of Piedmont the region has a rich history of winemaking up until the 1950s when investment turned from vineyards to textiles.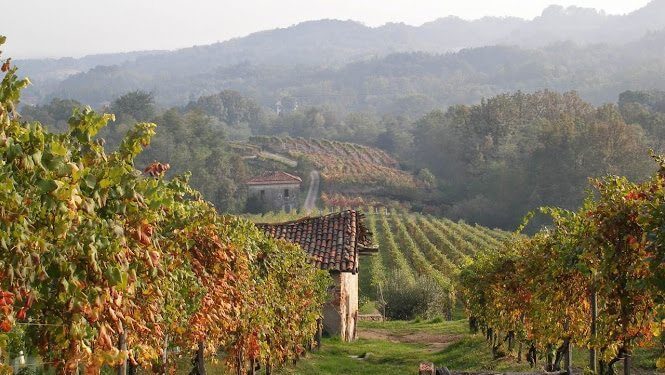 In the 19th century the Alto Piemonte region boasted almost 40,000 hectares of vines, but by the 1990s the Boca vineyard had dwindled to less than 10, leaving it all but abandoned and largely forgotten, with most of the area returning to woodland. Christoph came here in 1998. In 2000 Paolo de Marche started his own property as Lessona, a neighbouring district. Christoph has added six hectares of vines to his original two, planted with Nebbiolo, Vespolina, Bonarda and Croatina (a.k.a. Refosco), and all of which are surrounded by dense woodland with not another vine in sight, just a large church surrounded by mature forest, although a sign beside the track in the woods shows an ancient photograph of the area, with a patchwork of vineyards covering the surrounding hills which looks a lot like modern-day Barolo.
Christoph follows vineyard practices which are leading towards becoming fully biodynamic, and being totally non-interventionist in the winery, choosing to make the wines 'by his mouth' rather than by science. Whatever he is doing he is doing it very well and these are some of the most natural and exciting wines we have found from Piemonte: totally expressive, quite unique and with a wonderfully elegant and fine profile.
You can read more about Christoph and Le Piane here.
–
You can see our full 2011 Piedmont Offer here.