Whenever we are in Italy, we enjoy the great Champagne look-a-likes of Franciacorta (from Lombardy, in Northern Italy), and easily understand why these great wines have such a following in their home market, even though the Italians are great connoisseurs and consumers of Champagne as well.
The price of Franciacorta has always seemed prohibitive for the London market which is so very competitive, and it seemed too uphill a task to try to persuade you that you should buy Franciacorta instead of Champagne.
We are therefore delighted to introduce the wines of Corte Aura, an estate founded by Federico Fossati who left a career in accountancy to chase his dream of making wine, having paired up with the experienced wine maker Pierangelo Bonomi.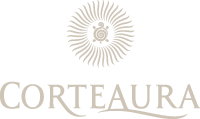 This pair understand that they have to be competitive in this market if they want to succeed. Together they have planted Pinot Noir, Chardonnay and Pinot Blanc and now make a range of Franciacorta which are among the best we have tasted and undoubtedly represent exceptional value for money.
We are pleased to be listing both the Brut (see below) and the fantastic 'Pas Dosé' cuve
e (Ultra Brut with no added dosage sugar, which is a modern sophisticated take on this traditional wine style) – perfect adverts for what is achievable here in this historic region – with passion, attention to detail and a long-term plan.


Franciacorta Brut: £17.95/16.75
Franciacorta Pas dosé: £22.75/20.50