Five years ago, I visited Croatia for the first time for a music festival. It was in a small town called Tisno in between Zadar and Split. A lovely place, right on the beach. Crystal clear sea, beautiful food and amazing weather. A great place for a holiday. It was also five years ago that we placed our first order from Vina Laguna. A fantastic producer based in the popular summer resort of Poreč on the coast of the Istrian Peninsula in Western Croatia. It was our first ever Croatian producer and remains our only one. No others have made the cut. I remember when the samples arrived at head office everyone was rather intrigued. This was certainly something new for Lea & Sandeman. What we tasted was great. Pinot Sivi (Pinot Grigio), Malvasia and Merlot. Familiar varieties that really hit the spot.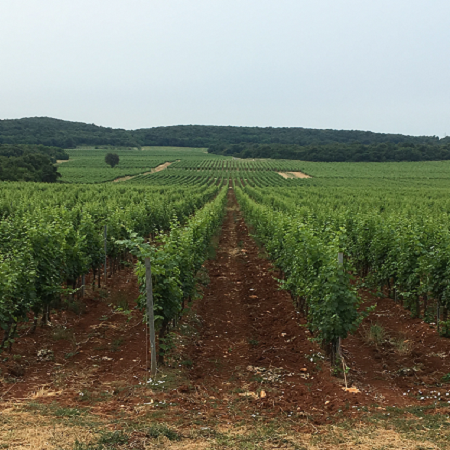 Last month Tom and I were very lucky to be invited out there by the lovely Sabina, along with a few clients, to visit the vineyards and winery. Sabina is an Enologist and the export sales manager at Vina Laguna. She was our guide for the two days we were there. An incredible host and a very good history teacher as well – so much so it led to Tom spending much of his weekend touching up on his history! It wasn't long ago that this part of the world was involved in a brutal war of Independence (1991-1995), it is something that may fall under the radar but is an important aspect of Croatia's history that should not be forgotten. Anyway, back to Vina Laguna and wine. They aren't a small producer. Of the 2,500ha of vineyards in Poreč they own 610ha. There is a combination of local varieties grown here; Istrian Malvasia, Teran, Borgonja (similar to Blaufrankisch) & Muscat Rose, as well as world famous varieties including Chardonnay, Pinot Gris, Cabernet Sauvignon & Merlot.
Having landed in Venice it was a four-hour drive to Poreč…quite the journey. However, it was broken up with a pit-stop on the motorway and, much to my surprise, it was absolutely brilliant. Fresh pasta cooked in front of you, tubs of Burrata and plates of cold meats & salads (plus numerous half-bottles of wine on offer). This is how ALL service stations should be. I never want to eat a sandwich on a long journey again!
The next day we were in for a treat of vineyard visits, wine, olive oil, AND cheese tasting! I forgot to mention that Agrolaguna (the parent company of Vina Laguna) also have olive trees all over Poreč, a flock of sheep and a herd of cows. As such olive oil and cheese are just another string to their bow. Great news for us. Having spent a good portion of the morning being led around the winery by the charming head winemaker, Milan, we headed over to their traditional tavern, Stancija Špin. It was a warm day so we were all reasonably thirsty by this point, not to mention a tad hungry. To whet our appetite, we tasted through the range of Extra Virgin Olive Oils. These are very good. Lovely texture and richness on the palate with differing levels of aromatics and spice. I have their blended one at home now and it is such a joy with fish. Next up was cheese. All hard cheeses from cow and sheep's milk.
Some with truffle (another gem to be found all year round in the region), some dipped in the grape skins post ferment and a few giving parmesan & pecorino a run for their money. And then it was the main event. A tasting of the range with the added bonus of Milan grabbing a few bottles from the cellar that had a bit of age to them. There was a lot of wine tasted over lunch so I'll focus on the ones that really wowed us. The 2011 MALVASIA 'VIŽINADA' Festigia was a revelation. Beautifully golden in colour, with aromatics not too dissimilar from Riesling. At six years old we all felt this still had a lot of time to go. An exciting prospect to try again in another 6-10 years. Another standout for me was their Cabernet Sauvignon Riserva. Yes, this is one of their most expensive wines but it was absolutely stunning. For fans of Bordeaux and Super-Tuscans (which I am) it won't disappoint. The winemaking here is top-draw. Milan's passion for it is infectious and I'm very excited to see what the future holds for these wines.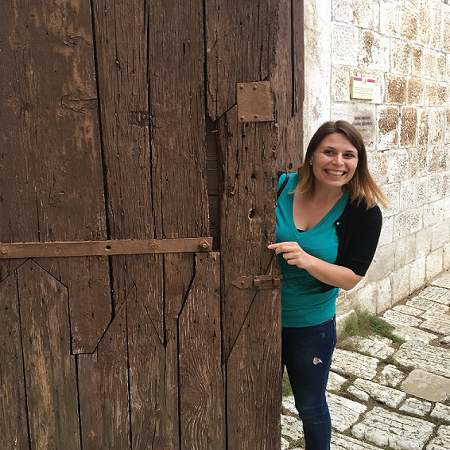 That evening, after a little swim in the sea near our hotel, Sabina took us for a jaunt around Poreč, which included a visit to their old cellars. To the naked eye it just looks like an old, slightly sad wooden door (see picture), but behind it lies an incredible tasting room lined with large wine vessels. Very cool. Having done the touristy bit we headed to a seafood restaurant just outside of the main town. Right on the sea, the wafts of freshly cooked fish and seafood enticing us out of the taxi. We sat outside overlooking the ocean. No better way to enjoy the fruits of the sea than dining next to it. The sounds of the waves heightening the senses. After such a plentiful lunch we were all hoping for something light and small. Yet, five courses later (and just a few glasses of wine) we were all grinning from ear to ear. It was delightful. A day of indulgence like that is something to behold.
Day two – we headed a bit in land this time to visit vines that sit on different soils (Terra Bianca) and at higher altitudes, around 250m above sea level, some creeping a bit higher. The soil types are markedly different here and suit different varietals to those closer to the ocean. Particularly good for making their sparkling rosé (Perla), which was very pleasant indeed. After a cheeky glass of sparkling Pinot Blanc (joyous) we headed back to the tavern, Stancija Špin, for a bite to eat before we departed. Luckily, while our lunch was being prepared, we had a some time to walk around their cheese-making facility. Great to see the process from start to finish. We were very lucky indeed to be given a 'chunk' of their truffle cheese as a parting gift. Thanks Sabina! After another stunning lunch we headed for ice cream in the nearby town. It was a glorious day so it would have been rude not to. It was then time to say cheerio to the lovely Sabina. I, for one, can't wait to go back. A fantastic trip had by all and really chuffed that we represent Vina Laguna in the UK – the wines are ace!