Is there anything finer than a glass of Riesling? To many in the wine trade a noble Riesling is a thing of beauty to be valued, adored and written lyrically of, and drunk with suitable reverence. Outside the trade, the wider wine drinking public remains to be entirely convinced, although early signs of a Riesling renaissance are welcome.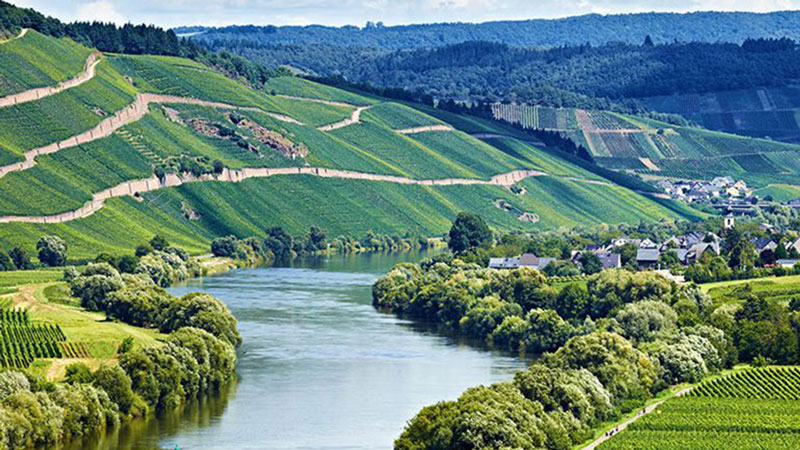 There is a lingering suspicion that Riesling will be sweet – a legacy from a less enlightened time. No it won't. These days your bottle of Riesling will be as crisp and dry as any other dry white you might choose to run off home with. Well, most of the time. Rieslings do come in off-dry, really not that dry and quite sweet too, it's wonderful in any fashion, but the usual will be dry; the default to adopt is that your bottle of Riesling will be dry unless you know otherwise. A useful word to know here is trocken*, the German word for 'dry' – if you see the word trocken on the label, you're OK it's a dry one.
"Riesling is the great vine variety of Germany and could claim to be the finest white grape variety in the world on the basis of the longevity of its wines and their ability to transmit the characteristics of a vineyard without losing Riesling's own inimitable style."
Jancis Robinson MW, Oxford Companion to Wine
With an appreciative nod to our Antipodean cousins and their work in the field, if you want great Riesling it's a good idea to look at Germany.
Weingut Braunewell
François Breiniville fled 17th Century France's Huguenot persecution to settle in Essenheim, just south west of Mainz. Over 300 years later his descendants are crafting charming wines in the heart of the Rheinhessen. For simple zippy delight and cracking value, the RIESLING 2016 Trocken Weingut Braunewell (£12.95) is brisk with nice mandarin and peach fruit with bright lip-smacking acidity keeping it super refreshing – great aperitif, or with lighter slightly spicy foods, or with idle chit chat and friends. At the top of the tree is the majestic TEUFELSPFAD RIESLING 2014 Trocken Weingut Braunewell (£24.50) from the 'Devil's path' vineyard – mineral, taut, as bracing as a sea breeze with depth and subtlety and the ability to age a wee while in the cellar.
Weingut Bamberger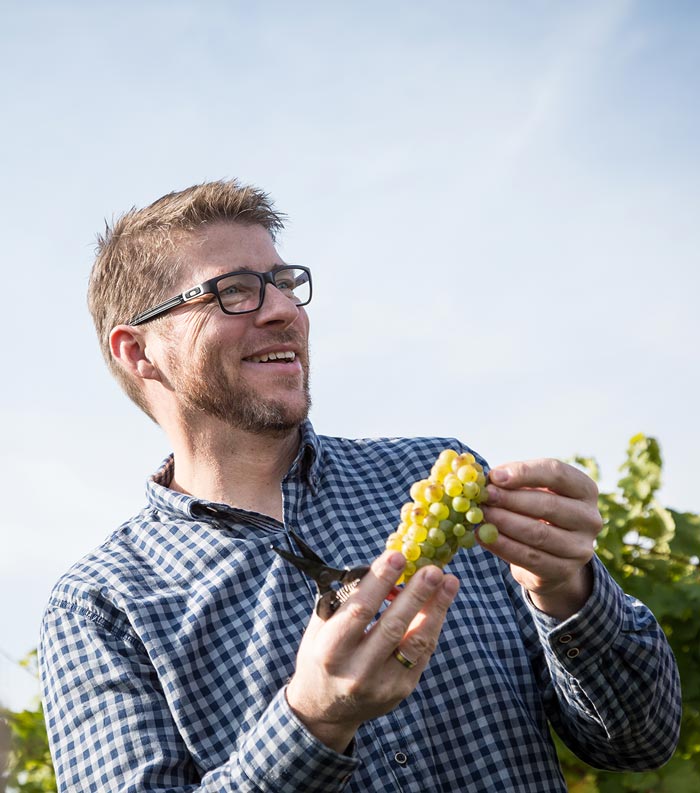 The Nahe valley doesn't, perhaps, have the same popular cachet as the Rhine or the Mosel, but there are some great wines coming from the region, not least those from Heiko and Ute Bamberger at Meddersheim. For sheer Rieslingly Rieslingness, they don't come much better than their MONZINGER FRÜHLINGSPLÄTZCHEN 2014 Riesling Trocken Weingut Bamberger (£13.95) bold, intense and full of character but ultimately dry and clean and ridiculously moorish. Those brave enough to decry the 'dry dry dry' mantra of modern times will find much joy in the PLAISIR 2014 Riesling Weingut Bamberger (£13.50) which balances the rich oiliness of a nice simple Riesling with just a touch of sweetness – it's an absolute delight for simple easy drinking and, at 11.5% abv can be drunk guilt-free even on a school night.
Hermann Dönnhoff
Also from the Nahe and, again, from a family estate with a long history is the pretty RIESLING 2014 Qba Hermann Dönnhoff (£14.95), a charming and gently off-dry Riesling with pretty peach and nectarine fruit.
Weingut Petri
Maximilian Petri's has 14 hectares around the village of Herxheim am Berg in the Rheinpfalz, 200 metres above sea level on a foothill of the "Haardt" mountains which are, essentially, an extension of the Vosges mountains in Alsace. KALSTADTER SAUMAGEN 2015 Spätlese Trocken Weingut Petri (£14.95) is an interesting example of modern German wine. The word 'spätlese' means 'late harvest' and used to be practically a guarantee of sweetness, but Petri's Kalstadter is fermented out to dryness (hence 'Trocken') with the extra sugar from the riper grapes presenting as more body and richness. This is a lovely food Riesling coping even with quite grand dinners.
July is 31 Days of German Riesling Month – they say it takes 30 days to acquire a habit so with a little teutonic definition, what better time to gaze across the LEA & SANDEMAN range in search of good German Riesling. Happy hunting.
*ah, but not when it says trockenbeerenauslese when it's quite the opposite. Nobody said linguistics (and German linguistics at that) was easy. Fortunately trockenbeerenausleses are not only hard to pronounce but they're quite rare too so the confusion is unlikely to arise.
You can browse our whole German Riesling selection on our website: