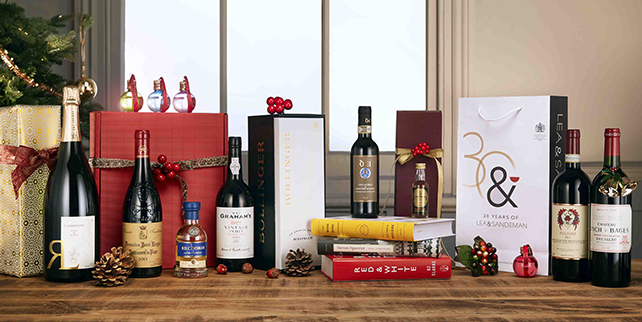 Everyone likes to indulge in a special bottle or three over Christmas and the L&S team is no different. We've all squirrelled away something to savour and share with (appreciative!) friends and family. 
L&S Top Brass
Charles Lea: I'm rather hoping to get a chance to raid the better end of my brother-in-law's cellar – the 2002 Vieux Château Certan was particularly memorable last time. There is usually a fair range of L&S wine to choose from (thanks to his generosity) but I might have to take a couple of magnums, maybe Gonet-Médeville Blanc de Noirs Brut 1er Cru (or will it be a couple of bottles of the 2006 Gonet-Médeville 'Théophile' Extra Brut Grand Cru) for a bit of winter indulgence with some relatively full-flavoured Champagne, and the ultimate Christmas white Burgundy, 2011 Viré-Clessé Sélection EJ Thévenet from Domaine de la Bon Gran.
David Porter: The fun starts as soon as we shut up the shops on Christmas eve and race home for that highly anticipated first glass. Fizz is a must and Legras Blanc de Blancs is the perfect celebratory start, once popped this will underpin proceedings in the Porter household for the next 3 days. Bright, joyful and with crystalline cut this is hard to stop drinking. Yet there is so much else to enjoy at this indulgent time of year! Watch out Father Christmas, your glass of glorious Don Gonzalo Oloroso is in danger – this just shouts Christmas and needs finishing off so my girls don't get suspicious in the morning! Then we will certainly be opening a bottle of the awesome, old-vine 'Chacra 32′. Magnificent Pinot Noir from vines planted in Patagonia in 1932. Pure and pretty but with gorgeous old vine intensity that adds such satisfaction to every sip – it's the perfect Christmas red.
Tom Lorimer: I gave a bottle of 2010 Ch. Fourcas Dupré to a friend the other night. He works in a Government department. He sent me a text later in the evening to say thank you for finally finding him a wine that goes best with chaos. No greater accolade. Should go well with my Christmas too!
Chelsea
Toby Jamieson: I'm particularly excited about popping the cork of the Barnaut Blancs de Noir on Christmas Day up in Edinburgh with my girlfriend's family. I particularly enjoy the Pinot dominated Champagnes, as they exhibit those delicious pastry notes on the palate and will sit nicely as a Christmas aperitif with some light canapés before the feast commences. It's an absolute bargain too, at only £25.95 if you buy 6 bottles. #Popthatcork
Eve-Marie Letondel: I'm normally a Blanc de Blancs fan but this year I can't wait to tuck into the 'Vignes de Vrigny' Champagne from Egly-Ouriet. It's a very special and unique wine made from 100% Pinot Meunier. There is no better occasion than Christmas to treat your family to a 'one of a kind' like this. Santé!
Barnes
Derek Dornan: As a special occasion wine, not something we drink everyday, it has to be Sauternes – specifically 2009 Ch. Doisy Daëne. At once fragrant and exotic, yet also fresh and elegant enough to lure you onto another glass. As Neal Martin sums it up, "very pretty, very complete and very outstanding." I'll be drinking it with the Christmas Pud as the grand finale but it's also irresistible with your Blue Cheese of choice.
Chiswick
Andrew Hooper: I love Quinta da Romaneira 2012 LBV. Sumptuous luxury in a bottle – deep bramble and black cherryfruit, hints of chocolate, smooth silky long and very seductive.  Vintage Port quality at a very non-vintage Port price. We put this in our Iberian Christmas tasting and it blew people away.  I'll be drinking this at almost any opportunity, after dinner or with friends in need of lubrication.
Andy Walton: I think that Madeira is one of the most undervalued and delicious things in the drinks world and I am particularly partial to the 10 Year old Verdelho from Barbeito. This is a medium-dry style of Madeira and is a must have for me at Christmas as it can just sit there to be drunk with cheeses, Christmas cake, mince pies and the like. It is already fully oxidised so doesn't go off, not that it is ever a problem as this utterly delicious fortified wine doesn't last long in my household!
Antoine Frachon: I'm partial to 2015 Chorey les Beaune 'Les Beaumonts' from Joel Remy. Dark crimson Pinot Noir, nose dominated by small red fruits (raspberry) and a hint of licorice coupled with freshness and soft tannins. A great companion for poultry and robust cheeses. This is a red Burgundy which shows some real character at a price that is very hard to find these days.
Kensington
Sandor Hamar: If I escape the shop in time, I'll be found in Hungary dressing my tree with 'Szaloncukor', or sweet treats, with the family. Of course I love Tokaji but I'm more often than not sipping a glass of Champagne, particularly those in a richer, more decadent style. This year I've set aside a very special bottle of Egly-Ouriet Blanc de Noirs.
Nina Johannessen: For me it's a juicy bottle of 2015 Côte de Brouilly 'Les Feuillées' from Domaine Laurent Martray. It's perfect with the turkey and then finished off curled up on the sofa in front of a (terrible!) Christmas movie. 
Trade Team
Will Edwards, Trade Sales: I'll be back home barbecuing a whole Venison haunch stalked off our own patch. That will be washed down with a bottle of 2012 Brunello from Fuligni. What a treat! 
Angus Barcroft, Trade Sales: I'll be putting my pasta maker to good use (an early donation from Father Christmas) with my son Finn. It will be fresh linguine with crab, chili, garlic, lemon, parsley and buckets of gorgeous Olive Oil from Cantine Dei. Nothing matches a fresh seafood dish like this better than 2015 'Il Cantico della Figura' from Andrea Felici. I can't wait!
Private Sales
Peter 'Two-Names': The boxing day family shoot involves donning the wellies and waxed jacket, topping up the hip flask with Sipsmith Sloe Gin and marauding around the woods hoping to come across the illusive pheasant. With the hip flasks and game bags empty, its time to head home for a much needed Bloody Mary in front of the fire made with Potocki Wodka and Little Devil's 'Bloody Spice'.
Edward Richardson: It's not Christmas without good red Burgundy but I'll be agonising about exactly what to select right up to the final hour. I've been loving Chambolle-Musigny this year so I have a hunch I'll pick the 2013 Chambolle 'Vielles Vignes' from Perrot-Minot. Then it will definitely be the astonishingly delicious and wildly under priced 2015 Langhe Nebbiolo from Sottimano to go with the usual Boxing Day smorgasbord. 
To see all our offers and options for Christmas drinking, browse our website via the button below.