Bordeaux has broad horizons. A maritime city in a former imperial power with a rich viticultural resource, it has always traded well beyond its own borders. England's seemingly unquenchable thirst has been its mainstay but by the late 18th century wines were travelling much further afield on a regular basis. Founding Fathers, Franklin, Adams and Jefferson all had a taste for the 'First Grouths' and Jefferson's well documented orders of Yquem, Lafite and Haut Brion show a personal, and perhaps professional, enthusiasm for France's revered export.
Bordeaux's Global Reach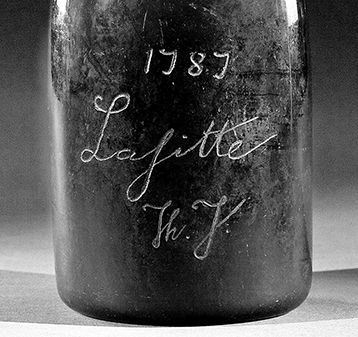 Bordeaux has welcomed outsiders into its own ranks too, particularly those fleeing religious persecution. Names like Lynch, Barton, Boyd, Clarke and Dillon attest to the influx of 'wild geese' seeking a new life away from the turmoil and confiscations of 17th and 18th century Ireland.
In the modern era, Bordeaux was very quick to recognise the potential of emerging markets in the Far East. That openness was epitomised by Lafite's use of China's 'Lucky 8' on its 2008 vintage, a marketing masterstroke that has cemented Lafite as one of France's most recognisable brands.
First Growths & Modern Greats
Given Bordeaux's openness and long trading history, it's apt that a number of modern greats from Italy, Chile and California are now offered through the Place in September, alongside the late releases of Yquem and Latour. We've christened this group 'The Outsiders' but, in reality, many estates have direct or indirect links with Bordeaux, while others seek to tap into the global reach of the Place.
Interest in the Outsider releases continues to grow and many wines are attracting huge scores from the critics. Whether you intend to put away a case for a special occasion or buy with some speculative intent, they are worthy of your attention. We will be tasting all but Opus One on the 5th September and will add our own notes soon after. To receive all the relevant email updates, make sure you have 'Primeur Updates – Bordeaux' ticked on your preferences.
The Outsiders: Release Timetable
September 2nd: 2016 Opus One (JS 99, WA 97+)
September 3rd: 2016 Masseto (JS 100, WA 100), 2016 Clos Apalta (JS 99)
September 4th: 2017 Almaviva (JS 100)
September 5th: 2016 Solaia (JS 100), 2017 Seña (JS 99)
September 6th: 2017 Hommage a Jacques Perrin (WA 98-100), 2017 Beaucastel (WA 95-97)
September 9th: 2016 Colore by Bibi Graetz (JS 98), 2016 Testamatta by Bibi Graetz (JS 98, WA 96), 2017 Mazzei Siepi (JS 94-95), 2017 Orma (JS 96)
September 10th: 2011 Latour (JS 95-96, WA 93-95, WS 96), 2017 Viñedo Chadwick (JS 100)
September 16th: 2017 Yquem (JS 98-99, WA 97-99), 2018 'Y' d'Yquem
BROWSE & ORDER

HERE