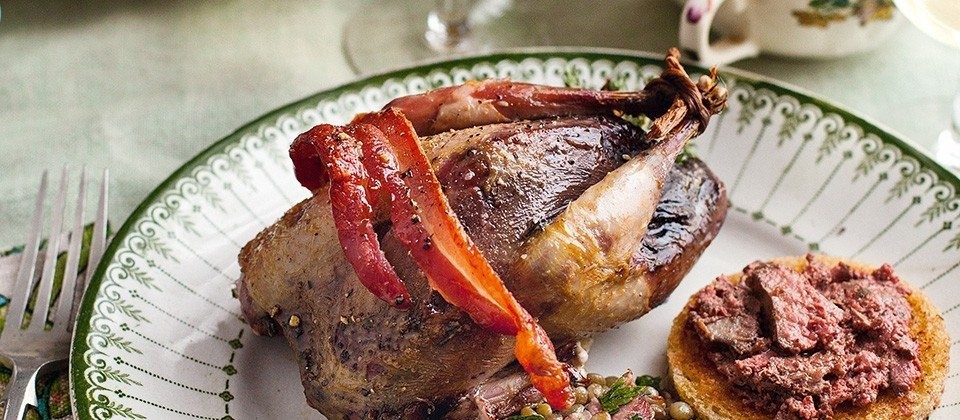 Eating perfectly cooked grouse with a judiciously selected bottle or two is one of the great gastronomic delights. But what to pair with (arguably) Britain's most delicious game bird?
Good, old red Burgundy
'The traditional answer to the question of what to drink with grouse is 'a bottle of good, old red burgundy.' This reminds me of the friend who nervously asked for advice on what to wear to a smart ball in Scotland and was told 'a long dress and your good jewels.' Devastating news for anyone who has failed to either inherit any rocks or to marry a man on a diamonds and rubies income.'
Victoria Moore, The Wine Dine Dictionary, London, Granta, 2017
In clubland, the spiritual home of grouse, it would probably be considered sacrilege to pull the cork on anything other than 'good, old red Burgundy.' Sadly, few of us have the space or the perspective to keep cases for years until they reach their grouse-matching peak. Thankfully L&S has done all the hard work for you!
We have a host of juicy, aromatic Burgundies on offer, from the dangerously quaffable 2020 Bourgogne from Domaine François Raquillet, to the classy purity of Thibault Liger-Belair's 2019 BOURGOGNE ROUGE Les Grands Chaillots or Thierry Mortet's 2017 Gevrey Chambertain. If you're feeling really decadent, have a look at the 'gourmand' 2016 POMMARD 1er Cru Clos du Verger Domaine Fernand & Laurent Pillot or bask in reflected Victorian splendour with this 2014 VOSNE ROMANÉE Champs Perdrix Domaine Christophe Perrot-Minot.
Beyond Burgundy
The way grouse is being cooked is also changing. No longer is it just served as a whole roast bird, complete with a traditional croûte of sautéed liver. London's hippest chefs are increasingly serving grouse pink (or even 'sous-vide'), so you're now likely to encounter it as an expertly butchered centerpiece in a glitzy salad or impeccably dressed in an eye-catching main. Burgundy still works but this style of cooking opens up grouse to a much wider range of wine pairing options. 
If you are serving your grouse pink, you may want some more 'juice' than old, red Burgundy affords. Consider something from the new world like 2019 PINOT NOIR '1899 Cuvée' Willamette Valley Illahe Vineyards or Bodega Chacra's 2019 'Chacra 55'. Both remain elegant and restrained but they still carry their own signature expressions of new world juiciness and vivacity.
If the meat has been very well hung or served with a rich sauce, it might be wise to avoid Pinot Noir altogether and open something that's a more natural foil for 'wilder' flavours. Old Bandol or something mature from the Northern Rhône would be perfect but is sadly all too rare. Don't be afraid of Nebbiolo in a lighter style, especially if it has some soothing bottle age. Something like the 2020 Langhe Nebbiolo from Sottimano or the 2017 'Mimmo' Le Piane would be perfect.
Finally, it's still August, so there will be plenty of time left in the summer for al fresco dining. Barbecued grouse is delicious but definitely needs something a little more robust to take on the smokey, gamey flavour. Try something like a cool (~15C) bottle of 2018 Morellino di Scansano 'Heba' from Fattoria di Magliano or the 2019 'Peloro Rosso' from Le Casematte.
Order any of these recommendations via the link below or pop in and grab a bottle from one of our London shops.