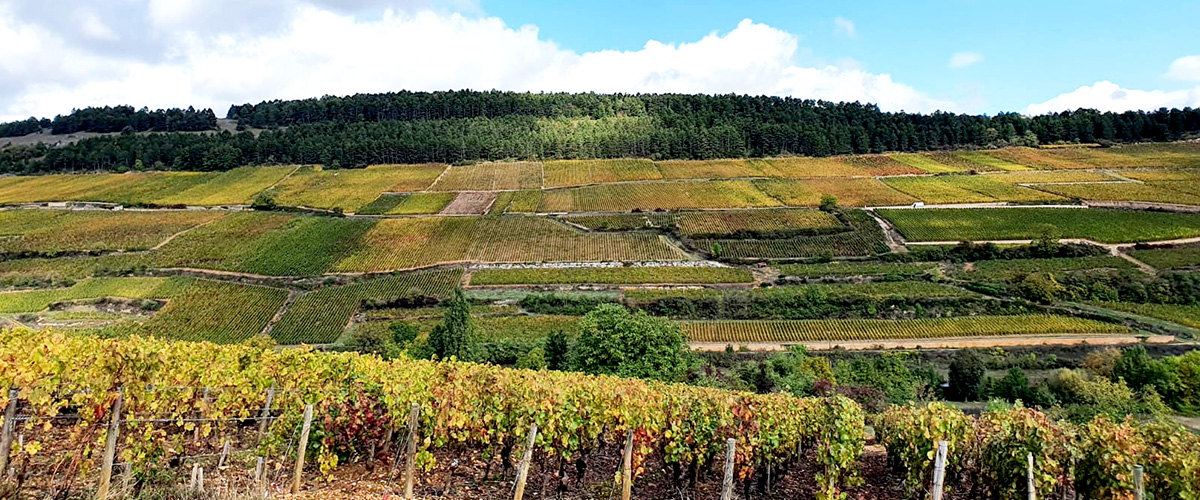 We've touched down in Burgundy and have an intense, covid-safe programme of visits that will see us covering the length and breadth of Burgundy starting from Chablis in the north – to the south in the Mâconnais and not missing anything out in between!
An early start for Day 1, after our 10 hour journey from London – the following day, is something easily met when you know that your day will be packed full of Chablis tasting – helped even more by the first Domaine being just down the road.
Domaine Isabelle & Denis Pommier
A short trip through the village took us to Pommier. This is a perfectly formed domaine, neat and pretty with all they need right here in the lovingly restored buildings surrounding the courtyard. We're lead inside by the ever charming Isabelle. Everything here is run on love and passion – small tanks adorn the cozy little winery, chalkboards hanging from each to designate which cuvée has found itself where.
Denis pops his head round the door, sadly feeling unwell (not covid, we're assured), so much so that he isn't able to sign Charles' copy of his book (a tome he's recently published in order to document his painstaking conversion to organics).
We launch into the delicious Petit Chablis and work our way through.
A southwest facing vineyard, so a warm spot, but not the heat of the south easterly Fourchaume, this is planted on 100% chalk with just old vines (50 years plus).The balance here is absolutely remarkable. Tension, freshness, intensity with enormous length. The texture and power here is incredible, with a fleshy, creaminess spreading out across the palate, then being immediately chased away by a fresh, salty minerality.
Domaine Laurent Tribut
When your uncle is Vincent Dauvissat, you've got a lot to live up to, but we've been working with Solange Tribut for years now and it remains clear that she has learnt at her brilliant father's side but also taken much from this other half of her family.
We pulled up outside their gorgeous home, perched on a slight rise overlooking Chablis and quickly descended into the very pretty old barrel cellar. Solange guided us through the tasting, joined by Laurent and later her mother too, Marie-Clothilde (née Dauvissat). These are wines balanced on a razor, an absolute must for any Chablis fan.
Short of being attacked by an over friendly spider and the occasional crowing of what must have been an insomniac rooster, it was a magical experience.
Highlights –>
At point of writing, we've been able to select a firm favourite from every winery we've visited, but Tribut produced not one, but three outstanding moments. First, Solange's 'own' Chablis, which she produces in total isolation to the family wine. An utterly ethereal substance, with the most delicate perfume and a beautifully full bodied palate, held in place by an incisive acidity. Elegant and lithe.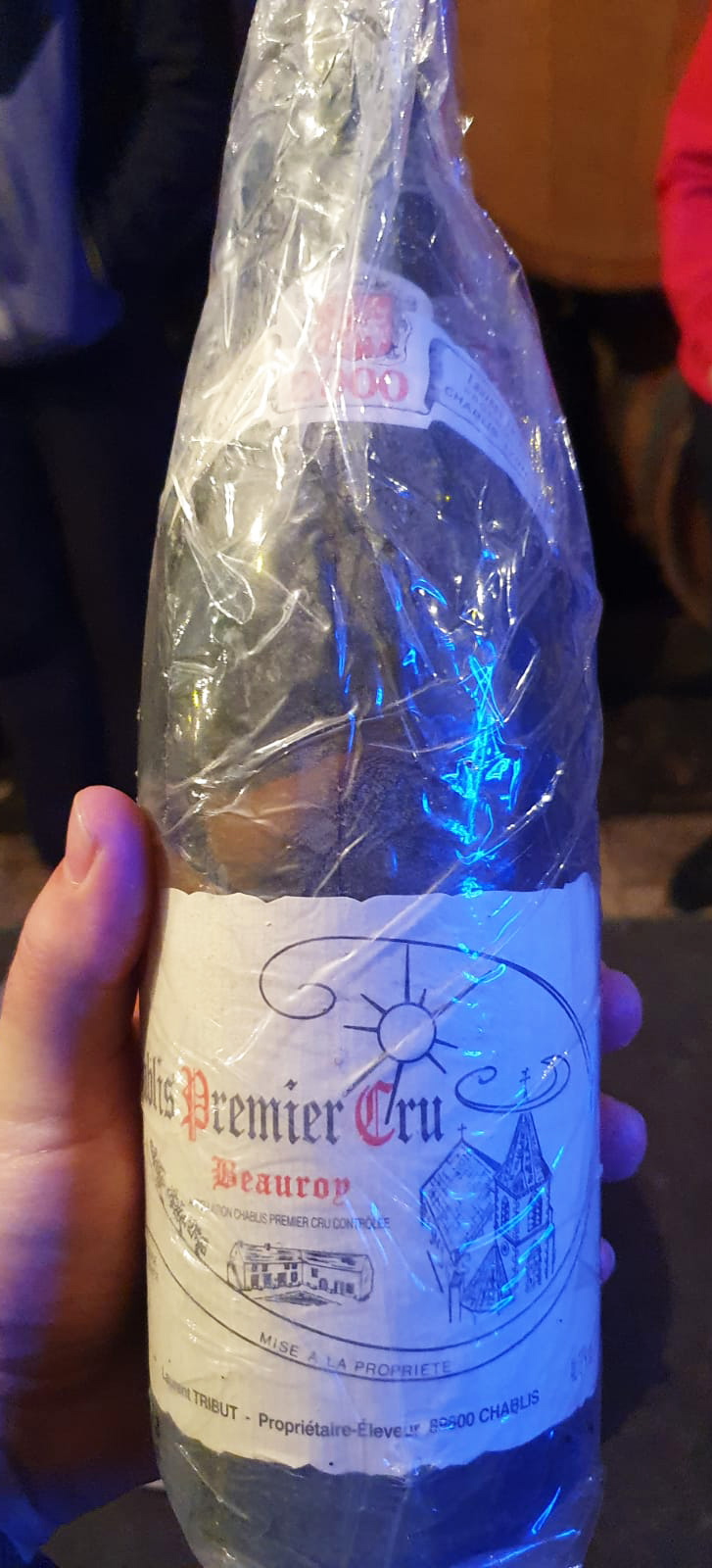 Next, the Beauroy. It's sometimes difficult to describe these things, especially after the 30th wine of the day, but when something is exceptional, it really does just flow – at moment of tasting, I wrote this: 'very defined and sculpted. Hints of what is to come, with suggestions of vanilla, green apple and citrus orbiting the mineral backbone'.
Thrilling stuff. If this weren't enough, we were given a back vintage blind (which I got vaguely near and Charles to the absolute letter). It turned out to be a 2000 Beauroy. I can honestly say I've never had a bottle of wine in three such distinct decades of evolution – the nose was as if it were from the 90s, all crème brûlée, the initial flavour was something that would appear in the 2000s, a decadent vanilla cream, and the finish was so fresh, it could have been bottled yesterday. The vintage? 2000. A youngster at nearly 20 years.
Domaine Moreau-Naudet
We remember fondly the enigmatic Stéphane Moreau-Naudet, but we're sure he would be really proud how his wife, Virginie, who now heads up the Domaine is doing such a great job here and keeping the energy and philosophy of this brilliant estate charging on. Virginie came tearing in, having just hiked their grand crus vineyards (with hills reaching 55°) and proceeded to give us an energetic tasting of some of the most highly concentrated, age worthy wines in Chablis.
This might be groaningly predictable, but the Valmur Grand Cru was totally sublime. Another on the spot fatuous tasting note: 'So silky. An absolutely effortless wine which glides from front to back palate with total balance and sleekness. Ultra subtle and finely structured'. This will either have you very excited, or somewhat nauseated.
Domaine de la Choupette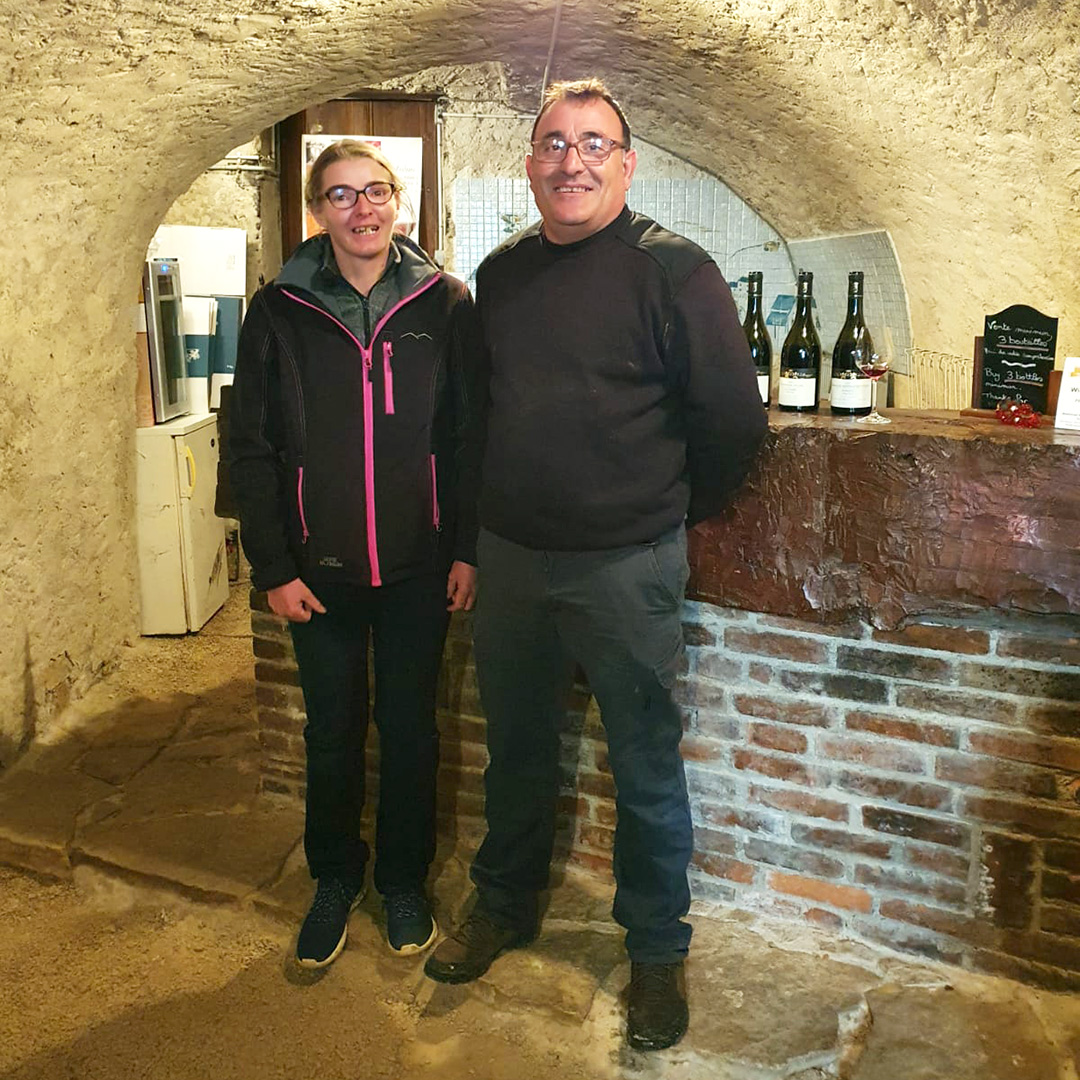 Our final visit of the day whisked us all the way down to Santenay to taste the range from our new signing last year: Domaine de la Choupette. Husband and wife team Perrine and Philippe Gutrin presented their whites and reds in a very dainty cave, just off a pristine square in the village centre. Covid masks were donned, and then very hastily removed (lest they filter the wine in a funny way!) for us to try their Puligny, Chassagne and Santenay.
Their Puligny Montrachet La Garenne, a small higher altitude plot in the top right hand corner of Puligny Montrachet (in the hamlet of Blagny, bordering Meursault) stole the show. The high altitude here creates a more tensile style of wine, but Choupette have done wonders to add weight and depth to this bottling. Immediately pleasurable and intense notes of butter, toast vanilla… Not overdone, but highly expressive. There was also an impressive aromatic profile and fruit to match. One for total hedonists.
A brilliant and exhausting day – but 2019 is looking very promising indeed from this early view.

If you wish to receive email updates on the 2019 Burgundy En Primeur: