We were very sad to receive this message today from our friends at Domaine Tempier:
'Lulu Peyraud left us yesterday morning to join Lucien. Of course, her spirit will remain with us forever; her 'joie de vivre' and happiness will always be remembered. She had hoped that at this time we would have a glass of Tempier to raise a toast to her – and to not be sad. Merci à tous,'  The Tempier Team.
Born Lucie Tempier in 1917, Lulu was 102 and had an incredible impact on Domaine Tempier over the course of her life – but also on the reputation of the whole region's wines and food.
She will always be inextricably linked to the Domaine that she inherited from her father in 1940 and she and her husband Lucien revitalised – taking it right to the pinnacle of Bandol production. They were instrumental too in raising the profile of Bandol as a region. Since their first domaine red wine in 1951 they have been winning ever-growing respect and deeply dedicated fans across the globe for the fine wines being produced here.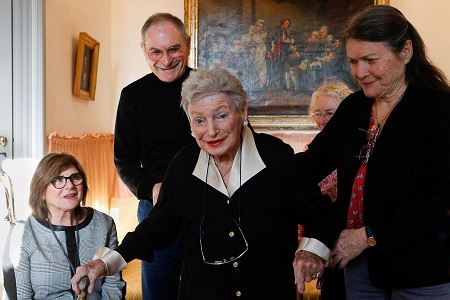 A superb cook too – she is widely lauded for introducing the US to the wonderful flavours of Provencal cooking, via her friend and 'apprentice' Richard Olney. He went on to write several cook-books – introducing the recipes he learnt from Lulu to the American public. A picture is painted of an almost perfect existence where the table was at the heart of life – a Marcel Pagnol story brought to life, with wonderful wine and delicious dishes the priority. What a wonderful way to live.
Another famous 'protegé', the American chef Alice Waters, paints a wonderful picture when she described Lulu in a Washington Post article as '..4½ feet tall, part coquette, part grand dame, part force of nature..' Lulu was clearly a strong influence on the now revered Chez Panisse restaurant founded by Waters.
Like the wines of Domaine Tempier, Lulu's cooking captured its sense of place like nothing seen before – and her spirit clearly captured the hearts of so many over her long life.
We shall certainly raise a glass, as she had hoped!
RIP Lulu Peyraud (1917-2020)