Angus Barcroft from our private clients team gives us an insight into day four of Bordeaux en primeur tastings:

Day 4
Today we had another early start that saw us heading up the D2 road for a day of tasting along the left bank in Saint-Julien, Pauillac & Saint-Estèphe.
The word of the day that many of the Châteaux used to describe the 2022 vintage was "surprising". As Jack & Tom have mentioned in their reports, there is a real sense of joy about the vintage and a genuine relief that the vines were able to cope with the heat – hence the surprise.
This is my first visit to Bordeaux so I don't have any other En Primeur vintages to compare it to myself, but it has been an eye-opening experience from the start. It will, no doubt, go down as a great vintage but some have performed much better than others.
It was a full day of tasting – taking in the rather envious list of Châteaux below but a real treat to see these estates up close.
We made a solid start to the day, kicking off with a tasting at Léoville Poyferré, before heading over to Léoville Barton which was top notch! It's always great to the taste the Barton stable.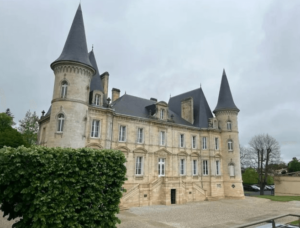 Next up was Ducru-Beaucaillou – one of the many Châteaux to be surprised by the vintage. Imposing, rich and exciting. Our next stop was a tasting put together by the Union des Grands Crus de Bordeaux (UGC) – a valuable opportunity to taste some of the top Saint-Julien estates side-by-side. This took place at Château Beychevelle and showed the appellation in a favourable light –  it has done very well with the 2022 vintage.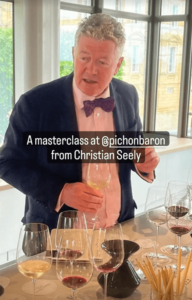 After this, we arrived at Pichon Baron, where we had the pleasure of the company of the charming Christian Seeley, who always provides such a fascinating insight into the AXA Millésimes wines.

A trip to Pichon Lalande and Pichon Comtesse (a quick hop and a skip across the road) followed. The estates are literally opposite each other and both have acquitted themselves very well in 2022.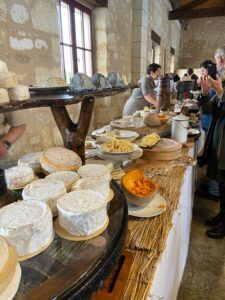 After a tasting at Pontet-Canet we had a brief moment, eight tastings into the day, to stop for lunch at the estate. This was definitely one for the cheese lovers.
Recharged, we hit the road again, arriving at Calon-Ségur. Here the wines were impressive, glossy and very reflective of the vintage. Patience will be required here but rewarded. Next was Château Meyney – this is an estate that we've been working with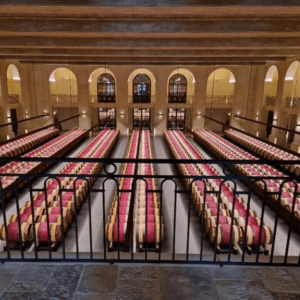 for years, but an interesting first visit for me. Staying within Saint-Estèphe, we then headed over to Montrose. This Château has one of the most immaculate barrel rooms in the Medoc and this year the estate has produced, arguably, one of the finest wines in the appellation.
Pédesclaux came next, a beautiful, modern estate with one of the most personable winemakers I've ever met. These wines are well worth seeking out. A stop at Clerc-Milon – gave us a chance to taste Mouton Rothschild. As you might expect, some very impressive showings here. This was followed by a fine showing from Grand-Puy-Lacoste – definitely one to look for.
We finished on a high – another UGC tasting at Château Lynch-Bages. This gave us the chance to see the mightily impressive new winery at Lynch-Bages, while tasting across Paulliac