And we're off, scouting Châteaux for the best of Bordeaux 2022. Our head of Private Clients, Jack Chapman is sending us his notes and impressions, giving us a verbal tour of some of the finest wines of Bordeaux's right bank, and the team's take on the mystifying 2022 vintage. The first visits include: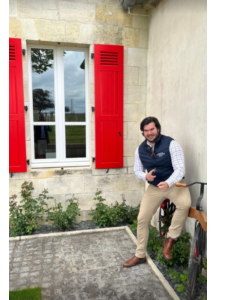 Château Nénin (which this year included Château Potensac, Château Clos du Marquis and Château Léoville-Las Cases due to renovations at Las Cases)
Châteaux Le Pin & L'If
Vieux Château Certan
Château Troplong Mondot
Château L'Évangile
Château Clinet
Château Cheval Blanc
Château Pavie-Macquin
Château Laroque
Château Figeac
Château La Conseillante
Château Tertre-Roteboeuf
Day 1
We're keen, we're fresh, we're (sort of) well-rested. The wine trade 'private jet' flew us in on Sunday morning, our Easyjet flight abuzz with talk of tasting itineraries and speculation on the 2022 vintage. Not to waste a minute, we get our hire car and head straight for a warehouse in which you could park a few large jets – the offices of the negociants Ulysse Cazabonne.
These large, negociant-lead tastings allow us to start to build a good picture of the vintage, with 100 or so bottles across all appellations. This done, we retire to ruminate, and recover from the 4am start.
Day 2
To the hard work. We arise and head straight for Pomerol. The familiar terrain laced with vines, all already showing their colours, feeds us into Château Nénin. A curious place to start, made even more so by the inclusion of a left bank great – Château Léoville-Las Cases is undergoing renovation, so not only are we tasting Nénin, but Potensac, Clos du Marquis and Léoville-Las Cases. A rare jack-knife to the Rive Gauche.
Nénin was on good form, Potensac a cut above the usual (the heat really helped in that chilly terroir), Clos du Marquis exceptionally easy to love. Las Cases itself, was laser-precise. Electricity personified, it danced a merry loop in our mouths, seemingly for ages. We had our first key indicator – 2022 has generosity, but also immense structure. If you play by the rule that a great wine should be great from start to finish, then we're on this pitch.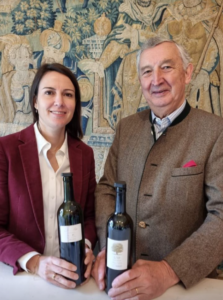 Seeking to keep our frame of reference both humble and realistic (…), we headed for Château Le Pin. I won't say any more than Le Pin is Le Pin. Owner Jacques Thienpont captured their approach: 'We aim for perfection, but it is not achievable in this world.' We'll see Jacques.
L'If is worth pausing for. It's obviously no secret that it's superb, but in 2022, a theme which is concurrent with most of the Saint-Émilion we tasted, it had that extra layer of electricity. They had also, for the first time ever, used some Cabernet Franc vines in the blend which have just come to term. The resulting aromatic nudge was rather nice.
Vieux Château Certan, which has the finest wisteria in Bordeaux (we may have started to contract 'wisteria hysteria' across the trip) was next. If you're ever lucky enough to taste there, you'll find that the spittoon is not conspicuous – it is there, but hidden behind a large column in the winery. This can lead to a state of panic in new tasters, which is resolved as they swallow their mouthful and drink the rest of the glass. It's always that good. 2022 was no exception.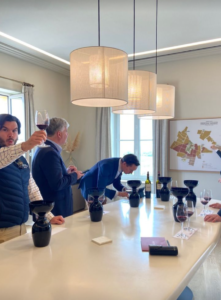 Following this, we climbed the hill. Troplong Mondot is situated on the highest point in Saint-Émilion, so the view is stunning. As much as Mondot was fruity and approachable, Troplong Mondot blew it to pieces – yes, it's 15% alcohol, but that generosity and intensity is tempered so well by its acidity. A truly impressive effort from a Château firmly on the rise.
A swift tasting at the inimitable l'Evangile followed, before we picked our way to Clinet. The familiar red shutters greeted us with a surprise – a new wine. Lécuyer is a 3 hectare plot, bordering their own vines, which Clinet have just acquired. It was very good, but Clinet itself stole the show. Whilst we're used to Clinet's verticality, an incredible character it is able to produce in any vintage, the 2022 also had just the right amount of breadth. Similar to that friend, who after being single for a few years, finds themselves in a really healthy relationship – they stop starving themselves, are much more joyful and put on a few comfort pounds. It was great.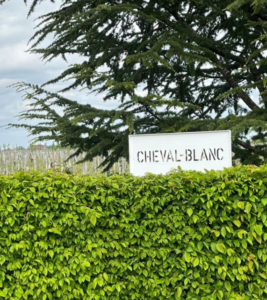 Cheval Blanc is always a treat, and this year was no exception. The one piece of news we can report here is that they didn't make a Petit Cheval. They decided that the quality of their wine, across every single plot they own (bar one), was so homogenously high that it was worthy of the Grand Vin. The only downside was that their yield was cut from an average of 35hl/ph to 28, so how much we're able to get hold of remains to be seen.
Pavie-Macquin is a nightmare drive. The Château is up hairpin bends, carved into the limestone cliffs of Saint-Émilion. This year, we sadly didn't realise that the tasting was at Larcis-Ducasse – so we had to race back down the impossible road, to try all the marvellous wines from this side of the Thienpont family. Pavie-Macquin itself was completely gorgeous. It had real appeal, crunchy fruit, and a generosity which made you keep going back for more.
Laroque was next, one of our favourite newcomers. They faded into obscurity for a long time, before rocketing back onto the scene in 2018. At time of writing, after 48 years of absence, I can say with total honesty that their wine is still desperately affordable (2022 price pending) and has beautiful red fruit. It was our 'value pick' of the day.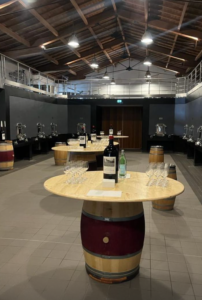 Figeac, now Grand Cru Classé 'A', did an incredible job or working with the challenging 2021 vintage. In 2022, they have been handed their first exceptional bit of weather since they finished construction of their enormous, new, state-of-the-art winery. This effort was seminal. Not only was every element in balance – fruit, alcohol, intensity, acids, tannins – and exceptionally well-worked, but the wine already felt like a complete journey. From start to mid, to finish, it was so complete and complex, that you could have excused yourself with a bottle.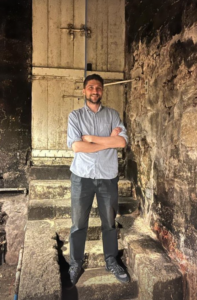 La Conseillante, for all its grandeur, is just 10 hectares of vines, worked by 8 people. They don't have a glamorous reception space, they don't make a lot of wine, and they eschew the entire idea of second labels. What they do make, however, is exceptional and within the hierarchy of Pomerol, although already highly-regarded, in this writer's humble opinion, it does not garner the recognition it deserves.
Finally, our last few kilometres of Monday's wine marathon. Tertre Roteboeuf is a complete tonic to the showier side of Bordeaux – pure substance over style. The estate itself is just six hectares, and only four are currently being utilised. Tertre is a family home, and we were graciously toured around by Henri, Francois' son who not only showed us Domaine des Cambes, Roc Des Cambes and Tertre Roteboeuf, but also opened a '91 Roc, then showed us their family library cellar. If you're lucky enough to be able to buy these, do.