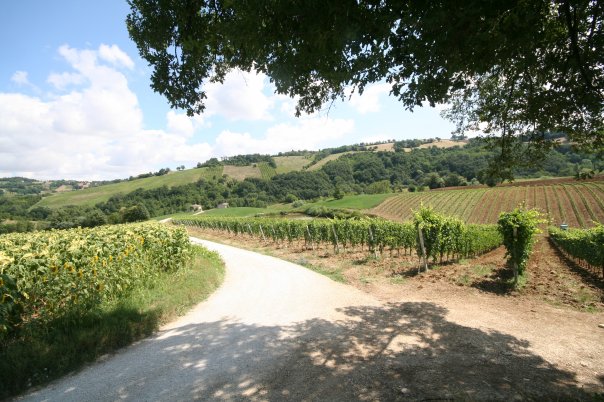 Andrea Felici
Italy, Marche
As Antonio Galloni writes - 'Leopardo Felici has a great hand with the Verdicchio grape, producing two of the Marche's best white wines. Clearly, the vineyard location in the cool-climate, hilly area between Apiro and Cupramontana is a big help, as the wines have high natural acidity, a strong mineral overlay and wonderful clarity. But strong viticultural and winemaking skills also play a role. Felici is one of the few producers of "vino biologico" in Italy talented enough to avoid making wines with off-putting aromas, and his decision not to use oak (only stainless steel and cement vats are used) also contributes to the precision of the wines. Andrea Felici is a name to watch in Italian wine circles.' Found between Apiro and Cupramontana, right at the heart of the lands of Verdicchio, the territory of Apiro is ideally placed on a hill at the feet of Mount San Vicino (m 1479), at an altitude of 516 m above sea level, with just more than 1500 inhabitants. The landscape is wonderful, a green valley with tilted slopes, covered with beautiful woods and vines, marked by the high peaks of Gran Sasso and Maiella that stand out towards the horizon in the south and the the peaks of Mount Catria that are found to the north. The wine is produced on the gently rolling countryside of the Marche region, home to the Verdicchio grape. Positioned on the lower slopes of Mount San Vicino, the vineyard benefits from the altitude (516 meters) and the cool breezes from the Adriatic Sea. The variable temperatures are important factors when producing this light and crisp wine. The vineyard practices organic viticulture; the grapes are picked by hand and pressed within a few hours. The wine is then matured in cement and stainless steel vats and the finished product is "marked by incredible purity of fruit and minerality." Winemaking - The wine is made from grapes of young and old vines (6/7 yr old and 35 yr old). Once pressed, the wine spends two days on the skins followed by ageing in cement and stainless steel vats (on the yeast). A further two months of ageing takes place in the bottle before release.
Other reviews and comments
The first thing I noticed about Leopardo Felici was his footwear—the white retro Rivieras slip-ons completing his outfit of white slacks and a fitted blue patterned shirt. As Felici, chic and smiling, descended a staircase at a countryside hotel in the Italian Marche for a private tasting of his Andrea Felici wines, I thought he could be the stylish establishment's director. At 34, Felici is a rare blend: a suave and charismatic wine lover who is also a serious young farmer and winemaker from tiny Apiro (pop. 2,400). Under his direction since 2008, his family's small estate has been lauded in Italy for producing some of the most elegant examples of the Marche's signature grape, Verdicchio. "We want to make just Verdicchio," said Felici as we tasted several vintages of his two wines—his basic Verdicchio dei Castelli di Jesi Classico Superiore cuvée and his single-vineyard cru Il Cantico della Figura, which is fermented and aged 12 months on lees in cement tanks, then spends six months in bottle before release (at under $30 in the U.S.). "We want to make the top wine from Verdicchio." The next morning, I drive out to the Felici home and winery, which once served as a local general store, dance hall and telephone booth when electricity came to Apiro in 1957. This morning, the tall, husky Felici wears worn camouflage shorts and a T-shirt as he walks through the gently sloping vineyards, which include about 12 acres of family vines and another 10 acres under lease. All are farmed organically and meticulously kept, down to the fine adjustments made in the leaf cover in response to the summer heat. This small farming town, nestled at nearly 1,700 feet, has one of the area's highest, coolest microclimates. Hovering above the landscape is the 4,700-foot peak of Monte San Vicino that separates Apiro and the Castelli di Jesi appellation from Matelica and its smaller wine zone. Pure Verdicchio wines are particular to the Marche, and difficult to describe, but they are generally marked by a rich mineral feel, citrus or green fruit, salinity and a nutty bitterness. In Felici's hands, Apiro's terroir mixes all those elements in wines that are noted for being vibrant and fresh. "Apiro is like a cru," he says. "We have cool breezes from the sea and the mountain. The wines always have their identity." Felici is a fourth-generation winemaker whose grandfather sold his wine in bulk to local families and large bottlers. Felici's father, Andrea, now 78, began the conversion to organic farming and modernized the winery, first by removing the stored animal feed and the family's salumi dangling from the rafters and by replacing old moldy wine casks with stainless steel and concrete. In 2002, as Andrea Felici was preparing to bottle wine under his own label for the first time, his son asked to join him. But the elder Felici wouldn't hear of it. "My father told me, 'Before you make wine, you must have an idea of the kind of wine you want to make. He told me, 'Go around the world and get experience.'" Leopardo did that, working four years in high-end wine service, first at Gordon Ramsay's Savoy Grill in London and then at Florence's famed Enoteca Pinchiorri, which holds a Wine Spectator Grand Award for its wine list. Felici's eyes were opened tasting great wines, from Château d'Yquem Sauternes to Didier Dagueneau's Pouilly-Fumés. But his wine epiphany came from sampling the whites of a legendary Italian estate in Friuli. "Jermann was, for me, my teacher," he says. "The wines were just a translation of the grapes and the soil—that was it." Returning home in 2006, Felici joined his father before taking the helm of the winery two vintages later. Felici has continued the path to quality. He is a fanatic at harvesttime, insisting that grapes be carefully handled "like eggs." He has introduced temperature controls for fermentations (most of which are done in vats outdoors), replaced commercial yeasts with selections of the best strains from family vineyards, and obtained air-conditioned shipping containers in which to age the annual 4,400-case production for months. Felici says his dream is to age some wines up to 10 years before release—a proposition that is now too costly. "Only Italian people know you can age Verdicchio like Nebbiolo," he says. Though Felici seems to be a font of inexhaustible energy, his last harvest flirted with tragedy. In September 2014, just weeks before his wife gave birth to their first child, Felici was diagnosed with Hodgkin's lymphoma. After his daughter's birth, harvest and vinification, he underwent six months of chemotherapy. Last spring, with the cancer in remission, he headed back out to his vineyards. "It taught me that in life there are no problems," he says with a sweeping hand gesture. "There are only solutions."
The Wine Spectator, www.winespectator.com
(Aug 2015)
Interview between Tom Hyland of Decanter and Leopardo Felici:

What makes the Verdicchio grape so great? Is it the flavours of the grape? Is it the ability to age? Please tell me what you think are the primary characteristics of Verdicchio- aromas, structure, etc. The Verdicchio grape gives both great aromas and structure to the wine. Characteristics are more or less evident according to the terrain / area of cultivation. As you know the Matelica area exalts the aroma while Castelli di Jesi the structure. Apiro, where I am located, is the highest 'castello' of the Castelli di Jesi (castles around Jesi) area and has a great combination of both. The soil is what makes the main difference. The grape has historically found a great place to grow in this area of Castelli di Jesi due to: - good sand and clay and limestone and clay soil from the pleistocene era - great day/night temperature range - stable humidity

Please tell me about the vineyards you have as far as soils, elevation, climate, vine age, etc. My vineyards: We go from the heart of the estate, Vigna San Francesco, a 2 hectare vineyard with vines that average more than 50 years old, at an altitude of 400 metres above sea level with a clay/rocky soil. It is close to a small artificial lake, forest and a ditch where fresh and clean water always flows. The other, younger 5 hectare vineyards (containing 5 to 35 year old vines) are located in the surroundings between 400 and 600 metres above sea level on a more sand/clay soil.

I know from reading your website that you only age your wines in stainless steel. Do you think that wood aging would hurt your wines?
We do use stainless steel for the Andrea Felici wine, and vitrified cement for Il Cantico della Figura. This is because we think that it is the best way to intensify the great wines we get from the beautiful terroir, mainly in the San Francesco vineyard, and the best way to preserve and improve this great product that we cultivate within this beautiful biodiversity.

For how long will the best examples of your Verdicchio drink well?
20 years is the word of mouth. I am not sure when I first bottled my wines, but I have opened wines older than 10 years; very nice! In the mean time we have vastly improved the work we do in both the cellar and the vineyards, and so in a few more years I think we will prove that by word of mouth!

Finally, a very important question - how can Verdicchio be better marketed and promoted? It is a great Italian white wine, yet to me, it seems that it is unknown by the public.
Yes, it is probably the best Italian white wine if you look at recent guide books. You are probably right that is still unknown to the wider public, but it is on the right path with around 50% of bottles being exported. The wine needs to be promoted along with this beautiful land. This is another unique part of Italy where quality of life is probably not well understood, especially by the young generation, or at least by the majority of it, but it is so high. I want the profession 'vine grower' explicitly written on my identity card. I am proud of it. I am networking with friends of my generation. Cooks, tailors, wine growers, farm managers, farmers, etc that also believe in this land. Together we can promote and improve each other. The Marche style will succeed and the wine with it!
Decanter Magazine