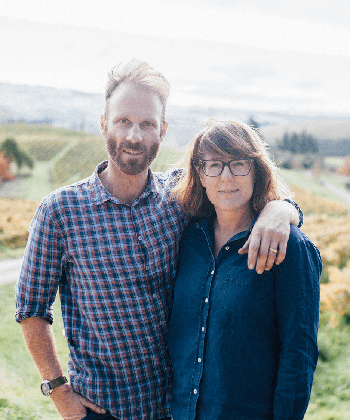 Black Estate
New Zealand, South Island
https://blackestate.co.nz/
Black Estate belongs to Pen (née Naish) and her husband Nicholas Brown with Pen's parents and siblings. It consists of three vineyard sites. There are 11.6 ha in the 'Home' vineyard, in the Omihi sub-district of Waipara, North Canterbury, where the original Pinot Noir and Chardonnay vines were planted in 1999 by Russell and Kumiko Black. The Naish family bought the vineyard in 2007 and have since converted it to organics (and now biodynamics) and planted at higher density, four hectares of Chardonnay, Pinot Noir, Chenin Blanc and Cabernet Franc. Black Estate soils are clay and limestone.
The second site ('The Damsteep Vineyard') is 10km further north, with 2.2 ha of Riesling and 5ha of Pinot Noir grown at 5000 vines per hectare. Clay over sandstone and limestone.
The third site is the Netherwood vineyard which is on Waipara Greensand, which weirdly is of similar age and glauconitic character to those found in Kent and Champagne.
The wines are made by Nicholas who had considerable experience prior to joining Black Estate, including seven years with Daniel Schuster Wines and vintages in Chianti, Piemonte, Napa Valley and Oregon.
Black Estate aims to make wines which are truly expressive of their site, by growing and making wine as naturally as possible. Most of the vineyard has been managed biodynamically since 2010, (Netherwood from 2012) and it is all fully certified as organic, with biodynamic certification in progress.
Writing for JamesSuckling.com Rebecca Gibb muses - "I think I may have a crush on this relative newcomer. Everything they have turns to gold at the moment: from their broody Omihi Pinot Noir and Beaujolais-like Netherwood rose to their Omihi Chardonnay. They can't put a foot wrong at the moment. Keep your eyes – and lips – on this Waipara outfit."
Nicholas was awarded 'Winemaker of the Year' by Gourmet Traveller magazine in February 2022. The citations says 'Never one to shy away from experimentation, Nicholas Brown has an uncanny knack for creating wines that not only speak to the site, but also of the man. "You're only as good as the grapes that you grow and they're only as good as the place that they come from," says Nicholas Brown. His dedication to Black Estate's three Omihi vineyards over the past 12 years has resulted not only in some of the most compelling single-vineyard wines from Waipara, but the whole of New Zealand.' (Dr Jo Burzynska)
Black Estate - I think I may have a crush on this relative newcomer. Everything they have turns to gold at the moment: from their broody Omihi Pinot Noir and Beaujolais-like Netherwood rose to their Omihi Chardonnay. They can't put a foot wrong at the moment. Keep your eyes – and lips – on this Waipara outfit. (from 'Rebecca's blog' on www.jamessuckling.com) Rebecca Gibb MW - Vinous.com