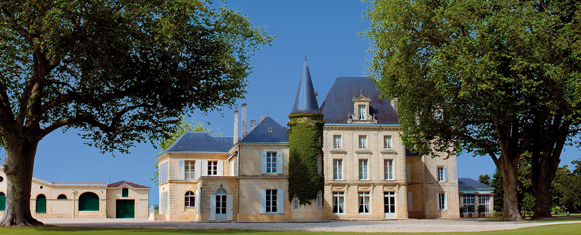 Château Cantemerle
France, Bordeaux
Philippe Dambrine retires as director of the estate at the end of the 2020 vintage, after a long successful tenure. He is replaced by Laure Canu from Château Angélus. Laure is taking on the property in fine fettle with recent innovations in the cellar including their Air-Flow pump system that ensures the softest touch and minimal extraction of the juice - particularly valuable in the recent run of hot vintages. In the vineyard too plot selections and their HVE (level 3) certification means the developments continue towards healthier, better and more sustainable farming.
The long history of Château Cantemerle begins at least as far back as the 12th Century when it was a fortification. Wine production got under way seriously under the watch of the Villeneuve family who bought Cantemerle in 1579 and finally sold up in 1892. During that time Château Cantemerle famously scraped in to the 1855 classification as an apparent last minute addition after some frantic lobbying by Caroline de Villeneuve-Durfort. Théophile-Jean Dubos bought Cantemerle in 1892 and had some initial success, but the 20th Century saw a familiar period of decline and his descendents sold up nearly a hundred years later in 1981 to the Groupe SMABTP who's recent investments have put Château Cantemerle back on its feet.
Château Cantemerle lies in Macau, to the south of the Margaux appellation. There are 87ha under vine, planted to 50% Cabernet Sauvignon, 40% Merlot, 5% Cabernet Franc and 5% Petit Verdot. Grapes are hand harvested. The Grand Vin spends 12 months in wood, of which 50% is new.
There is a second wine - Les Allées de Cantemerle.