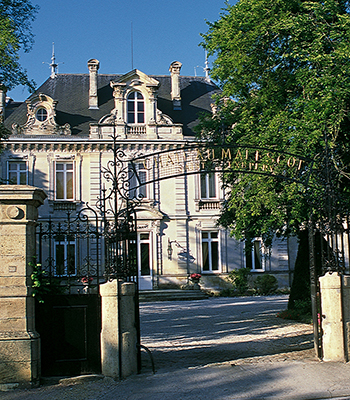 Château Malescot Saint Exupéry
France, Bordeaux
Margaux Troisième Cru Classé 1855
Simon Malescot laid the foundations for this estate when he purchased the land in 1697. In 1827 it was sold to Count Jean-Baptiste Saint-Exupéry, who appended his name to that of the château and added vineyard land from his family holdings. His extravagent life-style, however, led his widow to sell Château Malescot Saint Exupéry in 1853 to a banker called Fourcade who added the now defunct Château Dubignon to Malescot Saint Exupéry. In 1885 the present château was built. A sale of the estate in 1901 saw Château Dubignon split off again (selling for most of the next fifty years as Château Dubignon-Talbot), only to be re-incorporated into Malescot Saint Exupéry by Paul Zuger who bought the estate (together with Marquis d'Alesme Becker) in 1955. At the time, Malescot Saint Exupéry had just 7ha of vines and a reputation that had hit rock bottom. The Zuckers, now represented by the third generation Jean-Luc, have rejuvenated Malescot Saint Exupéry and it now has a reputation for good quality and good value.

Château Malescot Saint Exupéry can claim the great Château Margaux as its neighbour and lies, therefore, in the very heart of the appellation. The vineyards are planted to 50% Cabernet Sauvignon, 35% Merlot, 10% Cabernet Franc and 5% Petit Verdot. The Grand Vin spend 14 to 16 months in oak, with up to 80% of the barrels being new wood.