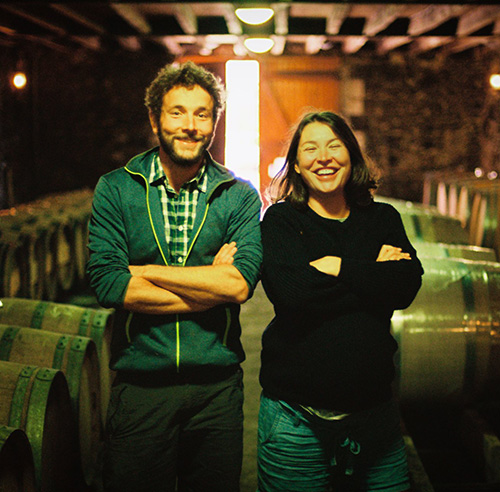 Château de Plaisance
France, Loire
Sometimes you meet people, and you instantly know there is something special about them. And so it was when we came across the brilliant Vanessa Cherruau whilst in Montpellier in February this year, just before the world changed...
This dynamic 32 year-old had just taken over the beautiful Château de Plaisance in the heart of 'Anjou Noir' with old vineyards in the famous zones of Quarts de Chaume and Savennières too. The estate has been organic since 1995 and biodynamic since 2008.
In February Vanessa could only show us very new tank samples from her maiden harvest which she accomplished whilst 8 months pregnant. These bottles were fresh from the cellar and a long way from finished. However, it was immediately clear we had something special on our hands. Now that her first vintage is bottled and ready we could not be more pleased to have spotted those early signs of promise. These wines are a complete revelation. We could not decide which of the range to pick, we loved them all - so we have them all! This is justified by their distinctly individual styles and mesmerising drinkability - across the board. This part of the world has for generations been famed for its superb sweet wines - but with warming global conditions and less call for something sticky - there is a movement afoot, flouting the rules and making wines that you really want to drink.
Vanessa bought the estate from one of the early 'outlaws' here - Guy Rochais - who started to make a contraband dry wine from his ancient Quarts de Chaume vineyards. He was prosecuted for such outlandish behaviour - this could not be called 'Quarts de Chaume'! In subsequent years he continued to make this crisp dry Chenin, but with the new name 'The Insolent'.
This is an exciting part of the world for wine-lovers - and Vanessa and her Château de Plaisance wines are right at the forefront of this quiet revolution going on. Textured, bright and gorgeously weighted whites - and the most charming Cabernet Franc that you can imagine, pretty, perfumed and perfectly shaped. We could not be more thrilled to have landed this first shipment from a rising star.
The Anjou Blanc, Anjou Rouge and (for red wines alone) Anjou-Villages appellations are the best places to look for the new, over-achieving dry wines from this region, together with Savennières itself, a long-lauded but sometimes dowager-like dry-wine zone where many formerly drab estates have begun to come good recently. Coteaux du Layon and, astonishingly enough, Quarts de Chaume are turning to dry wines, even though Quarts de Chaume won jealously guarded Grand Cru status for its sweet wines (the only such designation in the whole Loire Valley) as recently as 2011. The grape variety for both is the chameleon-like Chenin Blanc, excellent in either dry or sweet guise. Naturally, any dry white wines produced in the Grand Cru zone have to be declassified to plain Anjou Blanc — but the producers don't care. Nor, having tasted their efforts, do I. Great things are in store for this zone, regardless of appellation. August 2020. FT Magazine Andrew Jefford (Aug 2020)