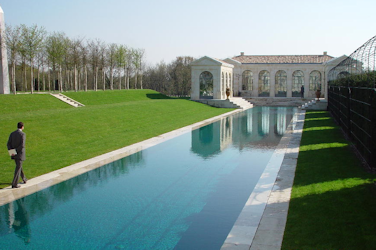 Château du Tertre
France, Bordeaux
Margaux Cinquième cru 1855
Château du Tertre is an estate whose star has risen quite considerably in recent years and offers a good bet to those seeking a decent Margaux without breaking the bank.
Château du Tertre lies just north of the village of Arsac in the south-east corner of the Margaux commune. The name refers to the hillock on which the vineyards stand and unusually for the Haut-Médoc the vineyards are in a single block around the château. Du Tertre has a long history dating back at least to the 12th Century when it was owned by the Seigneurie d'Arsac, and featured for a while in the extensive holdings of the Ségur family. A Ségur connection of a sort was re-established in 1961 when Philippe Gasqueton, who already owned Calon-Ségur in Saint Estèphe, bought the run-down du Tertre and set about restoring the château and vineyards. After his death in 1995, du Tertre was sold to Eric and Louise Albada Jelgersma who own the neighbouring Château Giscours.
The 50ha of vines are planted to 40% Cabernet Sauvignon, 35% Merlot, 20% Cabernet Franc and 5% Petit Verdot. The wine spends 18 months in wood, of which 50% is new.