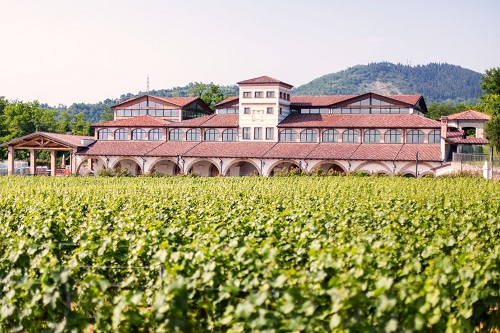 Corteaura
Italy, Lombardy
http://www.corteaura.com/
Federico Fossati, the "Soul of Corte Aura", is not yet 40 but already taking on a second career - with great results!. He left his homeland of the Veneto and a career in finance to set up in Lombardy. He saw his future in Adro, Franciacorta. Prime growing grounds for classic, high quality fruit, perfect for Franciacorta. The towns emblem is made up of three bunches of grapes - this is what they do there!
We are delighted to be working with the team here - it is so refreshing to have people making great Sparkling wine - who really understand that as it is not labelled Champagne - there is work to be done to raise the profile of Franciacorta and they know prices must be part of the allure - these represent seriously good value and we are so pleased to be listing the Brut, the Rosato and the fantastic Pas Dosé cuvée - perfect adverts for what is achievable here in this historic region - with passion, attention to detail and a long-term plan.
They own many of their own vineyards as well as buying in grapes from trusted growers and although still quite young are becoming seriously respected in the area.