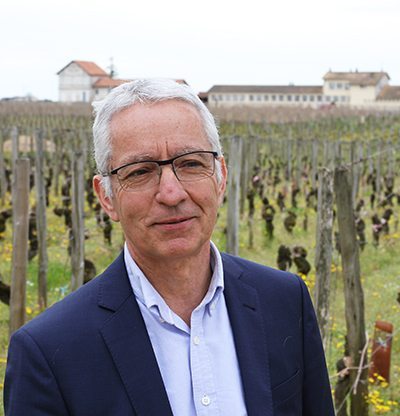 Denis Durantou
France, Bordeaux
Among the brightest stars of the exalted Pomerol appellation is Denis Durantou at Château l'Eglise-Clinet. Little more than a kilometre to the north, near enough to see one from t'other, across the Barbanne stream in Lalande-de-Pomerol is Château les Cruzelles, also owned by Denis. The 10ha of vines boast the highest proportion of Cabernet Franc in the area – 40% - with the rest being the more usual Merlot.
Aside from Château les Cruzelles proper Denis also produces here La Chenade, a Lalande-de-Pomerol cuvee he made with Cruzelles' grapes even before he bought the estate in 2000. Denis also owns a small vineyard of 35 year old Merlot vines at Saint Etienne de Lisse at the eastern end of St Emilion that goes under the name of Saintayme.
And, a little further south-east, across the boundary in the Côtes de Castillon is Château Montlandrie that Denis bought in 2009. Much renovation has taken place at the 12ha vineyard that includes, almost uniquely for the Right Bank, new plantings of Cabernet Sauvignon that now make up 15% of the vineyard alongside the usual 65% Merlot and 20% Cabernet Franc.
Here's Denis' 'Haiku of the 2012 vintage' we posted on Youtube: