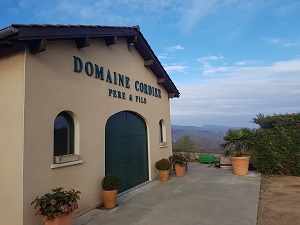 Domaine Cordier
France, Burgundy
http://www.domainecordier.com/en
We first started working with Christophe 20 years ago and after a short hiatus we are delighted to welcome back these great wines to our list. Christophe has continued to build on the success of his father Roger, and has brought a deft touch to the wine-making, so that the excellent fruit from their well-placed vineyards is translated into fantastic wines.
He has also increased the scale of the negociant business and with long-term ties to some great vignerons is making some consistently stylish wines under the Christophe Cordier name, rather than Domaine Cordier. In the late 90s and early 00s, part of the story here was late-picking. Christophe would take some risk in leaving the grapes hanging for as long as possible. Back then this was what we were all after and the full-on, broadly textured wines were a revelation. Christophe has reined this in somewhat and is now producing wines with a lighter touch, a fine purity. Yes, there is texture and ample weight - but there is a new harder line of minerality and slightly more taut style, these are immensely drinkable wines that encourage you to the next glass. They simply represent fantastic value for lovers of White Burgundy and fine Chardonnay.
This is the most exciting domaine in Fuissé (it is based at the top of the hill overlooking the village) and the wines are great value and qualitatively comparable with many in the Côte d'Or. Most of the vines are around Fuissé itself, and they ripen earlier than the higher vineyards of Vergisson, making for a slightly different style to Barraud.