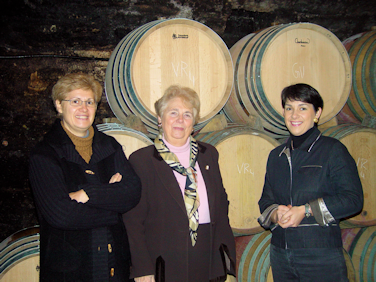 Domaine Georges Mugneret-Gibourg
France, Burgundy
Domaine Mugneret-Gibourg was founded in 1933 on the marriage of Jeanne Gibourg and André Mugneret. Holdings then consisted of Bourgogne, village Nuits, village Vosne and Echezeaux. Their son Georges, an opthalmologist by day, added to the vineyards, but his acquisitions (Nuits 1ers Crus Vignes Rondes and Chaignots, Chambolle 1er Cru Feusselottes, and Grands Crus Clos Vougeot and Ruchottes Chambertin) were kept separate as Domaine Georges Mugneret.
On Georges' death in 1988, his widow Jacqueline and daughter Marie-Christine took over. Marie-Andrée, the younger daughter joined them a little later having completed her studies as an oenologist. In 2009 Jacqueline retired and the two domaine names were put together to become Domaine Georges Mugneret-Gibourg, ending the prior confusion of labels.
The sisters have proved more than safe hands as far as the winemaking is concerned, and these are top-flight Burgundies with that elusive balance of enough concentration allied with delicacy of expression and the capability to age well. All the vineyard management has been brought in-house (the domaine previously relied on two métayeurs for part of the vineyard) and the quality has reached new heights, its wines some of the most sought-after in the Côte de Nuits.In 2017 Marie-Christine 's daughter Lucie joined the domaine, and Marion and Fanny, daughters of Marie-Andrée are now also part of the team.
I should state for the record that for this writer, their wines epitomize Burgundy and Pinot Noir at its peak Neal Martin, www.vinous.com