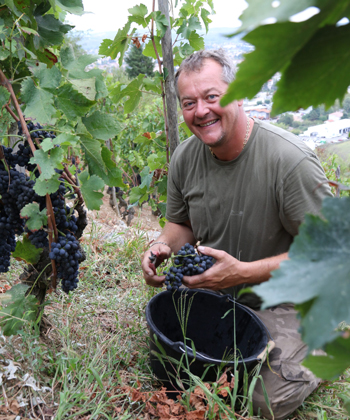 Domaine Gilles Robin
France, Rhône
Gilles Robin took over the running of this vineyard in 1996, with the freedom to produce his own wines. With a history of winegrowing spanning four generations, Gilles' aim was to realise the potential of the 35 year old vines. He immediately used only natural fertilizers and reduced yields to just 40 hectolitres per hectare (8/10 bunches per vine) to give a richer concentration of fruit and quality. A new winery was built into the ground to allow the wines to be moved delicately by gravity, rather than being pumped. Gilles' vineyard now extends to Saint Joseph (where he makes a tiny volume) and Hermitage. The core vineyard averages forty years old, and the wines gain in subtlety and balance with every vintage.
Gilles says of his wines, 'there is not a unique Syrah but rather a full spectrum of characteristics and potential expressed by Syrah varieties', to which might be added 'the spectrum of flavours of Syrah on different terroirs' as well, because his vineyards encompass the range of styles the appellation can produce. The 'Rochas' vineyard has deep soils which make for big wines with rustic tannins which take time to soften. It always produces tiny grapes which need fairly strong extraction to get the best of their deep, wild black fruit and spice notes. The 'Monico' vineyard is made up of broken-up rock and little pebbles and a deep clay. The clay retains water well and this is perfect for hot summers. A higher-toned red and black fruit character, ripe blackcurrant and blackberry, with elegant rather than massive tannins. Finally the 'Terres Rouges' vineyard is made of gravels and red clay, typical of the 'Terrasse des Châssis'. The Syrah here displays finesse, elegance and aromatic complexity. The strong iron monoxide content of this plot enables a maximum phenolic maturity. Intense colour, with purple highlights, aromas of violets, black fruits, sweet spices (pepper, nutmeg) and slightly smokiness. On the palate, this Syrah has silky tannins and fine minerality.
All of these styles together make for beautifully balanced wines, the different cuvées emphasising the differing characteristics of primal fruit and sophisticated and complex depth.
The vineyard has been organic since 2009.