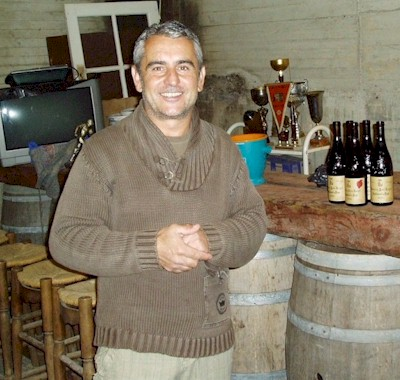 Domaine Jean Royer
France, Rhône
Jean-Marie Royer inherited his vines in 1985, and set about improving the grape varietal mix and the vinification from then. Since more than half of the domaine is in unclassified ('Vin de Table') or 'Côtes du Rhône, he has developed a marque 'Le Petit Roy' sold as Vin de Table' for everything that does not make it into the Châteaneuf cuvées.The Petit Roy has been a big hit in the shops.
His Châteauneufs are just gorgeous, and in the context of some of the Parkerised dottiness going on, offer refreshingly fantastic value for money. He has undoubtedly been much helped his close friend the star oenologist Philippe Cambié, who he went to school with and also played rugby with for many years. Cambié is more famous for a full-on rather extracted style, but Jean-Marie has imposed his own, fresher, brighter style on all his wines which are crunchy and well-defined.
Other reviews and comments
Vignobles Jean-Marie Royer is a very small estate of just over 12 acres, located in the southwestern sector of the appellation, not far from St.-Prefert, with their holdings in the two best known sectors of that area, Bois de la Ville and Les Grandes Serres.
Robert Parker, The Wine Advocate, www.RobertParker.com