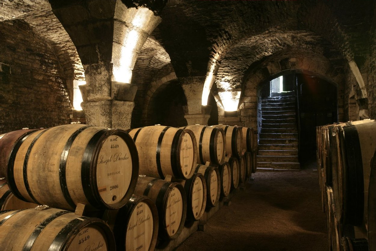 Domaine Joseph Drouhin
France, Burgundy
Joseph Drouhin, founded in 1880 and still family owned, are one of the most well-respected names in Burgundy, especially through their flagship wine, the iconic Clos des Mouches.
A huge part of the Drouhin production comes from their own domaine fruit (78 hectares), and much of the rest comes from contracts such as that with the Marquis de Laguiche, who shook hands with the grandfather of the current generation, agreeing to let him manage his vineyards which included an important part of Le Montrachet; this collaboration endures. Today, the fourth generation is at the helm
Small refinements continue to be made here. The presses have been changed - a reversion to basket pressing for the reds, and for whites the presses are open - along with a number of other growers they are following the trend to think that slight oxidation of the juice before fermentation is not a problem and may add complexity as well as avoiding later problems of premature oxidation in bottle.
For the reds there has been the introduction of selective whole-bunch fermentation in the Côte de Nuits wines. The house style remains one that 'emphasises the natural elegance of great Burgundies' as they describe it. The domaine is all cultivated with an organic and biodynamic approach.