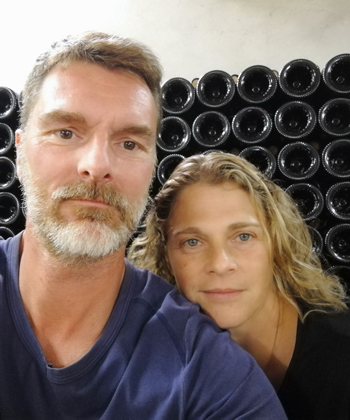 Domaine Lionnet
France, Rhône
www.domainelionnet.fr
Ludovic Izerable came to this domaine by marriage to Corinne, the daughter of Pierre and grand-daughter of Michel Lionnet. She took the reins in 2003. The Izerables immediately converted the domaine to organic farming and have been certified since 2009.
The word 'Cornas' derives from the Celtic word for 'burnt earth' and so is the origine of the name of the Domaine's flagship cuvée 'Terre Brûlée'. The domaine is a mere 4 hectares, in Cornas and Saint Joseph (where their vines are in Chateaubourg, the southernmost village of the appellation, at 300m altitude). In Cornas, they have 7 parcels of vines, mostly between 40 and over 100 years old, with one parcel of young vines planted in 2008. No pesticides, herbicides or commercial fertilisers are used, and the soil is worked by horse and a small caterpillar-tracked machine.
The grapes are handpicked and vinified as whole bunches - nothing is added at any stage and the vinification is by naturally occurring yeasts - the harvest has to be ultra-clean to allow for this, and that contributes to the aromatic purity of the wines. After the alcoholic fermentation with pigeage the freerun wine is drawn off and the marc is pressed gently in a vertical press from the 19th century. The malolactic fermentations are in resin or stainless steel vats, and only once completed do the wines get racked and transferred to barrel for two winters - a total of 18 months - half in 225l and half in demi-muids of 600l. No new wood is used. The wines are then bottles without fining or filtration.