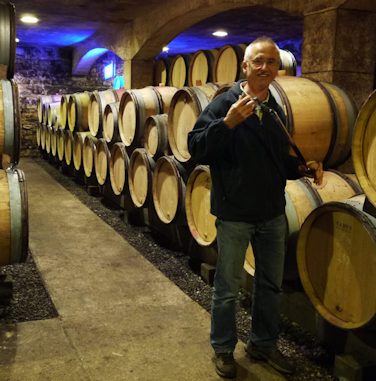 Domaine Thierry Mortet
France, Burgundy
The domaine dates back to 1992, when Domaine Charles Mortet was split between Thierry and his brother Denis, and Thierry set up on his own with just 4 hectares of vines. Today he has 7.3 ha, of which 6 are red and 1.3 white. Only 4.36 hectares are Gevrey or Chambolle, the rest being a small parcel of Marsannay Blanc and regionals - Bourgogne Rouge and Blanc, Aligoté and Passetoutgrain.
Thierry continues to be praised in the French press without ever quite seeming to crack the influential American journalists. It may be simply because he is a bit short of fancy appellations - one little cuvée of Grand Cru would no doubt do his reputation a lot of good - but might also put his prices up, and these remain very modest.
In the vineyard, Thierry has been certified organic since 2007, but really this was just an official stamp on what had been the practices of the domaine since the beginning, and he is working towards biodynamic certification. In the cellar, the grapes are entirely de-stemmed, and given four or five days of cold maceration are followed by the fermentation, with just a touch of cooling to keep the temperature around 31-33C (below 35, at least), and two pigeages a day. The total time in vat can be as little as 17 days. The wines then go into barrel, all second use or older for the Bourgogne, with 30% new wood on the Gevrey, and 50% on the Clos Prieur, for a period of around sixteen months.