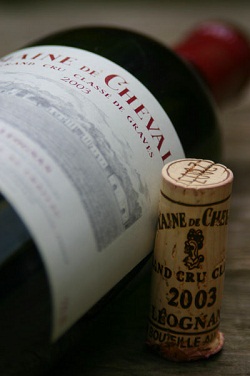 Domaine de Chevalier
France, Bordeaux
Domaine de Chevalier, located in Léognan and surrounded by forest, enjoys a particular microclimate. Unlike some of the Pessacs which are surrounded by urban development which raises the average temperature, Chevalier is quite a cool terroir.

Olivier Bernard has owned and run the estate since 1983, and has done much to improve the quality of the wines. The white has always been one of Bordeaux's finest, and is even better now, and Bernard has dramatically increased the quality of the red, especially in the last ten years.

Domaine de Chevalier has a soil of dark sand and fine white gravel. It is planted at 10,000 vines per hectare averaging 35 years old.
There are 7 Hectares planted for white with 70% Sauvignon and 30% Sémillon.
There are 60 Hectares planted for red, comprising 63% Cabernet Sauvignon, 30% Merlot, 5% Petit Verdot, 2% Cabernet Franc.

At the harvest the white grapes are picked in baskets with successive picking through the vines.
The red grapes are also picked in baskets, with triple sorting: first in the vines, then the complete bunch on the sorting table and third by optical sorting machine, berry by berry.
The white is pressed slowly, and settlement (débourbage) and alcoholic fermentation occur in the barrel, with 35% new wood. The wine is aged on the lees in barrel with stirring (batonnage), for 18 months.
The red grapes are vatted by gravity without pumping. The alcoholic fermentation in stainless steel and coated steel temperature-controlled vats. Maceration for 2 to 3 weeks with a maximum fermentation temperature of 30° C and manual pigeage. The wine is aged for 18 months (four months on the lees), with 35% new wood.