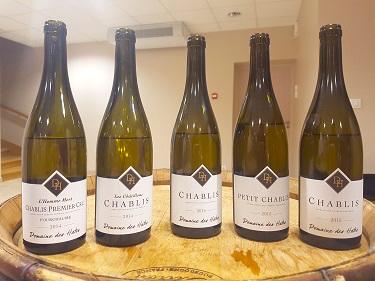 Domaine des Hâtes
France, Burgundy
http://www.confrerie-domaines.com/uk-vins-chablis-les-hates.html
It is no surprise that Domaine des Hâtes has been recently hailed as '.. one of the new Chablis growers to watch out for..' by the Robert Parker team. Our first visit there in November was very memorable and the work going on here is hugely impressive.
Pierrick Laroche is a charming young man and a very talented winemaker. Clearly a very wise head on his young shoulders. Still in his 20s, he currently manages his large holdings in Petit Chablis, his 12 Hectares of Chablis vineyards and a complete Hectare of 1er Cru Homme Mort, which he labels as 'Fourchaume L'Homme Mort'.
For now he sells off a lot of what he grows to négociants; for a newcomer (2010 was his 1st vintage making wine under his own label) this helps him work through his good volumes - and it's great for cash-flow. The plan is to do less and less of this as his reputation grows and he is able to sell more under his own label. With the quality of his wines - this should not take long at all! In preparation for bottling under his own name from 2010 onwards Pierrick stopped using pesticides and herbicides in 2009 and has since then manually worked the soil - this great change in practices has seen super results in the quality of fruit he is now picking.
It is all about freshness and precision here. Classical, deeply mineral wines. Picking perhaps earlier than some of his neighbours Pierrick captures beautiful acidity and brightness of fruit - he then loves giving the wine a long élevage in tank to build texture and weight and complexity. He is not averse to using oak - but it is done at a very minimal level with just the 1er Cru wine having less than 25% oak ageing. The results are super, bright, elegant wines but with a real shape and feel - classical, but interesting Chablis. An exciting addition to our Burgundy list.
Located in Maligny, the vineyard is in the heart of the Premiers Crus Fourchaume.
25 ha.
100% Chardonnay.
2 Terroirs: Les Chatillons and les Pierrettes.
Masters of grass growing by plough.
At least 1 year of maturation for all their wines.
Our wines are raised in stainless steel and undergo full malolactic fermentation.
3 stars on the Guide Hachette for their first cuvée in 2010.
140 000 bottles per year.
A new Chablis grower to watch out for. Robert Parker, The Wine Advocate, www.RobertParker.com (Aug 2016)