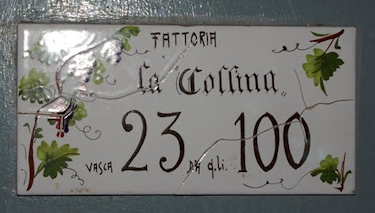 Fattoria La Collina
Italy, Tuscany
Fattoria La Collina is an old 45 hectare estate in the hills of Montalbano, the most northerly vineyards of Chianti. Planted with vines, olives, fruit trees, artichokes, tomatoes and beans this is a traditional farm with its own olive oil store and 'vin santo' attic.
The vineyards are mostly at around 160-200 metres above sea level, on deep clay, on the south-west and west-facing slopes of the property, overlooking the Arno valley. The ancient marine influence in the soil can be seen in the fossilised sea shells which are easily kicked-up.
Our wine-making friend Jacopo Morganti, who we first met when he was manager of Il Colombaio di Cencio, and who is now running Il Molino di Grace, married into the family and now has 19 hectares of vines, all of which are beautifully exposed and worked organically. The wine produced here is simple but expressive, with a lower level of acidity than those of the Classico region, making it readily approachable and very easy drinking.